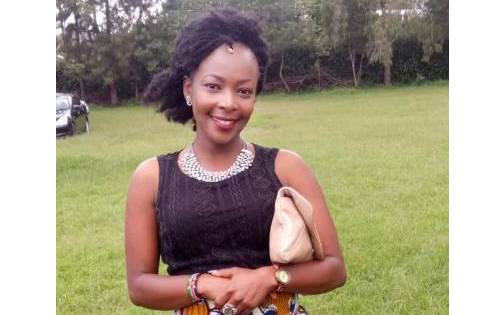 The family of the Rift Valley Institute lecturer allegedly murdered by her boyfriend has been grilled over a eulogy produced in court.
Joshua Toroitich, a close relative to Irene Jepchumba (deceased), testified that the eulogy prepared by the family contradicted a police report on how she died.
While the family has pursued a murder case against Jepchumba's lover Godfrey Kangogo, the eulogy they allegedly wrote read that her death was accidental.
Lifeless body
Read More
Torotich produced the eulogy before Justice Joel Ngugi on Wednesday evening.
It read that Jepchumba died after she slipped and fell over Choka Falls in Molo River within Mogotio on July 6, 2018.
"Irene lived a life with lots of love and appreciating nature. She left home for sightseeing of Ole Polos in Mogotio but she wasn't to return home after she slipped and fell over a waterfall, drowned and her lifeless body recovered downstream," read the eulogy.
Defense counsel David Mongeri questioned why the family accused Kangogo of pushing Jepchumba over the falls when it had written in the eulogy that she slipped and died.
Toroitich told the court that during Jepchumba's burial, the story had been that the lecturer slipped and fell into the falls while attempting to take a selfie.
However, in their report at Rongai Police Station, the family allegedly changed the narrative and implicated Kangogo in her death.
"I wasn't sure what caused Jepchumba's death because the whole village, by that time, had a general view that there was no foul play in her demise," said Toroitich.
Mongeri also questioned how investigations into the lecturer's death were handled.
The court noted that although Molo River runs through Rongai and Mogotio sub-counties, 14 witnesses who had testified in the case said Jepchumba's lifeless body was retrieved on the Mogotio side.
However, investigations into her death were transferred to Menengai Police Station in Rongai. Court records show that no officers from Rongai went to the crime scene.
Senior Sergeant John Mululu testified that he was to take the Jepchumba's body to Eldama Ravine after retrieving it, but was instructed by his senior to release it to officers from Rongai.
"I acted under instructions and handed over the investigations and all the data collected from the scene to Menengai Police Station, Rongai," said Mululu.
Last witnesses
"Were you influenced to hand over the body to Rongai instead of taking up the case?" asked Mongeri.
"I was under instructions from my senior to hand over the case to Rongai. I had no choice but to oblige," said Mululu, who maintained that he was capable of handling the case.
The police officer said it was not unusual for cases to be transferred from one station to another, adding that the body was found closer to Rongai than Mogotio.
Kangogo has denied the charges and is out on a Sh500,000 bond.
The prosecution will call the last eight witnesses that include a Cyber-crime officer, government analyst and scene of crime officer.
Justice Ngugi urged the prosecution to ensure all the witnesses testify on January 20, 2021 and close their case that day.
"I will mark the case closed on January 20 next year," he said.