Alarm as safety bridge turns into suicide spot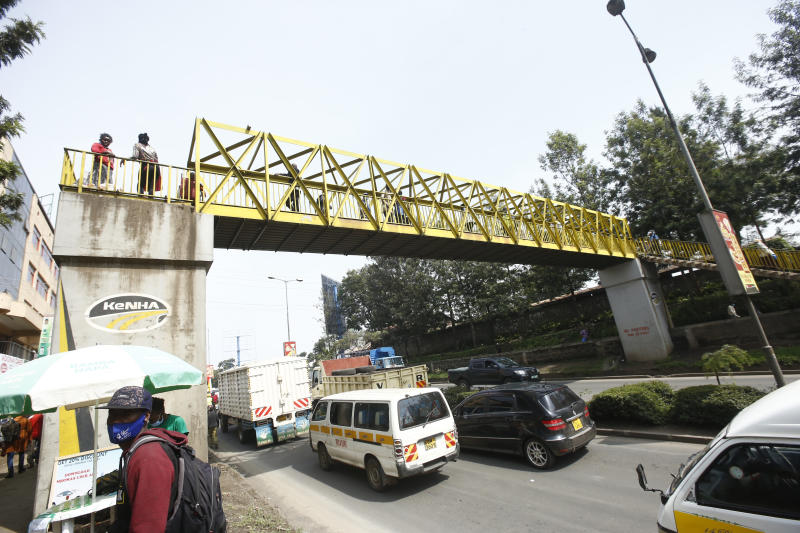 As one enters and exits the Nakuru Central Business District (CBD) from the east, a 30 feet foot bridge hanging over the Nairobi-Nakuru highway offers the safest way for pedestrians to cross the busy road.
But besides the safe crossing, the bridge is also known for its more intriguing title as the most popular site for suicide jumps in the county.
Just before getting to Gatehouse Roundabout you find two bridges running parallel to each other across the four-lane Nakuru-Nairobi Highway.
The first is an old colonial era railway bridge, which is 18 feet high and is still used by cargo trains from Nairobi to Kisumu and Malaba.
Next is a 30 feet high footbridge set up in 2010 by the Kenya National Highways Authority (KeNHA) supported by concrete pillars on either ends of the road.
Along the entire length of bridge are pieces of metal interconnected to form a web, one meter high. The rest of the upper part of the bridge has widely spaced bars, leaving enough room for an adult to squeeze through and have a clear view of the highway.
Below the bridge is a gentle slope that entices motorists leaving the town to accelerate, oblivious of any object or even a person who may be falling over from the bridge above.
The bridge was constructed with an aim to minimise accidents of speeding motorists knocking down pedestrians crossing the dual carriageway.
For years, the bridge has served those heading to Nakuru Level Five Hospital, Nakuru Annex Hospital and to the newly established bus park. However, in the recent past, the bridge has turned out to be a death spot. It is now an infamous suicide spot that has so far claimed five lives, among them a man, woman and three street children.
On July 12, Julia Wanjama was busy selling masks to passersby next to the bridge before her routine was interrupted by a loud thud from below the bridge.
"I heard a loud bang behind me and thought it was a tire burst. People started wailing pointing below the bridge. I saw an adult woman lying next to a car," said Wanjama.
She learnt later that the woman, who had passed next to her a minute earlier, had committed suicide by throwing herself from the bridge.
"She hit the tarmac head first. The skull burst open and her body hit a passing car. Within minutes she had died," said Wanjama.
Nakuru East Sub-Ccunty Deputy Police Commander Phanton Analo confirmed the incident.
"The motive of the suicide is yet to be established. The woman didn't have any identification documents on her at the time of the incident. Her body was taken to the county morgue and an inquest file opened," said Analo.
The Standard has since established that the woman was a mother of four living in Kanyon Estate in the outskirts of Nakuru town.
Afraha Sub location chief Timothy Ali said they had managed to trace her family and she was set to be buried in Vihiga County on Saturday.
The administrator added that the deceased informed her friends of her intentions before she committed suicide.
"As she left home she told her neighbours that she was going to kill herself. They didn't take it seriously as they thought she was drunk or joking. They were later shocked to hear of her demise," said Ali.
A similar incident happened on April 25 when a county government employee used the same spot to take his life.
Burton Onyaru said his 28-year-old son Jonathan Onsongo was heading to the matatu terminus when he jumped off the bridge, missing a truck that almost ran over him before hitting the tarmac.
"I'm not sure what triggered his action. He wasn't drunk. It was around 1pm and he was on his way home," said Onyaru.
However, he noted his son was battling depression linked to his social life after separating from his wife with whom they had a four-year-old child. He was planning to get another wife.
"He didn't show signs of depression, but as a parent I felt he was not at peace," said Onyaru.
Traders operating in buildings near the bridge said at least five suicide cases have happened at the spot since December last year, with some people being rescued before taking their lives.
"In March, a woman was almost jumping off the bridge when people noticed and called her out in time. A traffic police officer manning the Gatehouse Roundabout rushed to the scene and pulled her back. Another man killed himself at the bridge on Christmas day," said Wanjama.
Psychiatrist Iregi Mwenja (pictured) said the increased suicide cases at the spot are triggered by already reported cases of depression among the population.
"We can't run from the fact depression is a serious challenge in our societies. These could be copycat suicide cases triggered by having knowledge that someone else killed themselves there," said Mwenja.