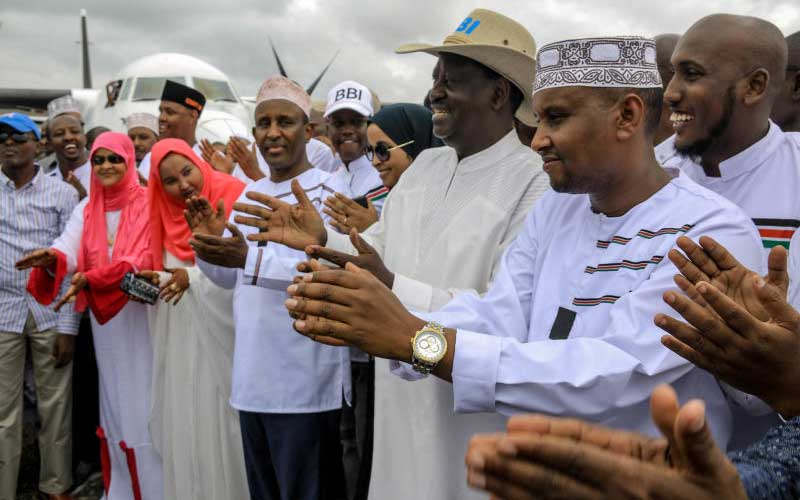 Opposition leader Raila Odinga has assured residents of North Eastern region that the education crisis in the area occasioned by an exodus of teachers will be resolved.
Speaking at a Building Bridges Initiative (BBI) rally at Garissa Primary School yesterday, Raila claimed he had met President Uhuru Kenyatta before leaving for Garissa to discuss the issue.
According to Raila, a proposal by leaders from the region to have local students who scored grade D+ in the Kenya Certificate of Secondary Education (KCSE) examination train as primary school teachers and those who scored grade C- train as secondary school teachers was being considered.
Insecurity fanned by Al Shabaab militants has led to mass transfers of non local teachers from the region, sparking a crisis in the education sector. This was among issues that dominated yesterday's meeting.
Nominated MP and Kenya National Union of Teachers (Knut) Secretary General Wilson Sossion said North Eastern's education crisis will only be solved through affirmative action and accused the Teachers Service Commission of frustrating the plan.
Read More
"We cannot be talking of quality when there is no access to education. Children who were trained under affirmative action must be re-deployed to solve education problem in the region," he said.
During the rally, leaders from across the political divide rooted for a pure parliamentary system with a powerful prime minister, saying this would end electoral chaos witnessed in the past general elections.
Raila described the BBI as an unstoppable train, saying it would help end unemployment, insecurity, tribalism, corruption and electoral fraud.
"We have decided to come together and see where our problems started so that we can bring solutions to what is ailing our country," he said.
Former deputy speaker Farah Maalim said the region should not be left behind in constitutional change.
"We now have a chance like we did in the making of the 2010 constitution. We must have our voice heard," he said.
Marsabit Governor Mohamud Ali said BBI has brought peace in the country and called for counties' share of national funds to be increased to 45 per cent.
"In the constitutional change we must protect the 290 constituencies and demand for more resources for counties," he said.
Local political rivalry also came to the fore with supporters of former Governor Nathif Jama and those of incumbent Governor Ali Korane almost coming to blows.
Meanwhile, Leader of Majority in the National Assembly, Aden Duale, made good his threat to boycott the rally held in his constituency.
Mr Duale claimed the BBI has been hijacked by politicians and accused the rallies of creating confusion and disunity. He said as Leader of Majority of the Jubilee Party, he would only attend BBI rallies attended by party leader Uhuru and his deputy, William Ruto.