Turkana county to spend Sh33m on annual Tobong'u Lore fete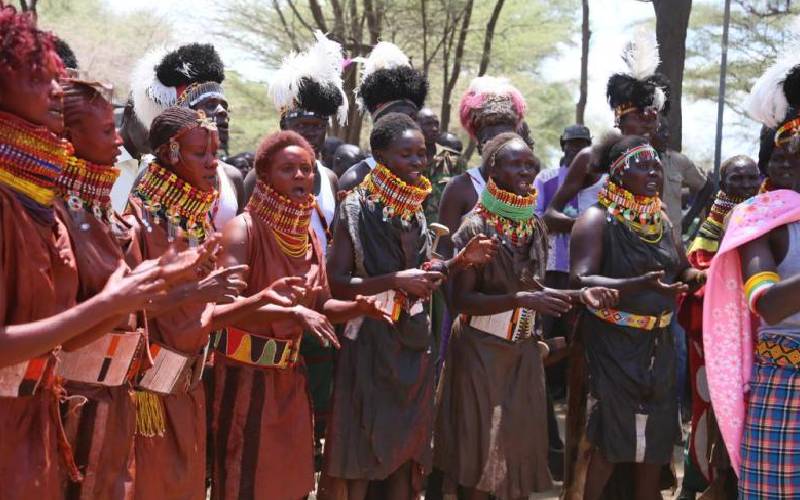 Turkana Governor Josphat Nanok has said his administration will spend Sh33 million to stage this year's cultural festival popularly known as Tobong'u Lore (welcome home).
Mr Nanok said the budget was reduced from Sh70 million after the county was hit by drought in April.
"The cultural festival is usually marked in April but as you are all aware, we were hit by a severe drought that forced us to postpone the event. This is also informed by the fact that our budget has been cut by more than Sh40 million and we will reduce it further in the coming years," the county chief told The Standard during an interview at his Lodwar office yesterday.
He said his administration was still distributing relief food across the county to ensure locals are cushioned from hunger.
"Going forward the cultural festival should generate its own fund to ensure it remains sustainable. That is why I have dispatched a team to Germany to benchmark and give recommendation on how to ensure the cultural festival generates income," he said.
The four-day jamboree to be staged at Ekales Cultural Centre in Lodwar town, has attracted thousands of local and international participants.
Nanok said Deputy President William Ruto and former Prime Minister Raila Odinga were among the dignitaries expected at the event.
Ethiopian Ambassador to Kenya Meles Alem yesterday arrived in Lodwar and held bilateral meeting with Nanok.
Foreign delegations
"There will be delegations from Ethiopia, South Sudan, Uganda and even Nigeria at the festival. Apart from the cultural festival, county officials will hold various side meetings with delegates from various regions to ensure the socio-economic interactions are enhanced," he stated.
He said the hotel and hospitality industry has been overstretched by bookings, and that locals are expecting a business boom from the festival.
The event starts tomorrow and ends at the weekend.