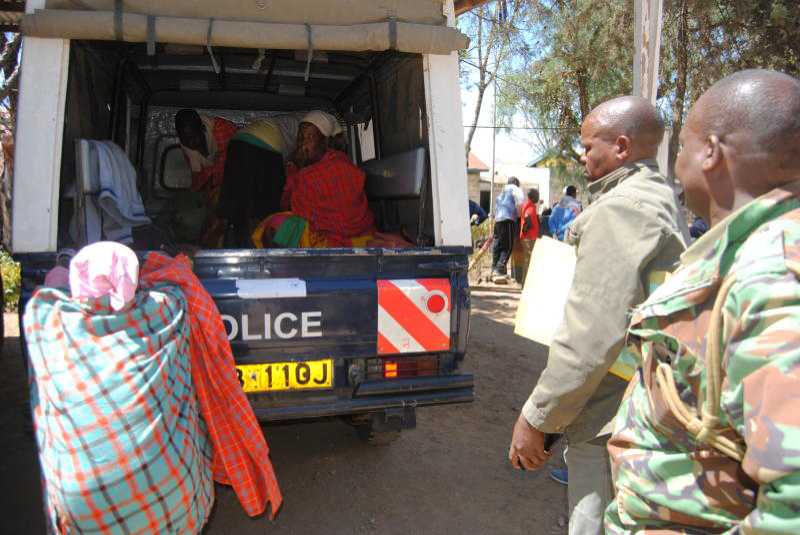 Police in Narok have arrested 10 women among them four girls for participating in the outlawed Female Genital Mutilation (FGM) in Naroosura and Olkilai villages in Narok South Sub-County.
Area County Commissioner George Natembeya said the special police unit known as Anti-FGM police acting on tip off from members of the public busted the women among them two mothers of the girls after subjecting the girls to the 'cut'.
"On Friday, we got information that there were nine girls who had undergone FGM in Naroosura. Police responded but we only managed to get three girls who had been circumcised and arrested two women among them the mother of the girls," said Natembeya.
Mr Natembeya who addressed Journalists at his office said in the second incident police managed to get one girl and her mother at Olkilai area near Ololung'a trading center.
The County Commissioner said the girls who were subjected to the vice were still in pain and were taken to Narok County Referral Hospital where tests were conducted and were confirmed that they had indeed undergone the rite.
"FGM is illegal and we shall never relent until were drastically reduce the cases and there is huge hope that this illegal practice will end," said Mr Natembeya adding that the suspects will be arraigned in court soon.
The administrator also reiterated that his earlier announcement that school girls will be subjected to FGM tests as schools re-open for the first term next year still stands.
"The cases have dropped but were know there could be some people subjecting girls to FGM but we shall catch them come opening day.The FGM tests will be done at health facilities and those found to have been circumcised will have the parents arrested,"warned Natembeya.
He also revealed that pregnancy tests will be conducted and those found pregnant will have no option but to lead the police to the impregnators who will then be arrested and prosecuted.
Last week, Anti-FGM Board Chairperson Agnes Pareiyio linked the rampant teenage pregnancies in Narok which is the highest in the country to FGM.
"That Narok is leading in teenage pregnancies in the country is sad.The cause of all these is because of FGM.In Maasai set up,when a girl has undergone FGM,she is considered as a 'woman' who is ready to give birth and get married.This is backward and should stop," said Ms Pareiyio.