Jilted lover burns girlfriend to death in Kericho, inferno consumes several shops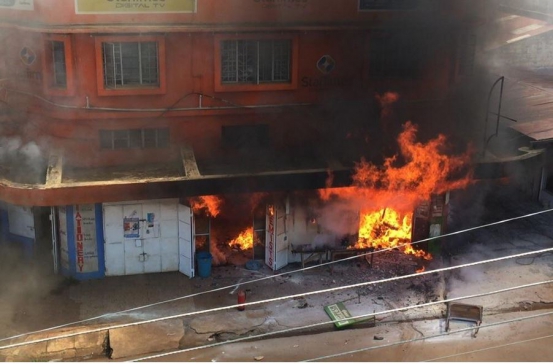 KERICHO: Property worth millions of shillings within Kericho Central Business District (CBD) went up in flames on Saturday after a jilted lover splashed a jerry-can of petrol on his lover, a mobile money transfer shop in one of the business premises set on fire.
The woman in her 20's died on the spot as the fire from the splashed petrol quickly spread to the adjacent mobile phone sales outlet and chemist destroying a consignment of drugs and other properties estimate to be worth millions of shillings.
Six people including the suspected arsonist were rushed to Kericho district hospital for treatment while the body of the deceased was moved to the hospital's mortuary.
Moses Okachi, a bodaboda rider said he was at the mobile shop which shares a roof with the money transfer shop bargaining for a cell phone when the suspected jilted lover walked in and demanded to speak with the deceased.
"After a brief talk, the man walked out of the shop only to return with a jerry- can of petrol and splashed it on her before striking a match," he said.
Okachi whose reflector jacket caught fire as he dashed out of the scene said he could not make out what the suspect said since he communicated with the deceased in the local dialect.
By the time going to the press, the suspected jilted lover who escaped with 50 per cent body burns was fighting for his life at the Kericho District Hospital.
The hospital's deputy Medical Superintendent Dr Edwin Koskei said they had received six casualties, three males and females suffering from various degrees of body burns.
"Five of the patients were received suffered superficial wounds and they are responding well to treatment. Nonetheless, one adult male suffered more than 50 per cent burns to the body and could be referred to advanced medical facility for treatment," said Koskei.
Angry Kericho town residents also chased away one of the newly launched county ambulance vans for allegedly arriving at the scene late yet it is stationed at Kericho District Hospital, less than two kilometres from the scene of fire.
The Kericho County small 200-liters water capacity fire engine and the ill trained and equipped firefighters had a difficult time trying to contain the huge inferno.