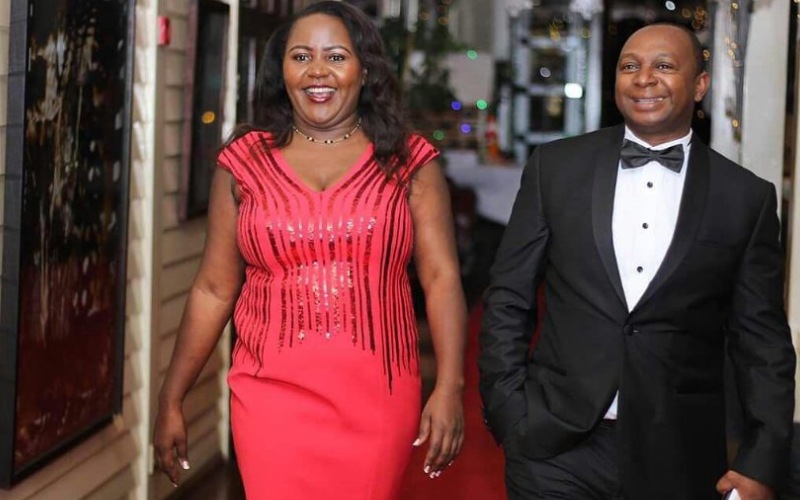 All week, the big buzz in town has been around the celebrity couple of Simon and Sarah Kabu, popularly known for their Bonfire Adventures travel firm.
The couple has been the envy of many with their seemingly perfect marriage complete with fame and fortune trappings that come with their successful tour business. From showcasing birthday gifting of luxury cars to holiday trips to some of the world's preferred destinations, who could ever think the two lovebirds would have a worry in their marriage.
Then came the confession. A shocker tell-it-all. Sarah told the world they had been undergoing a major family crisis. That much of what they had been putting out on social media as blissful was a far cry from reality.
"Sometimes when I meet people they tell me that I inspire them and we are 'couple goals, but I wished I had simple and peaceful unions like theirs," she said.
While talking about longing for a peaceful marriage, she did not specify what the issues were.
Sarah revealed that they had marital issues for around 10 years and one of her resolutions this year was to be true to herself and tackle issues head-on, including peaceful separation and a co-parenting plan.
She wanted to do this quietly, but considering their heavy presence on socials, news leaked that there was trouble in paradise.
On the recent incident that let in the public on the couple's rocky marriage, Sarah said she told Simon she needed a breather to clear her head and would be spending the night at a hotel.
Her husband Simon, on the other hand, has maintained a studious silence, only coming out to say he is happily married about a week ago in an engagement with his fans on Instagram.
He quickly shut down rumours he had another woman in his life.
Days later, Sarah came out asking for forgiveness from her husband.
"Forgive me Simon. Let's sort our issues off-line. All is well. Please keep us in prayers," she wrote.
In the same week, popular Nigerian singer Osinachi Nwachukwu died from unclear circumstances. The singer who featured on the 2017 hit song 'Ekwueme' died while undergoing treatment in hospital. She was suffering from throat cancer. However, her family claimed she has been suffering domestic violence. Her husband, Paul Enenche was arrested following the death and is undergoing investigations.
The incident too created a major online buzz, a debate bordering on why people stay in relationships that are troubled.
The two cases are just, but a highlight of the real picture facing celebrity marriages as well as those of ordinary people, with most hurting and suffering quietly fearing that the world would judge them harshly if they spoke out.
As much as men might be suffering in their marriages, as it would seem, a big percentage of abusive marriages have the weaker sex crying louder. Still, why do women stay on?
In the days of our grandmothers, and mothers it was believed women stayed because they were not empowered financially and educated. Fast forward to 2022 and we live in an age where women are educated, modern, exposed, sophisticated and financially capable, but still, they choose to stay in marriages where they share a home with an absent husband and the presence of another woman or women, which haunts their marital bed like a bad case of the flu that just won't go away.
These stories of the modern and independent woman who refuses to hold her cheating or violent husband accountable abound all over. If it is not your friend, it is your sister or colleague, or even your house helper who has placed the crown of the long-suffering wife on her nicely done hair.
So much so that the idea of a woman leaving her husband is so rare that it is novel when you see it with your own eyes.
Many other local influencers and celebrities have been in the public eye over marriage woes.
But why do women find it hard to walk away from troublesome unions?
This is not only for celebrities and public figures but something that can be seen across society.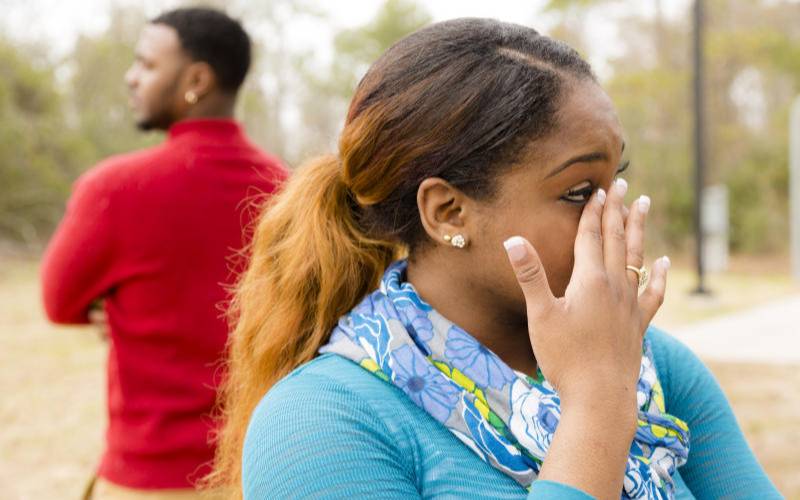 Catherine Kinyua stayed married to her husband who was unfaithful for 18 years before she decided enough was enough, and finally filed for divorce.
"My husband was unfaithful right from the beginning. I found out in the second month after we were married, and while I was pregnant with our daughter. I was only 24, I was so shocked, hurt and unprepared. I did not know what to do," she says.
"I never confronted him until a year into our marriage and when that did not yield any result, I attempted suicide. After, my mother, the pastor, a prophet descended upon our home to try and smooth things over between us."
According to Catherine although she is a Christian and was brought up Christian, she believes that sometimes Christian values and even traditional beliefs are abused and misused to keep women in marriages they have no business remaining in.
"Religion and tradition really messed me up. If you are Kenyan, you cannot get away from tradition or religion, they go hand in hand," she explains.
"In Kikuyu there are some sayings about marriage that unfortunately encourages a woman to suffer in marriage. For example, Mutumia Gatha, which means a strong-willed person who stays in her marriage no matter what; Mutumia ni gutumiria maundu, which means that a woman is to keep silent, especially on home matters, and Mahiga me kiondo kimwe matiagaga ngukongorania, which means stones in one bag will always hit each other. I am sure that it is not just in Kikuyu culture, but even in other cultures, the long-suffering wife is glorified" she explains.
"The first years of my marriage were filled with many visits from the pastor, prophets and our family to try and sort our marital problems. My husband would cry and apologise, and promise to change, but it didn't happen," says Catherine.
She says the advice and stories she would hear from other people did not help matters.
"The narrative I would get was that as a wife I needed to be strong and to vumilia because all men cheat. Some older women in the community would tell me that they too had husbands who were not faithful and they endured their marriage, but eventually, when their men had become older, they slowed down and began to behave. So basically, they were telling me to allow my husband to cheat and that when he was 80 and tired, I would get him back. Even my sister-in-law told me after my suicide attempt those men were dogs and that I needed to get used to it," says Catherine.
According to Catherine, by the fourth year, her husband stopped hiding his affairs and would parade his women in front of her.
"In the 18 years I stayed, I did everything to be a good wife like tradition or religion demands. I was forgiving, humble in everything from finances to every decision we made to the point where I would kneel before him. Yet no matter what I did he kept cheating."
Eventually, apart from cheating her husband began to emotionally, sexually and physically abuse her. Also, she adds that the more she stayed, she became angry, bitter, resentful, and plagued with anxiety attacks. Additionally, it made her look at all men are evil, selfish and cruel, even her brothers.
Catherine endured it all, the cheating, the emotional, physical, financial and sexual abuse, but the day the physical abuse reached her daughter she made the decision to walk away.
"I credit my mother, and two close friends for firstly listening to me without judgment, and secondly for giving me the strength, support and encouragement to walk away," she says.
Catherine says people should not be so quick to judge a woman who stays with an unfaithful husband because there are many reasons a woman decided to stay.
To begin with, threats, and secondly, financial restraint.
"I stayed because my husband threatened me with death and because I was scared, secondly although I had a successful tour business, my husband had access to my company account. And being a good traditional and religious woman, I allowed him to control our family finances," she says. "I could not withdraw any money without his permission, and other times he is the one who withdrew money, which I had earned and gave it to me to spend. Although my husband had a job, I never saw his money, I think his money was for his mother and sister. My money was used to take care of me and my daughter, plus his many girlfriends.
Catherine, further, believes that for other women their situation is different as they may not work and so they completely depend on their husband, and for others although they both work the husband earns more, and others are just scared of moving from a two-income earning home to one. Also, divorce is also very costly.
"The process not only takes long, I filed in 2020 and officially divorced last month, but also litigation fees are too much, and if you are married to a man who has more money and influence then he can bribe and threaten your legal representation depending on his agenda. I hired a number of advocates, but things were not moving, but eventually, I was represented by a human rights organization and that was how I finally got divorced," she explains.
Further, women stay because of status. Being a married woman comes with status and prestige even in today's modern society. "There is a way that society views a woman who is married as if she is in a higher hierarchy than her fellow single woman. You cannot even get a leadership role in the church if you are not married. There are jobs you will not get as a single woman. Society in general gives you a higher status when you have a wedding ring on your finger. There are benefits and advantages to being a married woman and some women are not willing to give it up."