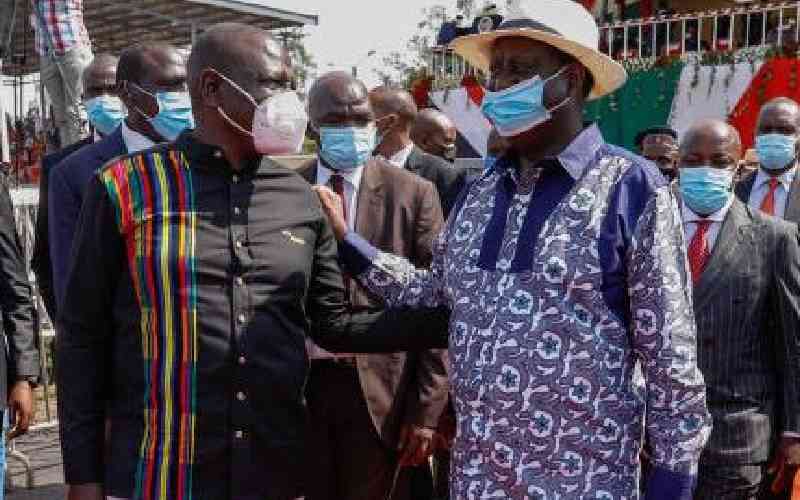 Presidential candidates William Ruto and Raila Odinga will make their final pitch to voters at big rallies planned in Nairobi today, ahead of the close of campaigns for the General Election.
Two venues – Nyayo Stadium for Ruto's United Democratic Alliance (UDA) and Kasarani Stadium for Raila's Azimio la Umoja, will be the final setting for the leading candidates and will close off a campaign blitz ahead of Tuesday's election.
President Uhuru Kenyatta, who has served for two terms and is constitutionally mandated to step down, will be in Mt Kenya, his political base and a key constituency in his succession matrix.
Uhuru too has blitzed a number of counties over the past week commissioning projects. The stops have, however, not been the expected farewell tour but campaigns for Raila. Should Uhuru choose to continue with the trend in Nyeri today, Saturday would have three key events to invigorate voters before they cast their ballots. The two rallies by the main contenders close an intense week of campaigns that have seen Ruto make stops in 15 counties and could give him momentum going into Tuesday's polls.
Numerous rallies
The DP has relied on his frenetic pace of rallies to put his Kenya Kwanza Alliance ahead of his rivals. He and his running mate Rigathi Gachagua campaigns panned out to different parts of the country, but Ruto has physically been on the ground in Laikipia, Mombasa, Makueni, Kiambu, Kirinyaga, Murang'a, Nyeri, Nakuru, Uasin Gishu, Baringo, Kakamega, Trans Nzoia, Vihiga and Nandi counties.
Raila has been busy too. Leading up to his final rally, which his campaign has named Firimbi Fest, in Kasarani, Raila campaigned in Mombasa, Vihiga, Kisumu, Kakamega, Kisii, Kiambu, Uasin Gishu, Nandi and Kirinyaga counties.
Today, Ruto, on the biggest day of his campaign is expected to give his final pitch to tens of thousands of supporters, advancing his attack on President Kenyatta and rallying his supporters to reject Raila.
The 2022 race has become a personal grievance for Ruto on account of his sour relations with President Kenyatta and the humiliation he claims to have faced in government. On multiple campaign rallies, from the roof of his car, Ruto has complained about Uhuru and tapped into the economically disenfranchised youth, low-wage workers and his supporters' disdain for the Jubilee administration to create the Hustler movement which has been the nucleus of his campaign.
The UDA candidate will also urge his supporters to ignore opinion polls that show him trailing in the race to succeed Uhuru. But his biggest and most important message will be the call for voters to turn out in large numbers. Similar scenes will play out across the city in Kasarani where Azimio has promised the mother of all rallies, billed as a festival of whistles with the attendees encouraged to bring the same to the venue.
Final message to voters
Raila's closing message will likely be a pitch for Kenyans to choose a government that will fight corruption, better social security, industrialisation and building on what the outgoing Jubilee government has accomplished. To Ruto's Hustler Movement, Raila's Azimio la Umoja is at its core a progeny of his détente with President Kenyatta and the resulting Building Bridges Initiative.
Advertisements released in the last week from the Azimio campaign have stressed the importance of voter turnout. "Twende tukashukishe bei ya unga", a video released online states as Kenyans rally each other to go to the polls to elect the government they desire.
Pollsters have predicted a very close contest. Though Raila still maintains a slight lead, Tifa's most recent poll places the ODM leader ahead by only about two per cent- the two are virtually neck and neck. That poll released earlier this week found that seven per cent of voters were 'undecided' or chose to remain silent on who was their preferred presidential candidate.
While uncertainty still hangs over UDA's venue and its availability, Azimio started issuing fliers for today's rally and invitations went out as early as Monday. The High Court granted Ruto a reprieve by setting aside an order by Sports Kenya – the body managing Kenya's stadia, that Nyayo Stadium was unavailable.
But for Azimio all is set for today's rally in Kasarani. Suna East MP Junet Mohammed said Raila is grateful for the support of Kenyans over the years. Speaking when he toured Kasarani stadium in the company of Ruaraka MP Tom Kajwang to inspect the preparation process for the rally, Junet said that Raila and other Azimio leadership will be at the Stadium to thank Kenyans for their support.
"We would like to inform Kenyans that we are coming to the end of a successful journey before we head to the ballot box for a historic election this Tuesday," said Junet.
Junet said they do not support any rigging or violence on election day or after and assured Kenyans of Azimio La Umoja commitment to peace. He said that it would be a historic day as thousands of Kenyans come to listen to their incoming President and what he has in store of for them. He said Raila will be completing his journey to State House at the stadium, which will be a historic moment for all Kenyans as they wait to confirm with their votes on Tuesday.
He also denied claims by the deputy president that there were plans to rig the elections.
"We condemn utterances made by Ruto to the effect that there were plans to rig the elections which is not true at all," said Junet.
Ruaraka MP Thomas Kajwang said that their supporters will be holding prayers in various places of worship on Sunday for a peaceful election. Kajwang said Kenyans are eager to have Raila as their next President since he promises a bright future for the country.
The Ruaraka MP said that the fact that President Kenyatta had decided to support Raila as his successor is an assurance that the former Prime Minister was on the way to power.
"The fact that President Kenyatta is supporting Raila as his successor is an act of God and an indicator of good things to come," said Kajwang.