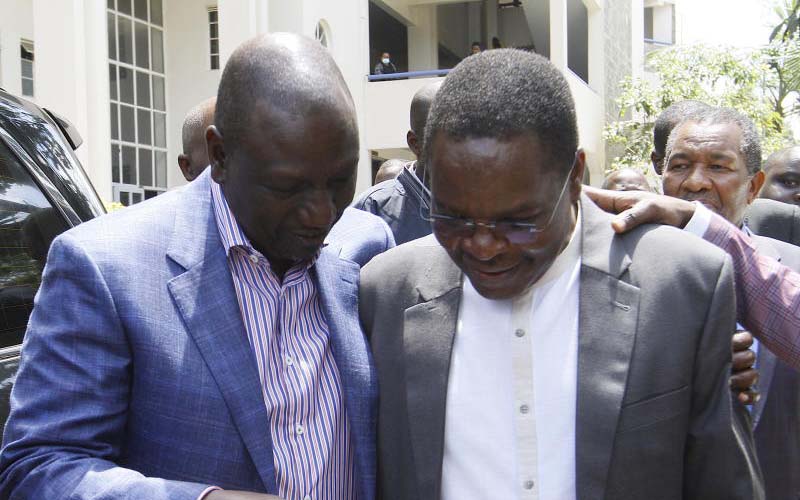 Deputy President Dr William Ruto has blamed secrecy in procurement in the security sector, saying it has fuelled corruption, even as cartels thrive.
Yesterday Dr Ruto promised that if elected president he will ensure Kenyans know how much money will be spent on security and its use.
The DP claimed the country does not get value from the resources deployed in the security sector. "We already have a reasonably big budget. What we must do, however, is make sure that we get value for the resources we deploy in security," he said.
He promised to demystify gun buying to deal with security. "Why is purchase of guns by the government a mystery? Why is it (done) in some dark room yet the guns are being carried all over the streets by police officers," he posed.
He said guns are classified as security purchases "so a gun supposed to be sold for Sh20,000 is bought at Sh60,000."
"I have been against those stories because these security secret things are where corruption thrives. If we got value for the money we are putting in our security sector, we would get maybe twice or thrice the output we are currently getting," he said.
He said the office of the Inspector General of Police should have a budget, rather than depend on the Office of the President. Dr Ruto spoke during a town hall meeting with the Evangelical Association of Kenya (EAK) in Nairobi, yesterday. He urged the church to play a significant role in determining Kenya's next leaders. "The church also has an opportunity to install a government, instead of waiting until others install government for you. Why don't you install the government yourself," he posed.
"It is said that the punishment given to people who don't vote or who don't get involved in politics is to be ruled by fools," the DP added.
He said the moratorium on the registration of new churches should make the clergy interested in who will lead the country. "I know that we've had issues with registration of churches. There is a moratorium. It needs to be discussed. What is the nature of this moratorium and for how many days? What are the reasons? The church, again, must step forward and have a conversation with the government," he said.
The EAK convened the forum to engage Dr Ruto, the Kenya Kwanza flag bearer, and Azimio la Umoja One Kenya presidential candidate Mr Raila Odinga, on leadership.
The DP spoke at length about his plans to ensure inclusivity, the economy, agriculture, the Big Four Agenda, Executive accountability, education and opposition to the Building Bridges Initiative (BBI).
He said UDA was the most popular party because they had moved away from politics of personalities. Ruto said when people think about the party, they don't think of him but the bottom-up economic model.
On accountability he said: "We are a country guided by law and there are court rulings that have not been obeyed. Everybody, including the President, should be held to account when it comes to following the rule of law."
He said on his opposition to the BBI: "I did not say everything was bad. I just pointed out what I thought were issues that needed to be dealt with. It has serious issues and the same ones I raised were the ones the court found at fault."
He said he would rally behind a constitutional amendment to ensure gender inclusivity and support for vulnerable groups. "In my government, I will meet requirements of the Constitution when it comes to Cabinet appointments," he said.
The DP said Jubilee had a good plan to address housing challenges and unemployment through the Big Four agenda.
"It was about how many jobs we would create, labour-intensive programmes like housing would have given us jobs. The plan would have created half a million jobs in Nairobi," he said.
Dr Ruto expressed optimism that Kenya could change in 10 to 15 years. To the church, he said: "You can make informed choices because the quality of your choice depends on the quality of the information you have. I have very worthy competitors, and I appreciate them. But in that context, I ask for your vote.