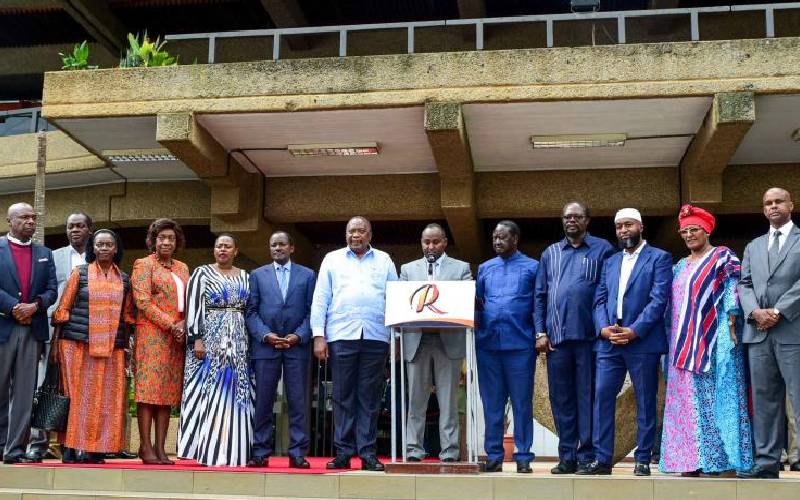 Big names in Azimio One Kenya and Kenya Kwanza alliances have expectations that will not be met because of the limited positions available in government.
Apart from Deputy President that is guaranteed to the team that wins, the rest are tied to post-election deals that may not necessarily be met by presidential candidates.
The law was recently amended to protect agreements made by partners in the coalitions but analysts argue it may not necessarily cure the problem.
"The positions to be shared are very limited and so expect fallouts and claims of betrayal because many of these people will not get those positions," says political analyst Martin Andati.
There are only 22 Cabinet positions and yet Azimio One Kenya has 23 registered coalition partners, while Kenya Kwanza has 12 parties.
Credible sources say Azimio la Umoja – One Kenya alliance signed an MoU which gave President Uhuru Kenyatta's Jubilee party a 40 per cent share of government.
Andati, however, says President Kenyatta's party has more partners in the coalition and could claim as much as 62 per cent share of seats to be allocated.
"Most parties in Azimio-One Kenya are there through Uhuru and he has to make sure their interests are secured which means, Raila Odinga's ODM is getting 15 and Kalonzo Musyoka's Wiper 10 per cent," says Andati.
Should that be the case, the maximum number of Cabinet posts Raila will share out are seven and yet being the presidential candidate, a lot of demands will be put on his shoulders.
Close allies like governors Hassan Ali Joho and Wycliffe Oparanya will expect guaranteed appointments, similar to his stalwarts across the country.
He will have to cater for the interests of people in his Luo Nyanza base and places like Rift Valley and North Eastern among other areas and specific interest groups.
Out of necessity
Prof Gitile Naituli of Multi-Media University argues that if he wins, Raila will out of necessity discard such agreements and form a government that will serve the people of Kenya. "Accommodating all that baggage ties him to the current regime, together with the people occupying current positions and that means his government won't move forward," says Gitile.
He also sees the challenge of the Azimio One Kenya presidential candidate being pushed into maintaining the status quo by powerful people in the current government.
That will, however, not go down well with the people because the country is in bad economic situation and so having the same faces would not make sense.
"But I think Raila is very clever and he is probably keeping quiet so that they can help him win the elections after which he will get people who can deliver because otherwise it simply can't work," says Naituli.
As for Kenya Kwanza, Andati also sees them having a similar predicament because Musalia Mudavadi and Moses Wetangula have told their people to expect some percentages in appointment. The same to other partners like Speaker Justin Muturi and others, although Ruto's only advantage is that he appears to be having more control and with fewer coalition partners. But both candidates are in a very awkward position because they do not have a lot of latitude when making decisions and that could upset their trusted partners
Sources in Kenya Kwanza told The Standard that some partners and allies like William Kabogo, Moses Kuria, Mwangi Kiunjuri among others in Mt Kenya are more interested in building their own bases using the UDA popularity. And so they may not be interested in posts because they have not entered into such agreements so far.
Elusive MoUs
"They are in the mix to campaign for the presidential candidate because Central is largely pro-UDA, as they also make it is easier to get seats for their parties," said the source.
The Political Parties Amendment (Act) 2022 was passed to cure past challenges that arose out of failure to honour MoUs among partners.
Andati, however, says it may not solve the problem because of the challenges that are already emerging in Azimio One Kenya coalition. The parties for example agreed that Wiper should not field candidates in Nairobi except Embakasi West but the party has gone ahead to do so. Part of the coalition agreement entered into between Uhuru, Raila and Kalonzo also allegedly provided for the Wiper leader being the running mate.
"Sources within Wiper have said that the page that provided for that was ripped out and that is why you saw Kalonzo and Cyrus Jiriongo making noise," says Andati.
So there is already a lot of bad blood and mistrust, which complicates matters because of the bad history of MoUs.
The big issue is not about changing the law but the will to stand by those agreements, without which people will still cheat each other in political partnerships.
Raila and Ruto have gone through post-election challenges, where they sulked because of alleged betrayal by their partners.
In 2003, Raila complained that President Mwai Kibaki's Narc government had reneged on the MoU they had signed forcing him to later quit and form the ODM party.
After the 2007 elections, Ruto also complained saying Raila denied him the Deputy Prime Minister position and instead gave it Musalia Mudavadi, despite the fact that he had delivered more numbers from Rift Valley.
That is the situation Andati sees replicating itself after August or later in the year because there will be alignments and realignments.
The problem again is more pronounced in the Azimio One Kenya because major players there see Raila as a one-term president.
And so if Raila wins, the succession struggle will start soon after the celebrations will have calmed down because the general expectation is that the age factor will not allow him to go for another term.
Analysts, however, say it is likely he will turn around and say he can also do a second term, because nothing stops him from doing so.
That can, however, create infighting because some of the partners are supporting him on understanding that he will be a transitional president.
Fallouts are therefore expected should he renege but that can also create an interesting turn of events because Jubilee can leave government and work with Ruto in the opposition.
That will make it difficult for Raila to govern but he can also do the opposite by running to Ruto and making him chief minister and forming a coalition which will lock out jubilee.
Prof Gitile says the President should give Raila space to run his election to make it easier for him to make decisions. As for Mudavadi, Wetangula, Muturi and Mt Kenya partners, he says Ruto will not necessarily deliver all things they are asking for because of limited positions in government.