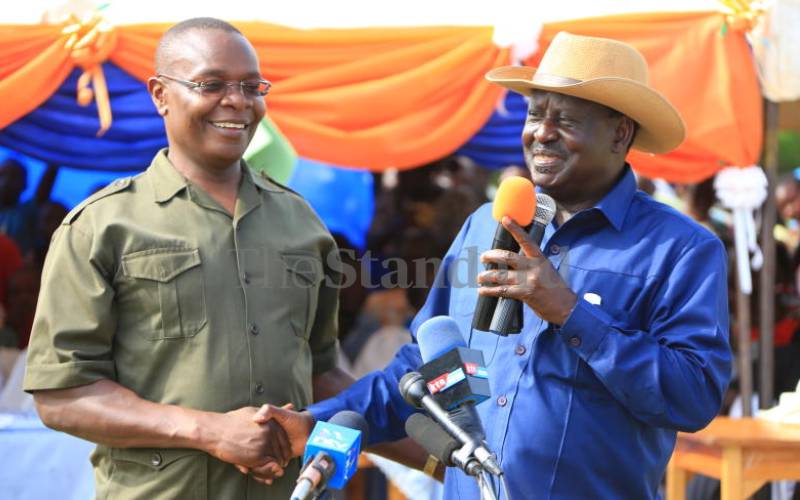 For over two decades, Paul Nyongesa Otuoma has worked closely with ODM leader Raila Odinga.
But some were quick to write his political obituary after the former Funyula MP lost to governor Sospeter Ojaamong in 2017 ODM party primaries that were marred by chaos and confusion.
On the eve of the primaries, leaflets bearing information that Otuoma had defected to Jubilee were circulated in Busia town.
A dissatisfied Otuoma opted to run as an independent after describing the exercise as shambolic and fraudulent. He lost to Ojaamong in the main election again.
Otuoma's spirited attempts to have Ojaamong's victory reversed hit a brick wall when the court dismissed his petition.
At one point, he found himself in Raila 's bad books for going against the party position.
About five years later, the 56-year-old appears to have rekindled his political career and governor bid after trouncing Busia Woman Rep Florence Mutua in a battle for ODM ticket.
He now believes he has one foot in office given the fact that the Orange party enjoys huge support in Busia.
Otuoma garnered 49, 330 votes while Ms Mutua managed 30,696 in the nominations that put to test ODM's ability to oversee free and fair primaries.
He attributes his victory to deliberate reforms by ODM after past chaotic nominations.
Nonetheless, Otuoma is not excited about the victory "because we still have a long way to go and we will need everybody on board."
"I call upon my colleagues against whom I competed for the party ticket to come on board. Let us join hands and make Busia great. Our political ambitions should not be the cause for disunity among our people, but our unity should be the clarion call," Otuoma posted on Twitter moments after he was announced the victor.
In an interview, Otuoma discloses the complexities of his relationship with Raila, low moments in politics and why he believes he would be a better county boss.
Question: There have been suggestions that winning ODM ticket could see you succeed governor Sospeter Ojaamong. What are your thoughts?
Answer: My focus is on becoming the governor of Busia County but we have a long way to go as ODM party. Winning the ticket is the first step but we need to come together as a party and work on a winning formula.
I have started engaging people I competed against and other leaders to come on board so that we can defeat our competitors. I am determined to reach out to rivals in parties affiliated to Azimio la Umoja One Kenya.
I believe they will be willing to drop their ambitions and rally behind me so that we can deliver the governor's seat to Azimio together. I have been engaging MCAs who lost in the primaries as well as those who won because I need all of them.
Question: Do you think the nominations were free and fair?
Answer: I believe the task force formed by our party leader Raila Odinga after 2017 primaries did an excellent job to guarantee open and transparent nominations. The electronic voting system used could have been dogged by some challenges but it ensured the exercise went on smoothly.
Our registered party members were able to vote in a record five minutes and their votes counted. It is the first time ODM has conducted credible nominations and we give credit to Raila and the task force led by Catherine Mumma who is the chair of the National Elections Board.
I would like to urge the ODM family to put the nominations behind them, regroup and focus on ensuring Raila gets maximum votes in this county to help him succeed President Uhuru Kenyatta. We must also deliver the governor and other elective seats to ODM in the August 9 General Election.
Question: How is your relationship with Raila and ODM leadership?
Answer: I knew Raila in 2002 when he was the leader of Liberal Democratic Party (LDP) which was a partner in National Rainbow Coalition and I have been walking by his side save for 2017 when I decided to run as an independent candidate.
I liken what happened in our nominations that year to the biblical story of two women who claimed to be biological mothers of a baby boy and one decided to let it go when the other demanded it to be cut into two.
I could not have watched as ODM disintegrated then, so I chose to leave, albeit temporarily. I have had a cordial relationship with Raila and went campaigned for him in 2017 despite my decision to run as an independent candidate.
My experience as a manager who worked in Kenya and South Africa before joining politics taught me how to move forward and focus on making things work better instead of lamenting. It was easy for me to overcome what transpired in 2017 and reconcile with Raila due to my leadership qualities. We are good friends and I can assure you that he will scoop almost 100 per cent votes in Busia County.
Question: What is the one thing he did for you that you are forever grateful for?
Answer: Raila appointed me into the Cabinet during retired President Mwai Kibaki's regime because he had a lot of trust in me. I am forever grateful to him.
Question: What tactics will you use to win over your competitors within the party
Answer: I already mentioned that I will be reaching out to my competitors and other leaders so that we can make ODM strong in Busia. So far, I have met MCAs including those who lost in our primaries and I will be meeting the rest of leaders and party members in an effort to enhance our chances of bagging as many elective seats as possible.
Some people have been trying to use tribal card in Busia to insinuate that Teso cannot vote for a Luhya. This is neither here nor there. Busia County is a cosmopolitan area and it is not any different from other parts of Kenya. I trust the strategies we shall put in place as will help us win the hearts of voters.
Question: You have served in three key ministries including Fisheries, Local government and Sports, what will you do different if elected governor?
Answer: Devolved units including Busia receive shareable revenue from National Treasury which should go into community development projects and I will prioritise health and agriculture all of which are devolved functions.
Busia is one of the poorest counties and I will strive to channel resources in agriculture so that we can have surplus food for local consumption and export. I will also focus in expanding and equipping local hospitals to make healthcare services better and accessible to all.
This being a border county, my administration will explore opportunities to promote and benefit from cross border trade by empowering our traders and investing in infrastructure that will ensure fast flow of goods and services. I will also invest in vocational training centres where Form Four leavers will gain knowledge, skills and experience.
Question: When was the last time you spoke with Governor Ojaamong?
Answer: We speak more often and I believe we shall work together in campaigning for our presidential candidate. I also believe he will support my governor bid.