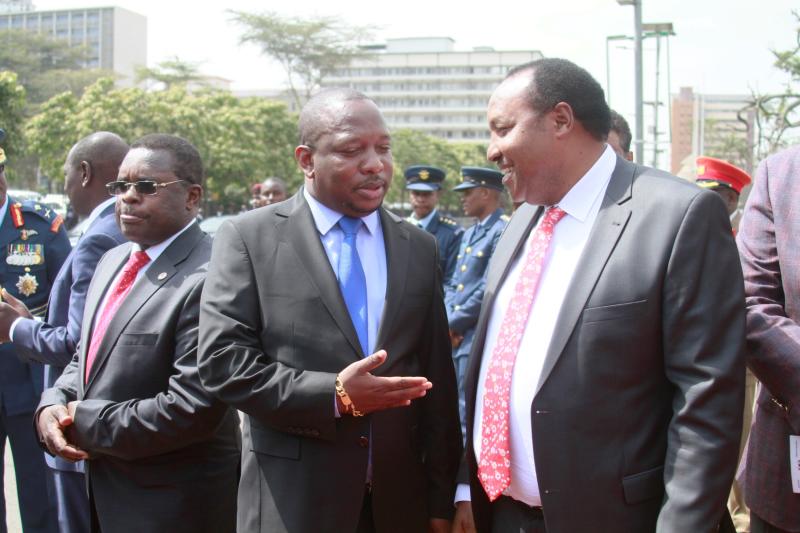 Voters could still find, on the ballot the names of the governors who were impeached due to lack of a law that expressly prohibits them from contesting public office.
Former Kiambu Governor Ferdinand Waititu and his Nairobi counterpart Mike Sonko were removed from office through impeachment by their respective Members of County Assembly in 2019 and 2020 respectively. But being kept out of office has not curtailed their ambition to return to the coveted offices even as they fight in court to clear their names. Sonko is in court fighting corruption charges as he keeps his cards close to his chest. He is also fighting to overturn his impeachment in the Supreme Court.
On the other hand, Mr Waititu aka Babayao, wants the High Court to overturn his removal from office. Waititu was impeached by the county assembly in 2019 and his removal upheld by the Senate. But as he contests his impeachment in court, the former governor has not made it a secret that he plans to vie again. He is actively campaigning to be re-elected Kiambu governor in the August 9 elections.
Waititu joined Deputy President William Ruto's United Democratic Alliance party and, ahead of the party's nomination this week, is making a case for his return. He was impeached on grounds of gross misconduct, abuse of office and engaging in corruption. Waititu told The Standard in a previous interview that he was confident there was no law stopping him from running for office.
"The law is clear that unless you have been convicted and jailed for more than six months and exhausted your appeals, you can still vie. I have not been convicted, I am innocent until proven guilty and my case is still in court," stated Waititu.
Sonko last week gave an indication that he intends to vie for office after he appeared to get the backing of Wiper Party leader Kalonzo Musyoka. The former governor decamped from Jubilee Party to Wiper party on March 25 even as Kalonzo suggested that he was free to vie for any political seat. A circular, which Wiper later disowned, suggested that Sonko had been cleared to run for Mombasa governor.
The political ambitions of the two governors has opened debate on whether or not they are eligible to run for office again or they could be locked out on the grounds of integrity. As the debate on whether impeached governors should seek re-election rages there are calls for a relook of Chapter Six of the Constitution which has done little to keep leaders accused of violating the law from office.
Lawyers are also divided on whether governors removed from office can run again. Ndegwa Njiru says that Sonko and Waitittu's careers in elected office are over. Njiru was one of the lawyers hired to argue Kiambu County Assembly's case for Waititu's removal.
He said that while the law offered a reprieve by excluding candidates who were still in court seeking to absolve themselves, that avenue was only available to those who have been convicted in criminal offences.
"It is a criminal who has gone through the process of trial that is convicted. But the process of impeachment does not end up with a conviction so as to argue that because you have been convicted I've not exhausted my chances of appeal I can still run that is not what the law says," Njiru said.
"The guys who can run are those who have been convicted through a criminal process, and they have not exhausted their appeals. Those individuals who have been found to be unfit for the public office cannot run for whatever purposes"
​He noted that impeachment is a political process with the quasi-judicial consequences.
"The Senate will find you unfit to hold public office and because impeachment is a political process, you ought not be found by a court of law to have contravened it so that you can then be deemed to be fit to run,"
Constitutional lawyer Bobby Mkangi said the matter was open to interpretation. He said that a narrow reading of the Constitution could lock them out, but they could also be allowed to run on the basis of their political right. Mkangi also noted they could argue that they had not exhausted the judicial process and therefore it would be unfair to limit their political rights because of a slow judicial discharge
"When you look at the spirit of the Constitution, where one has been removed from office because of either misconduct, graft or incapacity, they should be locked out. The fact of them qualifying should be on the outcome of the case," he said.
Another lawyer, Dudley Ochiel said it was difficult to tell.
He, however, said there is a case filed by activist Okiyah Omtahtah seeking an interpretation whether a person can vie or contest for political office in the event they are removed from office