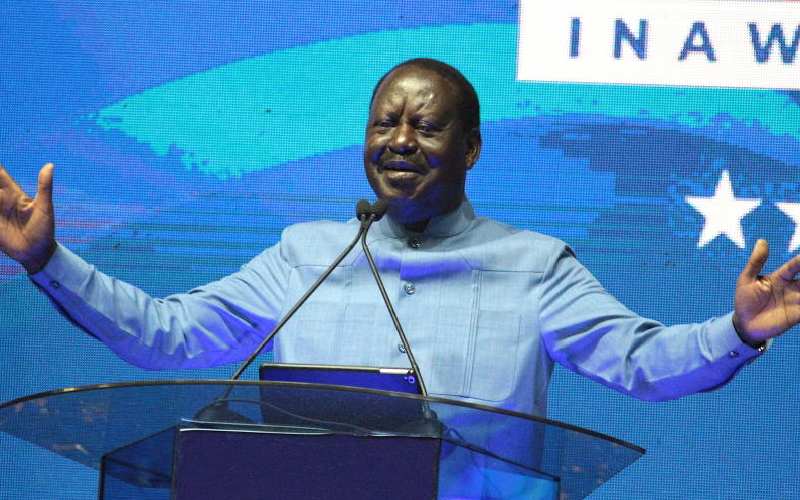 Let me begin by saying I accept the nomination by Azimio La Umoja to vie for president of the Republic of Kenya in the August election.
I accept this nomination with absolute gratitude and dedication to our people, our country and all the leaders and parties that have endorsed this. You have handed me a strong, broad and unified platform to stand on and additional pairs of hands to help steady the ship.
Azimio is a broad national democratic movement which puts premium on national unity, inclusive development and transparent and accountable use of public resources. We will use it to continue the struggle to eradicate poverty, ignorance and disease that our nationalists initiated at independence but still remains a work in progress.
The nomination comes with a responsibility to lead Azimio to resounding victory in August and put our country firmly on the path of greatness and prosperity. I will deliver, with your continued support. This journey has been one of the most unlikely in the history of our country. Nobody ever imagined that one day, the parties and individuals that fought on opposite sides in 2013 and 2017 would unite.
We got here because of the March 2018 handshake between His Excellency President Uhuru Kenyatta and myself. I take this opportunity to thank my friend and my brother, H.E. President Uhuru Kenyatta for this most unlikely journey that we started four years ago and which has changed the history and the politics of this country.
Mr President.
A few years ago, a newspaper commentator wrote: "Often when historians set about figuring why a nation took one course rather than another, they are most interested in who said what to whom at a meeting far from the public eye whose true significance may have been missed even by those who took part in it."
I remember the many meetings we held with the President, away from public eye, as tension consumed our country and our citizens and the international community called for leadership. I recall those initial chilly meetings where we uttered nothing to each other and how they later gave way to warm brotherly chats that enabled us to take a journey down memory lane and come to a conclusion that something must change.
We greed that Kenya is greater than the two of us; that Project Kenya has not quite taken off the way our founders envisaged; that we have been held back by artificial divisions. We agreed that it was within our ability to be the agents of the change that is needed.
The pledges I make here today, with this ticket are pledges I intend to keep.
I pledge to lead an all-out war on poverty, unemployment and hopelessness in Kenya and actualize Article 43 of our Constitution which guarantees Kenyans the rights to education, health, food, water, housing and social security. No single Kenyan should ever feel forgotten in our country.
I pledge to build an economy that helps every Kenyan make ends meet, put food on the table, pay school fees for their children and save for the future; with a very deliberate focus on women.
I will strive to eradicate this feeling among a majority of Kenyans that however hard they work, nothing seems to change in their lives. I pledge to create a Stand-alone Ministry for Youth Affairs and mainstream appointments of the Youth in Azimio Government in addition to tax holiday for youth enterprises and tax incentives to organistions and that employ the youth.
I pledge to take technology to farmlands across Kenya and revolutionise our agriculture; help farmers produce more and benefit from the sweat of their labour through farm subsidies. I pledge revolutionise our health services by building on the successes recorded by the Jubilee regime. More hospitals and well paid and motivated health workers, health insurance and focus on preventive health. We call it BABACARE.
I pledge to give every Kenyan child access to the best possible education. More schools, better trained and well paid teachers. We shall WASTE NO CHILD. I pledge to raise financial allocation to counties from the current at least 15 per cent to at least 35 per cent of the national budget.
President Uhuru Kenyatta has revolutionised infrastructure in Kenya. I pledge to use the platform of infrastructure to revolutionize industrialization.
I pledge to lead a war against corruption. I will make this country adopt three DONT'S to corruption: DON'T WANT. DON'T DO. DON'T DARE.
I pledge to create a civil service defined by discipline, hard work, high morale, efficiency, and high ethical standards; devoid of nepotism, tribalism and favouritism. I pledge to tackle our public debt, negotiate repayment periods that are not stressful, invest in projects that give good returns and borrow at a favorable interest rate when we have to.
I need your support; I need your help. I will not fail you. Thank you.