Mau politics dominates Raila rally in Narok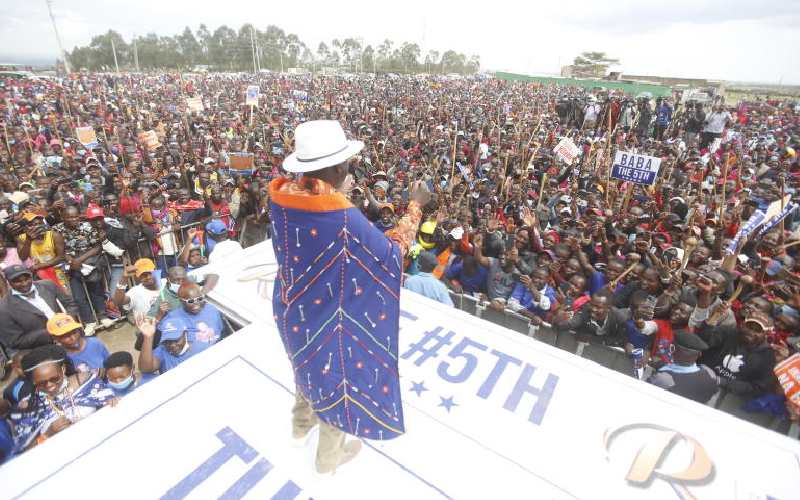 ODM leader Raila Odinga yesterday took his Azimio La Umoja campaign to Narok in a bid to woo the Maa to support his August 9 presidential bid.
Raila held rallies at Masaantare Grounds in Ololunga, Narok North and Ewaso Ngiro in Narok South where he delved into the Maasai Mau forest restoration journey that began while he was the Prime Minister. He took credit for the 2019 evictions that ended the debacle.
"They told me I will lose votes for fighting for the restoration of Mau forest and I told them I was ready to go and sell Mandazi in Kibera. That did not stop me from doing what is right: protecting the Mau," said Raila.
He pledged that his administration will reduce prices of fertiliser from the current Sh5,000 to Sh3,000 and improve milk prices from an average Sh30 to Sh70 per litre. Raila also pledged to reclaim the 2,000 acre piece of land belonging to former Vice President Joseph Murumbi. He promised protect Narok resources as well as revenue from the world-famous Maasai Mara Game Reserve if elected president.
While indulging in Narok governor race, Raila asked all candidates to agree and support one of them.
"I know all of you want this bride (Narok) and at the end of the day one will win," said Raila.
The Azimio la Umoja is talking to Youth Affairs PS Charles Sunkuli, KRA commissioner Kishanto ole Suuji, Joseph Musuni and Stephen Koriato to drop their bid in favour of Narok North MP Moitalel ole Kenta. The aspirants vowed to support a candidate whom they will reach a consensus on. By show of hands, the residents resoundingly shouted ole Kenta.
"I have heard you. I will now sit down with them and I will get back to you," said Raila while holding hands with the five aspirants.
He termed his bid as the third economic revolution after independence and new constitution in 2010.
"After independence, we were fighting disease, illiteracy and poverty. Now we want free education all the way from kindergarten to university through the seven-year tax relief on HELB loans," said Raila.
He said his government will create "Babacare" health insurance to support low-income earners and widows/single mothers. The ODM chief bid got a major boost after a host of defectors joined Azimio la Umoja movement. They include lawyer Martin Kamwaro who was the Wiper Party National Vice Chair and Narok Assembly Speaker Nkoidila ole Lankas who defected from the Jubilee party.
Kamwaro and Lankas have declared interest for Narok North and Narok South parliamentary seats respectively on ODM party tickets. Raila rejected DP Ruto assertion that his Sh6,000 stipend was 'handouts' saying his integrity will not allow him to lie to Kenyans on his pledges. He pledged to seal corruption loopholes and ensure his administration get enough funds for development.
Raila took a swipe at Ruto's extravagant expenditures claiming he spends over Sh100 million despite earning Sh2 million monthly salary. Mr Kenta drummed up support for Raila presidency saying he is the only one who will protect the rehabilitated Maasai Mau forest.
"Raila has fought for the Maa and it is only through him that evictions were done in 2019. If elected governor I will ensure no one re-enters the forest," said Kenta.
Tobiko lauded Raila for his support in the conservation of the Mau forest despite threats and implications his move had on his political career.
"During the debate on Mau Taskforce report in Parliament, some people warned you that you would pay a heavy political price. They told you and the nation that trees don't bring rain. Since Mau was liberated, rains have never stopped," said Tobiko.
He said protection of the water tower is a great reward to communities living around it saying that Ruto had not shown goodwill towards its conservation.
"The Maa Nation doesn't require anything more from you than protecting Mau. You have proved that our country and the future generations are safe in your hands. We are not safe in Ruto's hands," said Tobiko.
Laikipia Governor Ndiritu Muriithi urged the residents to vote for Raila describing him as the best candidate.
"Raila has the right experience, integrity and intention to uplift the economy of herders and farmers. It is not by slogans but by actions. A wheelbarrow will not carry our cattle," said Ndiritu.
Nakuru Governor Lee Kinyanjui said Kenya is safe in Raila's hands citing that he has never been linked to corrupt acquisition of public resources.
"Raila has been in government for many years but there are no complaints against him grabbing property in any part of the country. You know where to put your votes," said Kinyanjui.
Former Gatanga MP Peter Kenneth said Raila is best placed to unite Kenyans and protect natural resources and urged the residents to register as voters.
"The person who will protect Maasai Mau and Maasai Mara is Raila. As supporters of Uhuru and Raila, put your votes in the same basket for Raila come August," said Kenneth.
Minority whip in the National Assembly Junet Mohammed: "There are people who have a tendency of grabbing and looting public resources. They shouldn't be granted an opportunity to run the country, else they milk us dry."
He added that residents should be allowed to make their own choices at the county level. "The Murumbi farm must go back to the Maasai community. Once the next government is formed, we shall ensure that land is restored. I will take it to the floor of Parliament," said Junet.
Kajiado Central MP Memusi Kanchori urged the residents to vote for Raila asking him to link the country with international market for livestock and livestock products.
"We can only trust Raila with ourselves and our country," said Memusi.