Raila's pledge to compensate mothers of political prisoners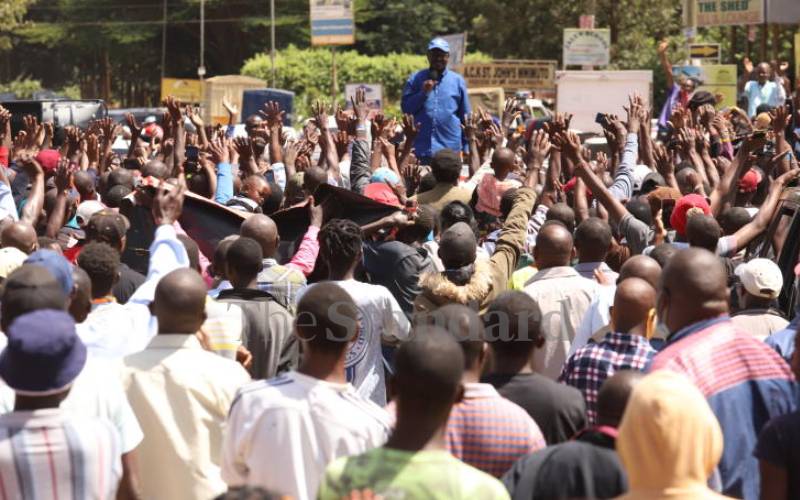 ODM leader Raila Odinga has pledged compensation for the country's second liberation heroes as he recalled the struggle and pain mothers of political detainees went through.
Raila also promised compensation and erection of a monument in honour of the mothers, whose sons were tortured and killed during the struggle for multi-party democracy.
He spoke when he visited some of the mothers of political prisoners in Kibiciku, Kiambu County, yesterday. The women declared their support for Raila's presidential bid.
"These women are our second liberation heroes. After independence, we had dictatorship in our country. Our people were being arrested and taken to Nyayo House," recalled Raila.
He narrated how they were handcuffed and blindfolded before being taken to torture chambers.
Raila said those who refused to confess their "crimes" were tortured even more and made to spend the night while standing in a flooded room.
"If you refused to confess, you were blindfolded and threatened to be thrown from up a building. There are three people who were thrown and the government said they committed suicide," he narrated.
He recalled how the mothers staged protests at Freedom Corner by stripping naked to have their sons released.
"Mothers of those who were in prison went to Freedom corner and staged a protest demanding release of their sons. Police were sent to disperse them. The women stripped naked and told the police to kill them. The police ran away," he narrated.
"When I become president I will compensate and honour them," pledged Raila.
He made the remarks when he visited Leah Wanjiru Mungai, the mother of Kang'ethe Mungai who was sentenced to 20 years for distributing Mwakenya leaflets.
Also present was Veronicah Wambui Nduthu and Josephine Kihara. Nduthu is the mother of University of Nairobi student leader, Karimi Nduthu, who was killed in 1996.
Other mothers in the 1992 protest were Monica Wangu Wamwere; mother of former Subukia MP Koigi wa Wamwere and Charles Kuria Wamwere, who had been detained in1990.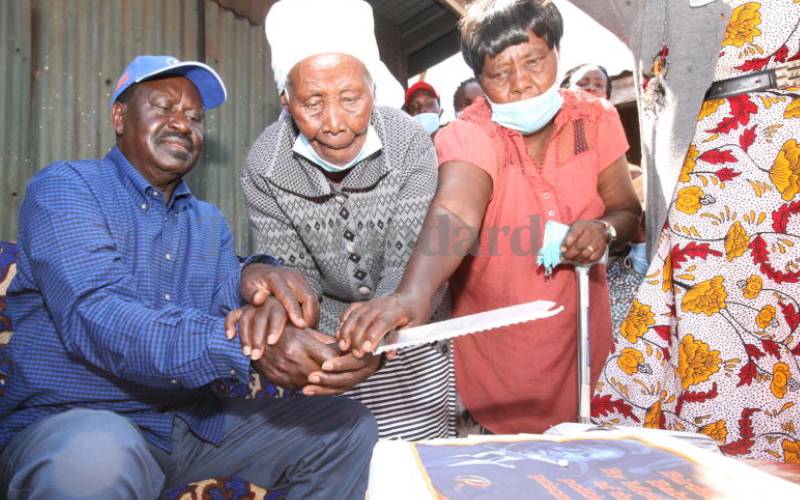 Mama Koigi's compensation petition for atrocities of 1992 was dismissed on April 15, 2016, alongside that of Priscilla Mwara, mother of lawyer Gitau Mwara.
Also part of the team was Milka Wanjiru Kinuthia, mother of lawyer Rumba Kinuthia and Ruth Wangari Thungu; mother of Wakaba Thungu, whose famous picture daring police with her womanhood remains the enduring image of bare-breasted political protest.
Raila also recounted how his family also suffered in the hands of the government for agitating for multi-party democracy.
He recalled how his wife Ida was sacked by as a teacher and ordered to vacate Kenya High School where she resided with their children.
She would later be arrested after she joined the mothers of prisoners who had camped at the freedom corner in Nairobi.
Ida was again sacked by the Ministry of Education where she had been deployed after the initial sacking.
Raila said it was important for Kenyans to know where they are coming from to avoid making similar mistakes in future.
"There are many people who don't want us to remember where we have come from. We have to know our history to avoid making the same mistakes," he said.
Raila pledged that his administration will ensure every Kenyan accesses quality healthcare.
"We want to bring social protection programme just like in Egypt, Namibia. Families with no source of income to receive Sh6000 every month," he said.