Raila reveals his wish as Kenyans mark his 77th birthday in style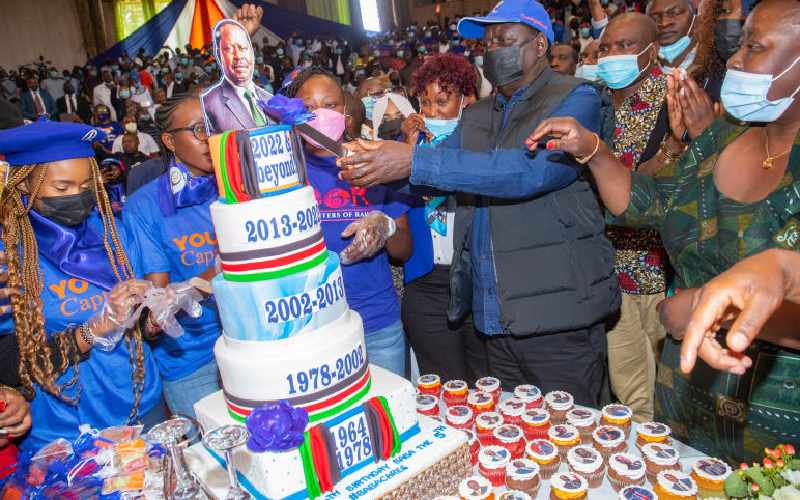 ODM leader Raila Odinga did not need to make a wish in his 20-minute speech during his 77th birthday celebrations.
Inscribed on the topmost deck of the cake were the words '2022 & beyond', a dream organisers and attendees of the birthday party at the Bomas of Kenya have for Raila.
It is a dream that the former PM shares. His 2022 resolutions include taking over from President Uhuru Kenyatta, hence his rallying call to the Azimio Young Turks, a mobilisation group he launched yesterday at the event. He appealed to the group to take his Azimio la Umoja message to the grassroots.
The youth presented a wish list which Raila agreed to as he appealed to them to register as voters and elect him president on August 9.
Raila's assurance was that he was strong to lead the youth in what he termed "the third liberation", which he said is an economic revolution driven by the youth.
"I am ready to lead you, just as Jaramogi led us," Raila said, making reference to the second-liberation struggle.
During those times, as the former prime minister recounted, his father Jaramogi Oginga Odinga was the patron of the Young Turks movement, an offshoot of the then Forum for the Restoration of Democracy (Ford) lobby group.
"We had the likes of Paul Muite, Anyang' Nyong'o, James Orengo… and Jaramogi was the oldest of the Young Turks."
Raila also vouched for his credentials as a champion of constitutionalism, rehashing his days as "Delegate 155" in the Bomas of Kenya constitutional review deliberations.
If successful in his fifth stab at the presidency, Raila will become the oldest person to take over the presidency in Kenya. Jomo Kenyatta became president in his early 70s, Daniel Moi was 54 when he took over in 1978. Retired President Mwai Kibaki was sworn at 70. Uhuru succeeded him in 2013 at 51.
The ODM leader does not see his age as a weakness, given the experience he has earned, and which he said would make him Kenya's perfect bet.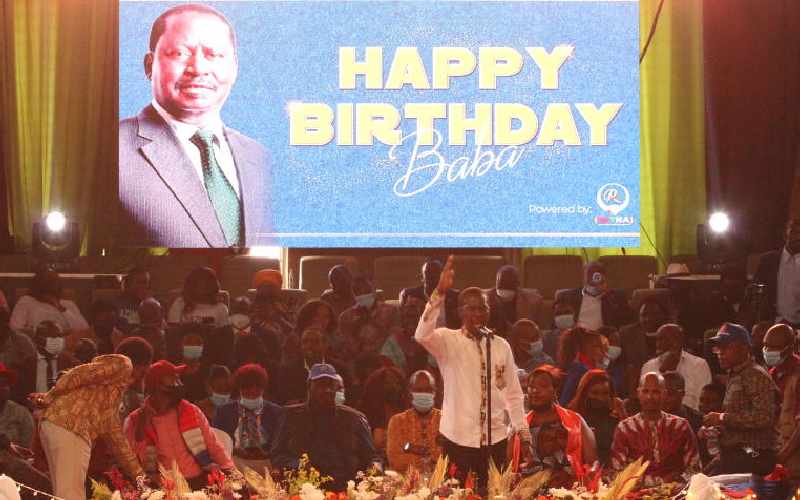 "I have been to much more developed places of this world. I lived in Germany for many years, a country destroyed to the ground in World War II. It emerged 15 years later to become a top economy in the world.
"It is possible to turn our country, but we need a leader who knows how to do it… I was prime minister for five years, I know where the country's funds are," the ODM leader added.
Those in attendance had preempted Raila's sentiments that he was a safe pair of hands.
Even Deputy President William Ruto, spared some thoughts for his political opponent, penning in his official Twitter handle: Happy Birthday Jakom. May you be blessed with many more.
Ida Odinga too wished her husband well: "The bond between us has grown stronger with each passing day. I loved you by the time we got married and I love you even more now.?"
"Let us gift Baba by ensuring that he celebrates his 78th birthday in State House next year," said Kieni MP Kanini Kega, rekindling memories of Uhuru's request for a birthday gift in the October 26 repeat election of 2017, which fell on the president's birthday.
Embakasi East MP Babu Owino's remark was a prayer of good health for his party leader and victory in the elections.
"Baba shall know no peace until the bottomless sea of hopelessness and joblessness is solved. Baba will know no happiness until the youth of this country are salvaged from the bondage of poverty," said Owino.
Nairobi Governor Anne Kananu said Raila played a huge part in ensuring that she became the governor through the handshake arrangement. "I am the first child of the handshake… He has shown us that he can hold a family together, meaning that he can hold the country together," she noted.
"This is a kind gesture and, as a family, we are grateful for your passionate support. Raila has a vision for the youth and he knows that this country can't develop if we don't unleash the full potential of this group," Raila's brother Oburu Oginga said.
In Siaya County, residents led by County ODM chairman George Okanda and Health Executive Dismas Wakla cut the cake. Their message was that the best gift Siaya residents could give Raila was to register as voters as from January 17.
Young Turks Handshake Alliance Siaya chairperson Steven Amollo also attended.
In Nakuru, Governor Lee Kinyanjui celebrated Raila's contribution to expansion of Kenya's democratic space. He pointed out the sacrifices Raila made for the country as actions that portray him as a selfless man on matters of public interest.
"As Raila celebrates his 77th birthday today, it is worth noting that nine of them he spent in prison not because he stole anybody's shamba but to expand the democratic space," said Kinyanjui.
A birthday cake with Raila's image was cut at Midlands' hotel by ward representatives led by Nakuru Speaker Joel Kairu.
In Kisii, Governor James Ongwae said the country will be celebrating Raila's birthday until August 9 when elections will be held.
In Homa Bay County, former Kasipul MP Oyugi Magwanga led residents in marking the event at Bunge la Wenyenchi ground.
Kisumu Governor Anyang' Nyong'o said they celebrate a visionary man who has greatly sacrificed for real development of the country.
[Additional reports by Olivia Odhiambo, Kennedy Gachuhi, Eric Abuga, Caleb Kingwara, James Omoro, Stanley Ongwae and Philip Mwakio]