Suba factor as Migori governor aspirants seek elders' backing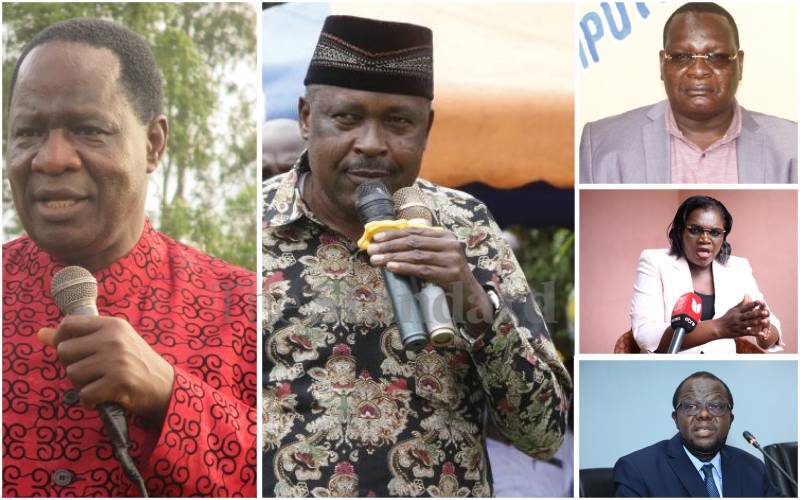 Political temperatures are rising in Migori County as aspirants seeking to succeed Governor Okoth Obado in next year's election scramble for elders' endorsements.
In May, Migori County Secretary Christopher Rusana was endorsed by the Suba elders.
This saw other aspirants, who include Migori Woman Representative Pamela Odhiambo, businessman Philip Mwabe, former Migori MP John Pesa, former Mombasa County Executive Seth Odongo and businessman Owiso Ngao reject the endorsement.
Other hopefuls include former Cabinet minister Dalmas Otieno, Senator Ochilo Ayacko, former Nyatike MP Omondi Anyanga, US-based academician Mark Ogutu and County Speaker Boaz Okoth.
Those opposed to the elders' choice termed the move as compromised. Suba community elders led by chairman Riogi Riogi said having a single candidate would increase their son or daughter's chances of succeeding Governor Obado.
"In our own wisdom, we saw that placing a single candidate would strengthen the community's unity and supporting the candidate would be easy and hence winning of the elections," Riogi said.
In August, Senator Ayacko, who is giving the gubernatorial seat a second stab after losing to Obado in 2017, was crowned as a Kuria elder at Kehancha Korosaro, an important venue for Kuria cultural activities, and endorsed to run for the seat in 2022. The senator after being crowned a Kuria elder vowed to pick 'an able Kuria man or woman' to be his deputy. Last week, some Kuria elders endorsed Ms Odhiambo as their preferred gubernatorial aspirant.
However, Kuria council of elders chairman Nyagusuka Magige said elders in the community did not recognise the woman representative's endorsement, adding that she did not go through the right channel.
According to the Kuria council of elders chairman, Odhiambo was not endorsed by 'real' elders.
He said they only recognise Senator Ayacko's endorsement which was done in their presence.
"We are not aware of any other endorsement. None of us were invited for the endorsement of the women representative for governor. She should have asked to be shown the real Kuria elders," Mzee Magige said.
The chairman said those who endorsed the women representative were not elders in the community.
Odhiambo, who vowed to preach peace across the county, was endorsed by a faction of Kuria elders who were led by their chairman Matiko Mahiri who said they have placed aside the tradition that shuns endorsement of women for seats.
Otieno's foot soldiers on the other hand say that they would soon have a 'major' coronation done. According to Matiko Bohoko, an analyst, the endorsement of Odhiambo and Ayacko shows the elders are divided.
"The endorsement should be backed by extensive campaigns and meetings with other groups," said Bohoko. Pesa termed the endorsements as sideshows.
"Time for reckoning is coming. Any sane person living in a hotel won't sleep on an empty stomach while free food is being offered at the hotel," Pesa said.
The Kuria community which forms about 30 per cent of the total population of the county has been an area of focus for gubernatorial aspirants every election season as aspirants try to woo the minority group for their votes.
While Obado is yet to endorse any of the hopefuls, observers say the race will be partly decided by the political value from running mates.
While Ayacko and Otieno are seen by many to be the frontrunners, the fact that they come from Awendo and Rongo - areas that are seen to be politically tied at the hip - it is believed they could divide the votes, a situation that could favour Anyanga whose Nyatike sub-county has the highest registered voters.
Observers say the Ayacko-Otieno rivalry could compromising the two rivals' chances, leaving Anyanga as a compromise candidate. The former Nyatike MP has the advantage of wide political networks in ODM and deep pockets.