Raila dangles goodies to West Pokot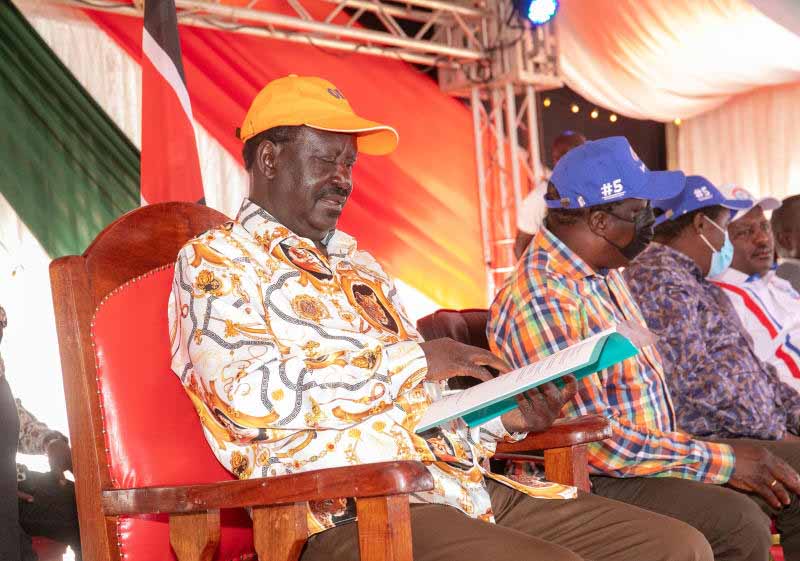 ODM leader Raila Odinga yesterday pitched tent in West Pokot where he promised to address the decades of marginalisation which has faced the region.
Raila, who was welcomed by area governor John Lonyangapuo, met with hundreds of Kenya Union Party (KUP) delegates at Kishaunet showground before addressing residents in Makutano town.
While addressing KUP delegates in Kishaunet, he promised to address several issues the leaders had presented once elected to Presidency come 2022.
He said that due to poor governance, the Pokot community has been marginalised for years and urged them to elect leaders wisely in the forthcoming elections.
"West Pokot has been marginalised for all those years because the distribution of resources has not been done equally," he said.
He noted that the county has been neglected since the colonial era and promised to put in place affirmative action to solve the issues under his 'Azimio la Umoja' plan.
Raila told the residents the Building Bridges Initiative was on 'half-time' and will be reinstated to allow counties to enjoy more funds.
"My government will put tap water to every doorstep, open irrigation schemes as well as Turkwel dam to be used for irrigation and provide water for livestock," he added.
He further promised to revive the multi-billion Ortum cement factory to boost the economy of the region and employment, adding that a railway line will be extended to Ortum town.
He maintained that the promise to give vulnerable families Sh6,000 every month was only possible through sealing all corruption loopholes.
"If billions are stolen every week, the country's development will be affected. Why do people think giving Sh6,000 to the poor is impossible? We have to change the leadership of this country if we want to go far," he noted.
He added, "We need to start processing local products and be self-sufficient. In addition, business operators should have a peaceful environment to conduct their business. This will be possible if we all are united under Azimio la Umoja," he added.
He told the local leaders and residents he was looking for partners to advance his Azimio la Umoja dream for the country.
Governor Lonyangapuo, who presented the Pokot community proposals to Raila, noted that the former prime minister commands the support of a huge number of residents ahead of the 2022 elections.
Suna East MP Junet Muhammed took a swipe at Deputy President William Ruto saying that the United Democratic Alliance (UDA) lacks the agenda to take Kenya forward.