Is Waiguru Ruto's secret choice of running mate?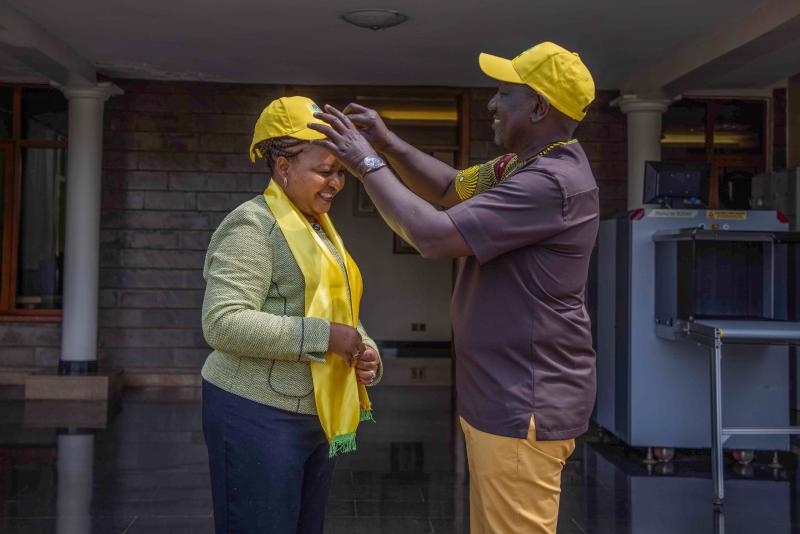 Kirinyaga Governor Anne Waiguru yesterday 'cat walked' to Deputy President William Ruto's United Democratic Alliance (UDA) party - a perfect example of the fragility and fluidity of Kenyan politics.
Waiguru's decision to ditch President Uhuru Kenyatta's Jubilee Party on his 60th birthday could have been by design or by default but the message was clear she was bowing to the pressure of her supporters in Kirinyaga.
In pursuit of interests, the governor and DP met a zero sum game seemingly burying their differences occasioned by the National Youth Service (NYS) scandal. At the height of the probe into the scandal Ruto challenged Waiguru to own up to the loss of Sh791 million.
For the DP, the catch was a big fish, the only governor in the Mt Kenya to publicly declare support for his bid to succeed President Kenyatta in the August 9, 2022 General Election, while for Waiguru it was a move to save her political career threatened by Narc Kenya leader Martha Karua and Kirinyaga Woman Rep Wangui Ngirici.
"After extensive consultation with Kirinyaga people, I've decamped to hustler nation. 2022 Chama ni UDA, Form ni Hustler Mpango ni BottomUp! Thank you, MCAs led by the Majority Leader, Speaker, Deputy Speaker & Chair Women Caucus for accompanying me on my journey to join Hustler Nation," the governor tweeted after the three hour meeting with the DP at his official Karen residence in Nairobi, yesterday.
Waiguru had given clear indication that she was headed to UDA after addressing a roadside gathering at Thiba area in Mwea, Kirinyaga County on September 22, where she asked the electorate to guide her on which party to run on.
The group shouted: "UDA!" To which she said: "I would say, it's the people who implored me to run on that party's ticket, and that my decision was anchored on their wishes."
An MCA from the county who sought anonymity said Waiguru told the meeting with the DP and 27 ward representatives that it had become increasingly difficult to hold public gatherings in Kirinyaga because of her political affiliation.
"People never gave me chance to talk in meetings, they would shout me down. It was tough and humiliating. They told me you must push the wheelbarrow or you will go home, we do not care about your development," a source in the meeting said.
The MCA revealed that Waiguru said, part of her family members had told her that they were on Ruto's side and it was only prudent that she listened to them and the residents of Kirinyaga county.
"Only a fool can continue in the same path with this kind of pressure. You must listen to the people. It is the people to decide. You can't dictate to them. During Mashujaa, we saw it all. The signs were clear on where our leadership is heading," the MCA disclosed what the governor told the meeting.
In November 2016, Ruto tore into Waiguru then Devolution Cabinet Secretary over the NYS scandal.
"Kingereza mingi, mnatufanyia catwalk hapa around na ni wazi pesa ya umma imepotea, mwenye hiyo pesa anasema aliweka kwa gunia. Sasa kweli jameni dunia hii…" he said.
Recently in an interview with a local TV station, Waiguru termed her relationship with Ruto as warm and professional saying he did not have to to apologise for linking her to the graft at the NYS.
"People will sometimes have some perceptions based on the information they have. As a leader you do not carry things for a lifetime. Ruto and i have a cordial and professional political relationship," she said.
Her move to join UDA yesterday sets her up with Ngirici one of the pioneers of UDA party in the race for Kirinyaga governorship.
The Woman Rep and Karua are among the strong competitors for the seat.
Will her jumping sides to UDA complicate matters for Ngirici?
"She is the easiest competitor to beat, i do welcome her to the party where i will beat her in the gubernatorial race," said the Woman Rep. "UDA house is a big house. She is welcome," she added.
There are some who have argued that she could be eyeing the running mate position.
Waiguru in a previous interview said that she was ready for the running mate post and it was upon the flag bearer to decide if she was worth the position. She argued that the country was ripe for a female deputy president.
Belgut MP Nelson Koech said the DP was employing the strategy of gather all scatter none as he moves to solidify his support and widen his margin of victory in 2022 presidential race.
"The DP is keen to bring all on board and in the coming months until January we are likely to see even bigger names joining the hustler nation. Essentially his strategy is bring new peole on board but also maintain those who have been loyal to him in this journey. All he wants is a clear victory in 2022 with a wide margin," he said.
The governor was thrust into the national limelight after she was appointed Devolution Cabinet Secretary at the age of 41.
In 2016, she would spark national debate after the NYS scandal in her line ministry was exposed.
The scandal would see the opposition led by ODM leader Raila Odinga demand for her resignation.
She bowed to pressure and asked the president to give her 'lighter duties' before she resigned and trained her eyes on Kirinyaga gubernatorial seat.
Waiguru would go to court and accuse Raila of defamation in the NYS scandal. But just like her current case with Ruto, it was the ODM leader that would come to save her by rallying senators to reject her impeachment by the MCAs.
Prior to her appoint as CS , she served as Head of Governance and the Economic Stimulus Programme at the National Treasury, alternate to the Permanent Secretary/National Treasury in the Public Procurement Oversight Authority and advisory board and director of Integrated Financial Management and Information System (IFMIS), and Head of Governance at the National Treasury.
In 2011 she was nominated at the time from the Public Service as one of the Top 40 under 40 women in the country.