State 'projects' don't win every election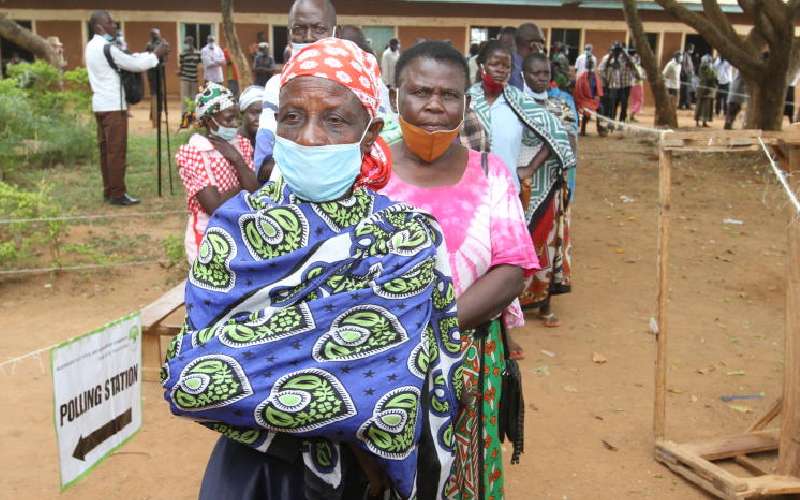 In a race crowded with presidential hopefuls, 'State projects', as they are fabled, are a contradiction of sorts, holding undue advantage and disadvantage at the same time.
They enjoy the support of the government of the day, complete with the infamous State machinery touted as a game-changer in any electoral contest. Yet, this outright support could be the bane of their presidential ambitions.
Such projects are handpicked to take over from an exiting president, whose administration will pull all the stops to ensure their success and their support stretches beyond an acclamation of endorsement.
"Projects enjoy the advantage of incumbency that includes the backing of the system, which I believe to be different from the Deep State. It may mean that they may have the advantage of even rigging the elections in their favour," argues Prof Philip Nying'uro, a lecturer of political science at the University of Nairobi.
Earlier this week, social media was awash with reactions to the startling revelation of the existence of the Deep State, which influences the politics of the day behind closed doors, including deciding who will be president.
Nyandarua Governor Francis Kimemia, formerly an alleged member of the Deep State, claimed in a TV interview on Tuesday that the intention of this clique is to "ensure continuity". At around the same time, Kimemia, a former Head of Public Service and Secretary to Cabinet, made the remarks, the hashtag Deep State was trending in the United States for similar reasons that it was trending in Kenya, amid conspiracy theories surrounding this cabal. Similarly, accusations flew that the Deep State had a hand in deciding who led the US.
Research has suggested that the networks in Kenya include business moguls and oligarchs keen on ensuring a government friendly to their operations. Such imply that an oligarch, who gets hefty cuts from government dealings, would do everything to maintain their business, including funding candidates that promise to ensure that they continue working with the government.
Projects, for all intents and purposes, have a head start in a finance-intensive presidential race. On paper, these figures should win the election, but that has seldom been the case, chiefly because of the bad press projects get on the campaign trail.
Labelled projects by rival politicians cast them as an extension of the transgressions that the existing regime may have perpetuated. Aware of these facts, aspirants who enjoy the State's support deny any such links.
"The calculations of the Deep State working on political calculations may not be the reality of how people vote because people vote emotionally," opines governance consultant Tom Mboya.
"An incumbent president, however successful he may be in certain areas, fails in others and such failures may be passed onto their successor," says Prof Nying'uro. "Any person who chooses a successor gives the impression that they may have done wrong things they want to be covered up."
The Deep State has played subtly in its quest to influence succession, keeping its hand hidden, afraid of sparking backlash from the electorate in the event they get wind of their plans.
But Nying'uro believes there are telltale signs that expose a project, signs that include persons who "enjoy public preference from the president through actions such as increased security and carrying out the president's assignments."
Such is the case that reverberates across Africa, a continent in which retiring presidents have been obsessed with influencing their succession, some of whom run governments that mirror family dynasties, in which sons succeed their fathers as presidents. While some presidents endorse successors with the intention that their party maintains a hold of power, others do so to safeguard their personal – mostly business – interests.
President Uhuru Kenyatta – in his 2002 stab at the presidency – may have been Kenya's ultimate embodiment of a project, having been plucked from near-obscurity by the late President Daniel Moi, who sidestepped veteran politicos to hand him Kanu's torch.
Nominated into Parliament a year earlier, the odds were stacked against Uhuru's victory. Still, President Moi chose him, a person who had never won an elective seat, as his successor, to ensure that the independence party would continue to lead the country.
Uhuru, the out and out State project, would suffer his first and only loss in a presidential election at the hands of former President Mwai Kibaki, who secured a landslide win.
Since then, other politicians have emerged as projects of faceless figures. Ahead of Kibaki's retirement in 2007, Amani National Congress leader Musalia Mudavadi, then a deputy prime minister, emerged as a favourite within Kibaki's inner circle.
So much so that Deep State emissaries had convinced Uhuru to shelve his presidential ambitions and back Mudavadi before he made a U-turn with his famous 'madimoni' quip.
The dark cloud of the crimes against humanity charges at the International Criminal Court (ICC) hanging above Uhuru and his deputy William Ruto had reportedly got Kibaki's inner circle concerned.
Mudavadi has on several occasions admitted that a deal between himself and Uhuru, ostensibly shepherded by Kibaki's close aides, existed.
"Kibaki was very clear that he did not want to interfere with the future of this country. After the 2007 post-election violence, he was keen on leaving an intact nation," says Machakos Governor Alfred Mutua, who served as Kibaki's spokesperson.
Dr Mutua reveals that people around the former president, the so-called "Deep State", had different options for Kibaki's succession like former Internal Security minister John Michuki who was for Uhuru.
"The fact that Kibaki made Uhuru the deputy prime minister was an indication that he thought Uhuru would be capable to succeed him."
He adds that the Deep State isn't one united front, saying that different factions of the amorphous body may exist within one government, propping their respective projects.
"Projects are chosen and propelled, regardless of the fact that they may not be the best for the country, because they bring comfort to those interested in advancing their interests," states Mutua, sentiments echoed by Mboya.
"We are assuming that the Deep State influences the elections but we don't know for sure that this is the case. But even from a global perspective, such things happen. There are significant interests at play that need safe-keeping," says Mboya.
In recent times, such claims have surfaced, with Mudavadi's name peddled among those considered projects, claims he has vehemently denied. Former Prime Minister Raila Odinga, too, has denied suggestions of being Uhuru's and the Deep State's project, even as his brother Oburu Oginga suggested that Raila may have finally secured the blessings of the 'system'.
"I don't think voters should be concerned about whether or not someone is a project. There is this wrong notion that when voting you should elect a candidate who you believe will win the election. What should matter is whether you believe that a candidate is capable of keeping their promise and will serve your interests as a Kenyan," adds Mboya.