Constitution at 11: A cry for Kenya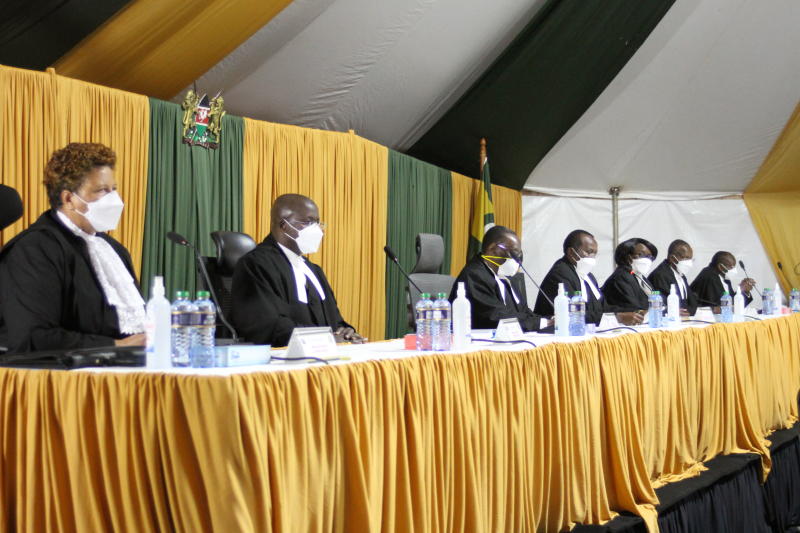 From 1964 we began to amend the independent Constitution without much consultation with the people of Kenya. It may have been expedient to do so. However, as a result, eventually the clamour for a people's driven constitution emerged.
Apart from recording history, I make this observation to warn us, yet again, that whenever we want to change our new constitution, we must do so with utmost caution. Obviously any constitution must be changed occasionally to accommodate changing times.
President Mwai Kibaki (2011)
Last Friday, the Constitution promulgated on August 27, 2010 in the wake of overwhelming public approval by a popular referendum marked its eleventh anniversary in a tense and sombre atmosphere contrasted with the ecstatic celebrations and hope that greeted its birth hardly a decade ago.
There is no trophy for guessing why this is so because a week before, the majority of a seven-judge bench of the Court of Appeal dismissed several appeals challenging a landmark decision of the High Court that put paid to the Building Bridges Initiative (BBI) 'reggae' three months earlier, yet the learned judges said precious little about the complex political problems that set off the BBI train in the first place.
As the 2022 election season gathers momentum, it is not easy for anyone who understands the dynamics of Kenya's political history, warts and all, to affirm that the High Court judgement and its subsequent affirmation by the Court of Appeal majority judgements have left Kenya in a better place politically. There are three pieces of anecdotal evidence that attest to this observation.
First in the wake of the Court of Appeal's verdict politicians from across the political divide have intensified efforts to try and salvage some of the BBI reforms through a parliamentary constitutional amendment route. Perhaps it should concern Kenyan lawyers and judges, including yours truly, that there is a growing perception among the tiny elite of cerebral Kenyans that we do not hack politics enough to be entrusted with existential matters of State and country.
In fact in his reaction to the majority decision of the Court of Appeal renowned political commentator Prof Herman Manyora aptly said: "The High Court and Court of Appeal judgements will have major implications on the country's political future, and even into 2022. It may mark the end of the BBI, or even create a new lease of life for others… This is a process that was celebrated by many when friends and adversaries came together. But then politics and the politics of succession came in and that is why we saw people like the Deputy President openly opposing the process and some of its provisions".
In a sense therefore these judgements amount to a political victory for the Deputy President over his boss, President Uhuru Kenyatta, and this cannot be a good thing except to a band of political novices; incidentally this is precisely why court jesters are reluctant to tell the king that he is naked even as they try to cover his nakedness.
Secondly, when President Kenyatta called a media interview to speak on various national issues he was categorical that whereas he would respect the Court verdict he was absolutely sure that the judges did not understand what was at stake and probably Kenyans will regret these decisions sooner than later.
To put this into context we should remember that when Uhuru and ODM leader Raila Odinga shook hands on 9th March, 2018 on the steps of Harambee House, Kenyans sighed in relief that civil strife had been suspended and a resolve made to try and fix the political problems that had pushed our country to the verge of civil war. In fact across the world the two leaders were celebrated for their statesmanship and political maturity. In his speech on that day President Uhuru explained the necessity for the Handshake as follows:
A new beginning
We look forward to the support of every single Kenyan so that we can build together a united, harmonious, stable nation where no individual feels left out or left behind. So to me, this marks a new beginning for our country, a beginning in which we hope that we shall march together as Kenyans and that we can differ in terms of political alignments but always remain steadfast and united in matters Kenya.
Now the Constitution of Kenya Amendment Bill, 2020 is not a masterpiece in the ways that it addresses the shortcomings of the 2010 Constitution that we have identified over the last eleven years, but the judges did greater violence in failing to place it in the context of recent political history and what it seeks to achieve.
Put differently, courtesy of these judgements the political hostilities suspended by the famous Handshake have been let loose barely a year to a high stakes General Election in which the incumbent president views as an existential threat the highly probable ascension to the presidency of his deputy whom he views as unfit for that high office. I will shortly return to this issue.
Thirdly, soon after Uhuru's media interview in which he partly blamed his deputy for the fate of BBI, the Inspector General of Police downgraded the security detail of Dr William Ruto which led him to cry out that his life is in danger on the very day that the 2010 Constitution was marking its eleventh anniversary.
Whether or not you think Ruto is a good man, so long as he remains Kenya's Deputy President, we should not get into a situation where he expresses fear about his security. Given that accidents happen, it is chilling to imagine how the Hustler Nation and his militant ethnic support base would react if any harm were to happen to Ruto in the tense atmosphere triggered by the withdrawal of elite security from his private and official residences.
There is certainly need for wisdom to prevail amongst Ruto's many enemies but it will also help Ruto to recognise that Niccolo Machiavelli and even the late powerman Nicholas Biwott would not have thought it smart for any wannabe prince to keep poking his fingers into the nose of a reigning prince. I am also sure Ruto's emergent mentor President Yoweri Museveni would also not approve of it. Lest we forget adult Kenyans are witnesses to the fact that in April 2013 at Kasarani Stadium President Kibaki handed over the Sword of State to Uhuru as part of the constitutional tools to preserve and defend the Kenyan state and nation.
We need to be very worried when the man for whom Article 242 has established the National Intelligence Service (NIS) to advise on national security matters publicly declares that he is determined not to hand over the sword of State to some people, rightly or wrongly, that would imperil the objective interests of the Kenyan State.
Problem with BBI ruling
Now to the extent that the BBI should be politically understood as one of Uhuru's strategies to ensure that the captaincy of Kenya's ship of state would not be exclusively handed over to people he considers as "dangerous politicians" it is truly sad that all the BBI judgements did not indicate familiarity with these concerns.
The long and short of the BBI judgements is that the Constitution of Kenya (Amendment) Bill, 2020 is unlawful for being unconstitutional, null and void ab initio.
Consequently, the Court of Appeal issued a permanent injunction to restrain the IEBC "from undertaking any processes required under Article 257(4) and (5) in respect of the Constitution of Kenya (Amendment) Bill, 2020". In other words, IEBC has been prohibited by the Courts from giving the Kenyan people the opportunity, in their collective wisdom, to decide the merits and demerits of the BBI constitutional amendment Bill.
In my mind, the high achievement of the majority decision of the High Court in the Njoya Case is that whilst it recognised the right of Parliament to amend any provision of the Constitution it limited that power of amendment by requiring that replacement of the constitution must be approved by the people through a referendum.
In 2005 and 2010 the wisdom of this judgment was vindicated in the referenda on the respective proposed Constitutions.
The logic in the Njoya Case places the people at the apex of power but under the BBI judgements, it is the judges – in the name of protecting the Constitution – that have claimed the apex of our political system. This is both tragic and a wanton subversion of our constitutional democracy.
In my book the BBI judgements do not sound like a victory for constitutional democracy in Kenya because in the end it disempowers Kenyans and makes a mockery of the concept of the people's sovereignty which is what distinguishes Kenyan democracy from the variants practiced in Uganda, Rwanda, Tanzania and for that matter China.
I cannot help but wonder whether politically-savvy judges like the distinguished Chief Justice CB Madan, Joseph Nyamu, Aaron Ringera, Dr Willy Mutunga, Mohamed Ibrahim, Isaac Lenaola, Erastus Githinji, Smokin Wanjala and Njoki Ndung'u could have been oblivious to such first order principles. It is, therefore, good that Attorney General Kihara Kariuki has decided to appeal against the majority decision of the Court of Appeal to the Supreme Court.
However, such an appeal should be more ambitious and seek the reversal of the entire decision as opposed to seeking clarifications on technical issues that truly do not get into the core of this political dispute.
In my mind the ultimate test of a good constitution is its capacity to adjudicate over political conflicts such as high stakes elections and to protect the rights and freedoms of the people that invariably presuppose the existence of civil peace and order. Kenya is lucky that 1978, 2002 and 2013 political transitions were peaceful and in accordance with the Constitution.
Uhuru has one vote but...
In the wake of the BBI judgements and the increasing hostilities between Uhuru and Ruto, we cannot take it for granted that the 2022 transition will be either peaceful or in strict accordance with the Constitution now that Uhuru's distrust of liberal democracy many have suffered another fatal knock barely four years after the Supreme Court controversially nullified his election despite garnering a comfortable majority over Raila Odinga.
It is easy to dismiss all these concerns by saying that Uhuru has only one vote (which is evidently true) but it would be foolish to be blinded to the fact that the sword of state was constitutionally handed over to him in 2013. If your reaction to this is that the High Court will compel him to hand it over to the "winner" of the 2022 presidential election, I would hasten to say that you must be too thick to deserve a response. Let me explain.
In 1978 the Kenyatta succession proceeded smoothly because the men entrusted with the reins of state by the ageing president knew that Daniel Arap Moi was Kenyatta's preferred successor despite the change the constitution movement spearheaded by some of Kenyatta's sycophants.
Similarly, in 2002 Moi did not stand in the way of Mwai Kibaki's ascendancy to power precisely because he reckoned that a Kibaki presidency could not harm Kenya.
A decade later Moi's assessment was proven right. In the same vein in 2013 President Kibaki did not break too many bones over his successor because he was at peace with both Uhuru and Raila despite his suspected preference for Uhuru.
Democracy is a fragile thing in so many corners of our warming planet. In such places, that tragically includes Kenya, the opinions of incumbent wielders of power matter and it takes nothing from the members of the higher judiciary to acknowledge this political fact.
Humility is one of the oldest virtues in matters that concern political leadership. When all is said and done power is the main subject of constitutional law and the attendant adjudication of political disputes such as the BBI process. And so, like politicians, the virtue of humility is highly recommended for lawyers and judges because their work requires them to balance on the tight rope of law and politics and to resolve political disputes in ways that would not irredeemably assault the dignity, egos and prestige of critical political players. I am persuaded that Dr Willy Mutunga, Attorney General Amos Wako and Speaker Kenneth Marende are celebrated for being the kind of lawyers who were able to balance such conflicting interests.
It should concern all people of goodwill that all too often judicial decisions in major cases are manifesting a disturbing lack of empathy for the difficult jobs that politicians are called upon to play in the arena of politicians. As Ruto himself said in December 2007 politics is a high-stakes game that can easily make people fight.
Political or judicial solution
Barely a month later when civil strife erupted and Kofi Annan descended into town, we did not see any of our judges at Serena in January 2008. Therefore it should help all Kenyan lawyers and judges to remember that if in August 2022 the 2010 Constitution turns out to be politically inadequate to adjudicate or resolve any political complication that might arise, it is the same breed of people like Uhuru, Raila and Ruto that we shall all look upon to clear the mess.
The point here is that it is not in the place of our judges to pretend that they can clear the mess that is Kenya's politics: admittedly, our politicians are not smart enough to suggest political solutions that meet our approval, but it remains their business to do so. After all, this is precisely what the hallowed constitutional law concepts of "political doctrine question" and the "test of justiciability" are supposed to mean and imply.
As I read the fourth out of the six majority judgements of the Court of Appeal last Friday, I could not help to reluctantly wonder: now that Senior Counsel Ahmednasir Abdullahi swims in the deep end of the pool at the high palace of the Hustlers' Nation, was it impossible for the AG to get another lawyer in Ahmednarsir's mould to help the judges understand the high voltage political stakes in the BBI appeals?
The thing is this: those who have read Ahmednassir's submissions in high-voltage cases will attest that – discounting the arrogance in his language – he has a deep understanding of the kind of political nous and wisdom that lawyers and judges called upon to determine political cases should possess and demonstrate.
Download the BBI Judgement by all seven Judges - Civil Appeal No. E291 of 2021