No longer at ease: When the second in command falls out of favour with the boss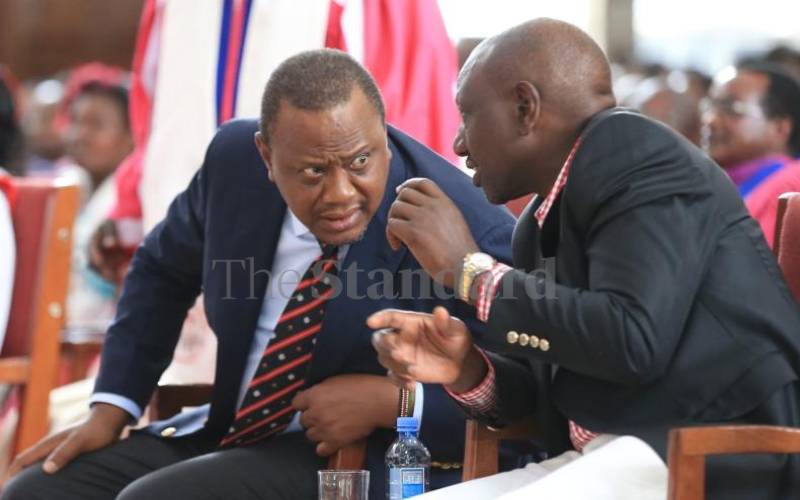 At the helm of leadership, Kenyan constitutions have always dictated that a president should have a deputy but in many ways, such partnerships always encounter a "fallout".
The severed relationship between a president and his deputy, which has played out in public repeatedly rekindles past events where former Vice Presidents (VPs) even called it quits.
Although the 2010 Constitution guarantees the office of the deputy president security of tenure unless in breach on the laid grounds, the situation Deputy President William Ruto finds himself is unique going by the countless remarks and threats to impeachment.
The frustrations are now bare, with President Uhuru Kenyatta being the latest to ask him to resign instead of criticising the same government he is part of.
"The notion of falling out is an oxymoron, they have never been together. The unions of presidents and their deputies are motivated by convenience," says Barrack Muluka, a seasoned publishing editor and public affairs commentator.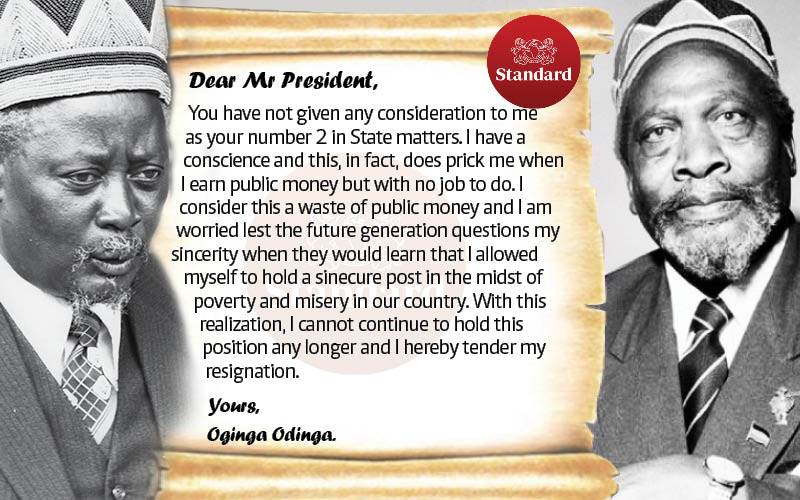 Sixteen months after Kenya got independence and Jomo Kenyatta took office with Jaramogi Oginga Odinga as his vice president, the latter left office.
From a devoted supporter of Kenyatta, Jaramogi would quit following dissatisfaction with the new government's policies which he considered to be drifting further from democracy.
"Before he quit, Kenyatta was not assigning Jaramogi any duties. He would come to the office just to read newspapers," says former National Super Alliance (NASA) CEO Norman Magaya.
In a short, frustrated and disenchanted 103-word letter dated April 1966, Jaramogi would put ink to his thoughts:
Dear Mr President,
You have not given any consideration to me as your number 2 in State matters. I have a conscience and this, in fact, does prick me when I earn public money but with no job to do. I consider this a waste of public money and I am worried lest the future generation questions my sincerity when they would learn that I allowed myself to hold a sinecure post in the midst of poverty and misery in our country. With this realization, I cannot continue to hold this position any longer and I hereby tender my resignation.
Yours,
Oginga Odinga.?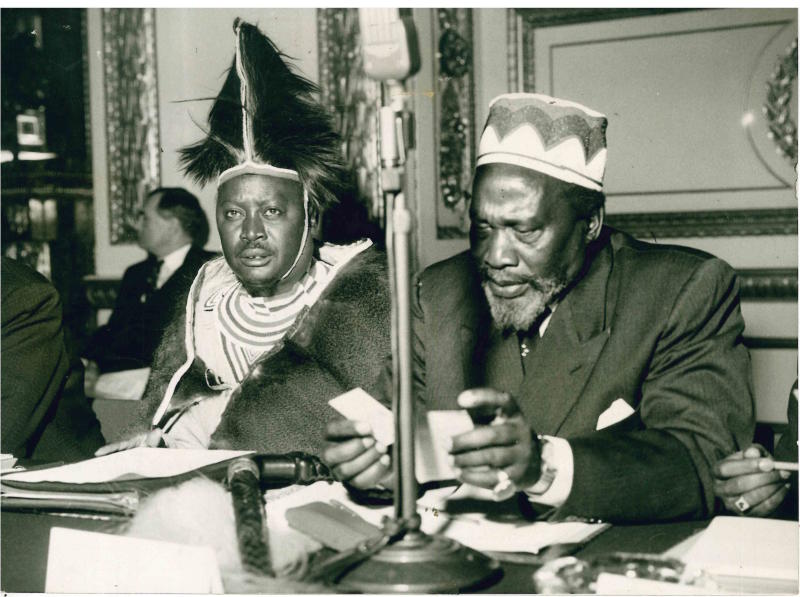 Jaramogi would go on to form his own party - a move akin to the formation of United Democratic Alliance (UDA) captained by DP Ruto- an action that would see an intense onslaught of Jaramogi and his supporters.
State machinery trampled on Jaramogi and his supporters while changes were made on electoral and national security laws to balk the political ascension on Odinga.
But at the time, in a country governed by the old constitution, the president appointed his deputy and the appointee would serve under the mercy of the president with little option but to do what was required of them by the Head of State.
"When Moi was appointed the deputy president, he never contradicted the president. In state events, he would mostly welcome the president and sit without saying much," recalls Magaya.
Muluka explains that another motivation for selection of Moi as the VP was to mend the differences between Kenya African Democratic Union (KADU) and Kenya African National Union (KANU) and also resolve land issues for squatters from Mount Kenya who would be settled in the Rift Valley.
"When he (Moi) became president, he expected his deputies to always dance to his tune just as he had done," says Magaya.
In these "marriages of convenience", tribal politics played a central role.
"To tame the opposition from Mt Kenya, Kibaki proved a suitable person for the appointment and when he was not convenient to have any longer, it was important to find someone who would be absolutely loyal," says Muluka.
Kibaki served for a little over nine years and was shortly replaced by Josephat Karanja who Muluka describes as "elitist and overbearing".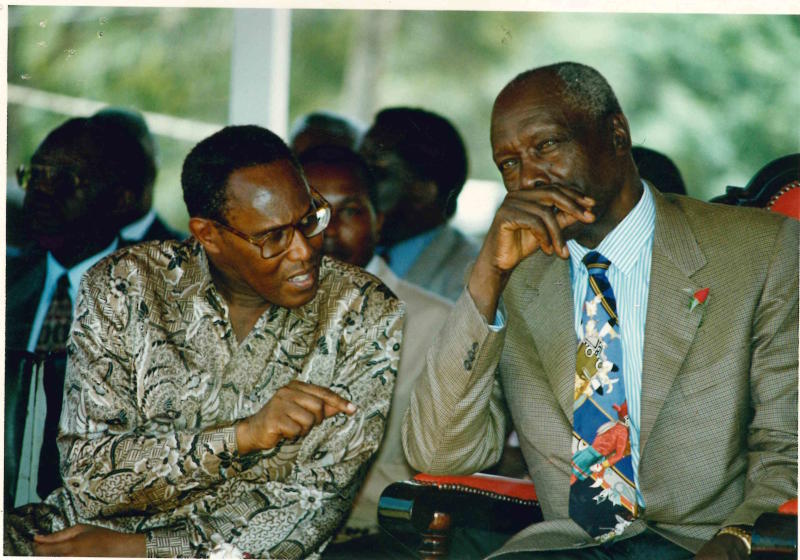 After 13 years of deputising former President Daniel arap Moi, the late Prof George Saitoti was axed from his position in May 1998 after he publicly challenged Moi's choice of handpicking then political novice Uhuru Kenyatta as his preferred successor.
However, Saitoti would come to see his boss's "favour" yet again after Moi reinstated him in April 1999 after intense pressure to have a deputy.
In President Kibaki's Era, Muluka points out yet another union of convenience which catapulted Wiper leader Kalonzo Musyoka to the position of VP.
"Kibaki was on weak ground and needed someone to give him a semblance of legitimacy and that is how Kalonzo came in. When the regime ended, they dumped him," says Muluka.
At the helm of the conflict between the two offices is the political battle between President Kenyatta against his long-time "brother" and DP William Ruto.
During the first term, Uhuru nonchalantly let his deputy tour the country launching projects and embarking on duties above his job description, a thing that had never been witnessed in other administrations.
"It was more of shared power at the time. Uhuru stomached it for purposes of securing votes in the 2017 elections. After the election he put his foot down and put the deputy to his place which is to deputise the president," says Magaya.
"Uhuru tolerated Ruto because he needed the votes Ruto was going to rake in. There is also no way he would have won in 2013 without Ruto," says Muluka.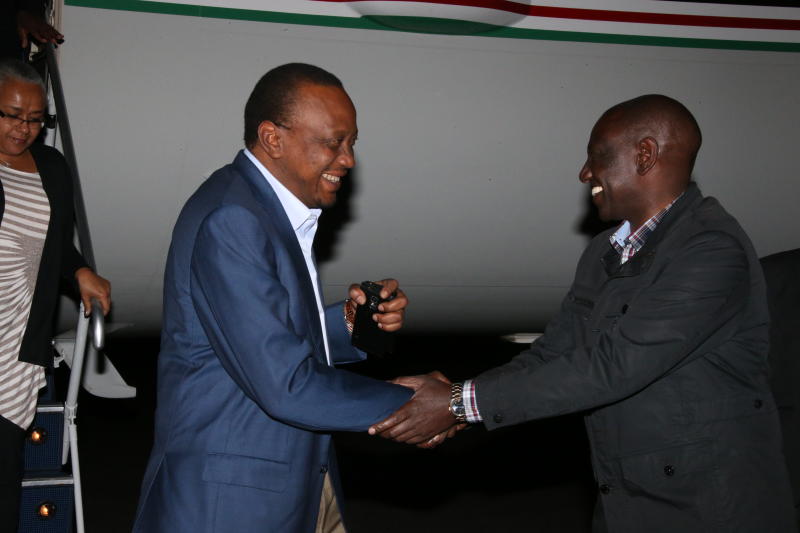 According to the Constitution, the deputy president is to perform functions of the president as the president may assign.
In the world envisioned by the generators of the Constitution, the president and his deputy were expected to have similar goals and ideals which would not result in raging battles that have split the government and the populace.
"We are cultivating a dangerous culture. What the DP is doing to the president is wrong and how the president is dealing with the issue is not right," says Magaya.
Magaya argues that the DP ought to quit the government - just as Jaramogi did when he fell out with the president- and stop using state resources to advance his political ambitions.
However, Muluka says, "Ruto can't resign. He would lose his leverage. The man is having a ball."