Coalitions promise heaven but are built on quicksand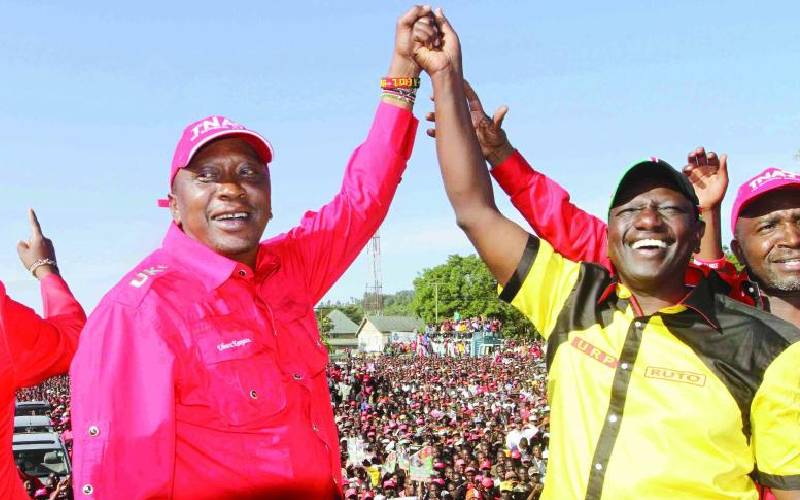 As the country heads towards General Election next year, politicians are facing the daunting task of crafting a winning coalition.
Coalitions have become the default political formation in Kenya. Since 2002, four coalitions have been crafted.
But the political unions are as fleeting as the wind. For instance, Raila Odinga has been in as many alliances as elections he has participated.
Politics is unpredictable, every election brings new alliances. The National Rainbow Coalition (Narc) in 2002, Coalition for Reforms and Democracy (CORD) and Jubilee Coalition in 2013 and the National Super Alliance (NASA) in 2017. But the coalitions are built on quicksand.
Over the past three years, political turmoil and a myriad of competing interests have broken the Nasa coalition which contested against President Uhuru Kenyatta and Deputy President William Ruto's Jubilee Party in 2017.
The Nasa parties – Orange Democratic Movement (ODM), Amani National Congress (ANC), Wiper and Ford Kenya – have all separately announced their exit.
Uniting political factions divided along ethnicity, regional interest, and the ambitions of the party leaders is a tough feat.
Especially since coalitions are almost often built on a patron – client ideology.
The coalitions are glued together by the interests and the might of the politicians who form them.
For instance, ODM was the nucleus of Nasa coalition and the union quickly disintegrated when the party entered into a working arrangement with President Kenyatta's Jubilee government.
But Jubilee has not been spared the upheavals. While not technically a coalition, Jubilee is an amalgamation of 12 parties which dissolved in 2016 to make up the giant party.
The alliance of Kenyatta's The National Alliance (TNA) and Ruto's United Republican Front (URP) that preceded it was successful to a point.
Their attempt at a big tent party, however, was a spectacular failure.
After upheaval caused by the competition between the President and the political ambition of his deputy, Jubilee is floundering and is held together by the fear of MPs losing their seats by decamping from the party.
To reinvent ahead of the 2022 elections, Jubilee and ODM have been flirting with the idea of formalising their 2018 Handshake into a coalition.
The parties have formed a technical committee tasked with identifying instruments to ratify a merger between President Kenyatta and Raila's led ODM.
"The two parties have engaged a technical team to work on modalities that will lead to a pre-election pact," a source told The Standard.
But questions still linger on the tenacity of the party should it merge with ODM.
A coalition between the two could be the trigger for a mass walkout from the Jubilee Party as Ruto predicted in an interview last week.
Ruto described plans for the Jubilee and ODM coalition as an 'auction' in a bid to whip his base against supporting it.
"By next year, all those who were in the Jubilee party will be UDA, especially if they are going to auction Jubilee to ODM," he said.
New issues which could guide the next formations have taken centre stage. Political formations are based on their support or opposition to amending the Constitution and/or reforming the economy.
One axis includes Kenyatta and Raila, while the other Ruto.
The implications of Nasa breakup are already starting to show as ODM discusses with Jubilee and the former Nasa partners gravitating towards each other.
Possible coalitions have already started to emerge as Musalia Mudavadi (ANC), Kalonzo Musyoka (Wiper) and Moses Wetangula (Ford Kenya) join hands with Gideon Moi (Kanu) under One Kenya Alliance.
Ken Echesa, a political analyst, argues that the President is intent on reviving Nasa with the inclusion of Gideon.
"President Kenyatta is keen on reuniting the Nasa tickets of 2017, because he believes it's the only ticket that can compete with Ruto. So on one hand we will have One Kenya and on the other Ruto and his team," he said.
To be declared president, the winning candidate must receive 50 per cent plus one of the votes cast nationally and at least 25 per cent of the votes cast in 24 of the 47 counties.
If no candidate achieves this majority in the first round, the Constitution states that a runoff must be held within 30 days.
This constitutional requirement has made it necessary to craft coalitions.
While Ruto has frowned upon 'regional kingpins', another central factor to Kenya's election, political analysts say he will be forced into a coalition to shore up his numbers.
He has kept his choice of running mate secret. This factor could determine the direction his UDA party takes.
Political analyst Dismas Mokua believes that elections have proved that the community block is the currency.
"Unfortunately, in Kenya when we talk about numbers we mean tribal numbers, those are the only things that coalitions can bank on," he said.
He said it was difficult for politicians to exist when they do not have common interest besides the desire to leverage on the numbers they command.
Across the country politicians have registered parties and are building their support base to help them clinch power.
Former Agriculture Minister Mwangi Kinjuri's The Service Party, Murang'a Governor Mwangi wa Iria's Civic Renewal Party all have the same goal – to be courted into a coalition, analysts say.
Eager for a seat at the table, Governors Hassan Joho (Mombasa) and Amason Kingi (Kilifi) are also mulling to craft a party that serves their interests.
Nairobi Senator Johnson Sakaja concedes that the biggest challenge facing coalitions is the lack of a common ideology or mutual interest.
Sakaja said regional interest is the biggest problem of coalitions. He also stated that the true goal of coalitions was to win an election, "so after the election it would have served its purpose."
Thus, he argued, after the election, they have no purpose to serve and little to keep them together.
"That is the emptiness of our politics. I think these coalitions have not been formed on ideology, so you cannot say it served its purpose. If its purpose was to entrench a certain ideology or to pass certain changes or to make a mark on Kenyan lives then none of them have served their purpose Because none has been able to achieve that," he said.
One of the sticking points in Nasa was sharing of coalitions funds and agreement of the flag bearer.
Kalonzo insists that ODM leader should back another principal next year.