Gideon Moi pledges KANU's support to the youth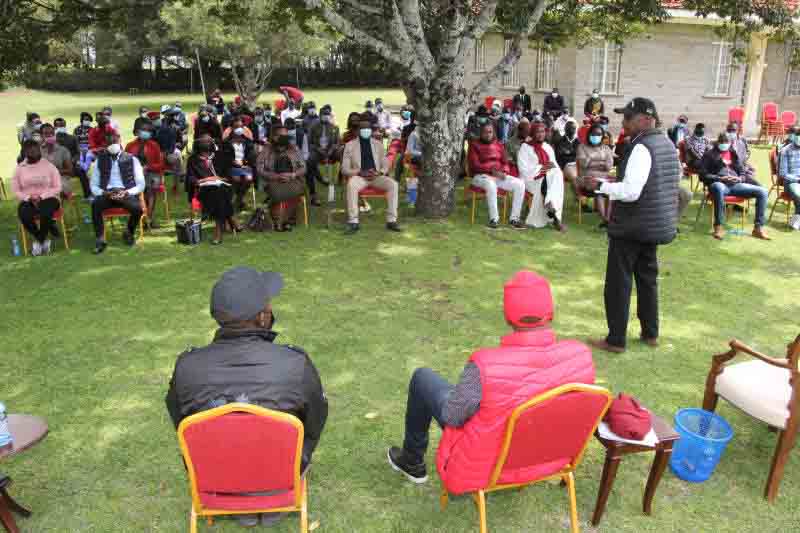 Baringo Senator Gideon Moi has pledged to support the country's youth to overcome challenges facing them.
The KANU chairman said the party was in the process of coming up with an elaborate manifesto, which will factor in the needs of the youth in a bid to include them in socio-economic development.
"The party secretariat involved in making the manifesto welcomes the views of the youth to make the document wholesome with something for everyone. Offering solutions to the youth is at the centre of our plans," he said.
He spoke at his Kabarak home where he hosted student leaders from different universities yesterday.
Gideon, who is also the chairperson of the Senate's Standing Committee on ICT, said they would come up with laws to support the youth start tech companies and promote them.
"We want to protect innovative youth from having their ideas being bought at throw-away prices by multinational tech companies. This will ensure they get deserved compensation for their ideas," he said.
The senator attributed challenges facing the youth to poor leadership, which he said had failed to support them in achieving their aspirations.
"Fifty per cent of the blame comes down to what is incorrect in the system, which can't absorb all university graduates. The other half is due to what the youths do or fail to do," he said.
Gideon said the youth, despite being the majority voters, always give in to manipulation by bad leaders who then turn their backs on them after being elected.
"It is your responsibility to vote in leaders who will not entrench policies that are adverse to your aspirations," he said.
MAIN CHALLENGE
Duncan Omondi, a student representative at Laikipia University, cited unemployment as the main challenge facing Kenya's youth.
"Youths have been disadvantaged. The government needs to expand its programmes to absorb the youthful workforce that has a higher capacity to transform the economy," said Omondi.
Elizabeth Chepkurui, a representative from Eldoret Polytechnic, said the government should make youth involvement in decision making a priority.
"Youths better understand the challenges facing today's world and they have the ideas to solve them. They only need to be placed on the decision-making table," said Chepkurui.