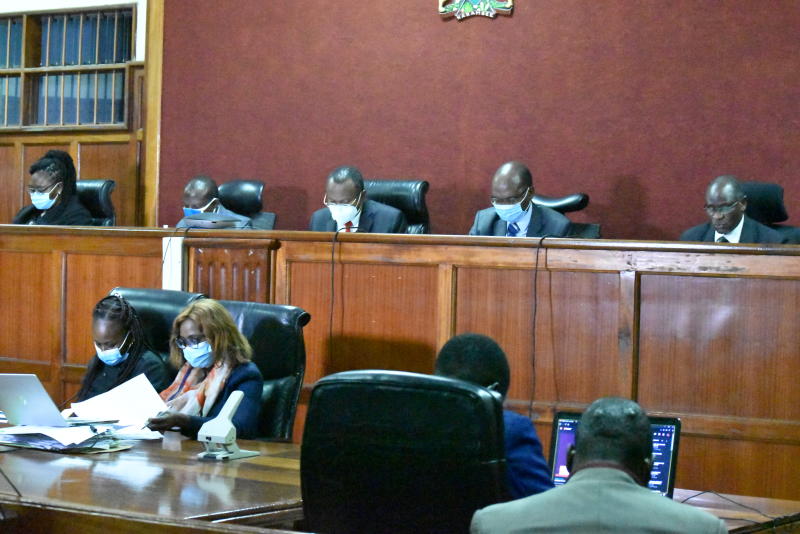 MCAs have faulted the High Court ruling that declared the Building Bridges Initiative (BBI) null and void.
Speaking at a Nairobi hotel yesterday, caucus of MCAs leadership forum chair Meru MCA Victor Kareithi expressed disappointment in the Judges' decision.
Mr Kareithi argued that the court's decision amounts to taking away the sovereign power of Kenyans in amending the Constitution.
The MCAs insisted the BBI report was not a product of the Handshake but rather about the people.
"The judgment does not acknowledge that a Constitution is a living document that must be responsive to the needs and desires of a society at any given time," they said.
The MCAs faulted the declaration that the Independent Electoral and Boundaries Commission (IEBC) was not properly constituted and cannot conduct a referendum because it has no quorum after some commissioners resigned.
The judges ruled that all the actions taken by IEBC concerning the BBI Bill are null and void.
"We find it strange that the bench found that on one hand IEBC can transact business but on the other hand it cannot because of a statute that provides a quorum of five members. Clearly, the bench elevated a statute over the Constitution," he said.
The MCAs faulted the declaration that the BBI process was not all-inclusive.
On Thursday, the judges ruled that a constitutional amendment through a popular initiative is only a preserve of the ordinary Kenyans and not the executive.
They declared that the BBI Taskforce was an unlawful entity.
"A Declaration is hereby made that being an unconstitutional and unlawful entity, the Steering Committee on the Implementation of the Building Bridges to a United Kenya Taskforce Report, has no legal capacity to initiate any action towards promoting constitutional changes," the judges ruled.
Kareithi said all concerned parties had popularised the Bill and it received approval of county assemblies and Parliament.
"The secretariat popularised the Bill which was endorsed by over three million voters against the constitutional requirement. It was then approved by parliament. It's imperative to note that before these approvals, these legislative bodies held over 100 national and county-based intensive public participation forums," he said.
As BBI proponents head to Court of Appeal today the MCA's said in the event the High Court decision is upheld, Kenyans stand to lose if allocation to counties remains at 15 per cent of the national revenue instead of the 35 per cent proposed in the Bill.
"The legislative gridlock inflow of Division of Revenue Bill and enactment of county Allocation of Revenue Acts will remain and therefore paralysis in running the county governments will remain a recurrent matter," he said.
They further stated that 1,450 wards in Kenya will miss out on the proposed Ward Development Fund.
Download the BBI Judgement by all seven Judges - Civil Appeal No. E291 of 2021