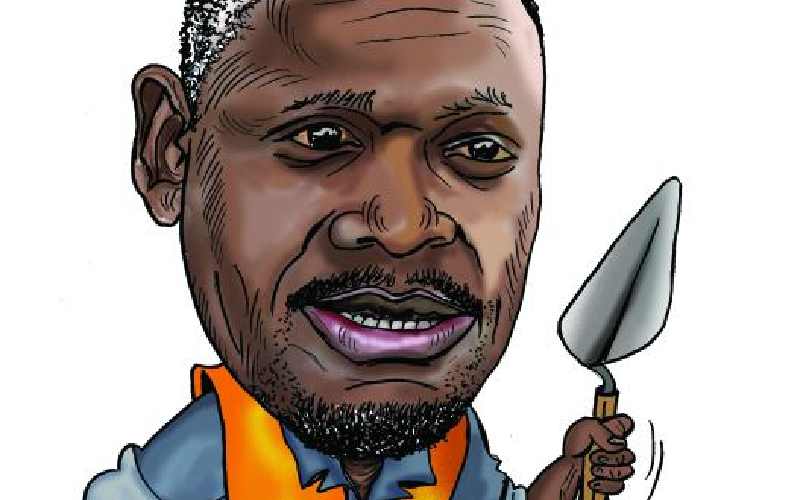 Few Kenyans can pronounce the word vicissitudes. Fewer know its meaning. Much fewer are aware that the "a" in "important" is silent. Otiende Amollo, the urbane mheshimiwa for Rarieda, belongs to the tiny fraction of linguists who know the above.
His vast knowledge of the Queen's language earned the only senior counsel in the National Assembly, another "former" to his enviable resume.
Amollo boasts being a former member of the Committee of Experts that wrote the current Constitution and the country's former Ombudsman. He has a new title – former vice-chairperson of the Justice and Legal Affairs Committee (JLAC).
His party, ODM, replaced him with Ruaraka lawmaker TJ Kajwang. In essence, they got rid of a senior counsel and replaced him with a "chief justice", who swore in their party leader Raila Odinga as the "People's President". In their eyes, that could only be an upgrade. ODM officials have made it clear that Amollo's unforgivable crime was knowing "kizungu mingi".
"The demagogues have had their years, indeed decades, discussing politics in flawless English and legal jargon on the floor and public rallies. It is time for a different path," Dennis Onyango, Raila's spokesperson, said on Facebook.
"We did not put him there (JLAC) to speak a lot of English and legal jargon," ODM chair John Mbadi affirmed.
For nearly four years, ODM hasn't seemed to mind that Amollo could let out one or two words that no one had heard before. In fact, the party raved at the lawyer's perfect grammar that won Raila a presidential petition in 2017.
They praised Amollo and his learned friends, some of whom sit in the Senate, rewarding them with plum jobs in Parliament when the time was right. All the while, it seemed the Rarieda MP was among their prized assets. They loved Amollo's tongue for spewing kizungu mingi and boasted the bright brains the Orange party had nurtured. But, as it turned out, they were only tolerating him, and they were envious of his linguistic prowess.
In his last speech as JLAC vice-chair, Amollo shot down his party's chair for adding his voice to the legal debate on the Building Bridges Initiative Bill. "You have not stepped into law school," he slammed Mbadi.
Days later, he was nursing wounds suffered from his plunge into the pit of party rejects. The first-term MP had never imagined that that his desire to communicate efficiently would be his undoing.
Schooled in Maranda, the doctor of law was bound to excel at constructing sentences. With this skill, he made his name inside and outside courtrooms before politics came calling.
Amollo gelled into his new career as gracefully as words roll out of his tongue. He was a natural, and the masses noticed some difference in how he conducted his affairs. He wasn't as loud as his peers and seemed brighter.
Politics opened doors for more exciting opportunities, including a job as a mason of mud-walled structures for his Rarieda constituents.
He took up the task wholeheartedly and avoided hiring contractors who would have stalled his noble project.
Brian Otieno