President and Raila 'joined at the hip despite misgivings'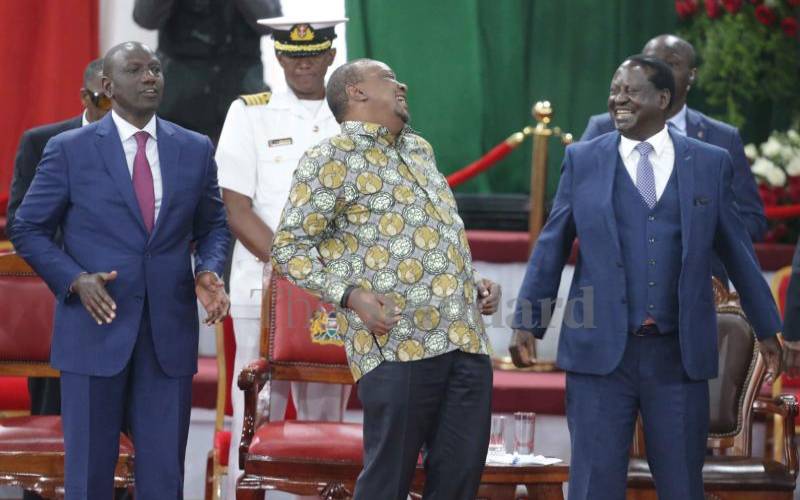 As the whiff of political betrayal threatens to turn into a draught, murmurings of a possible reunion between Deputy President William Ruto and ODM leader Raila Odinga threaten to sink President Uhuru Kenyatta's agenda in and out of Parliament.
The ramifications of a fallout between the Handshake partners must surely inform President Kenyatta's latest efforts to calm Raila's restless lieutenants, who have started sensing treachery ahead of the 2022 General Election.
Yesterday, there were reports that Uhuru was pushing for a meeting with Raila to calm the waters.
He needs ODM MPs to push the government agenda after Ruto drew away close to 140 of Jubilee's 206 lawmakers in Parliament.
ODM has 74 MPs in the National Assembly and 20 senators who have faithfully closed ranks with their foes since March 9, 2018.
A fallout between Uhuru and Raila would be unthinkable. It would shore up the numbers of the president's opponents and leave him exposed to an impeachment motion.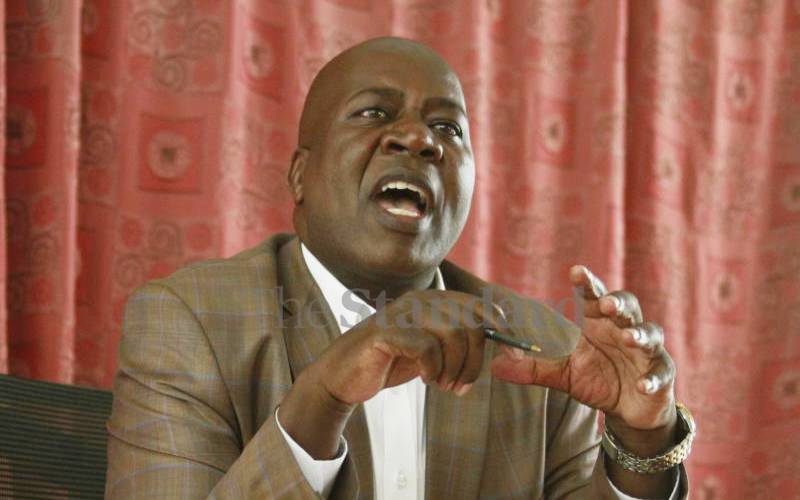 A senior ODM official yesterday told The Standard that there was anger within the Orange party that Raila has helped Uhuru's government only to face potential betrayal.
"They have not made any commitment to Baba and time is running out. We have to show them that it is them who need us more," said the official.
Governor Wycliffe Oparanya, ODM deputy party leader, said it would be difficult for Uhuru to run the government without Raila's support.
He, however, said they don't expect the two leaders to break up before delivering the Building Bridges Initiative (BBI).
"It would be difficult for him to run the government if the two go separate ways," said the Kakamega governor.
"I don't think there will be a fallout between the two leaders because of the handshake, which is their project. It would be unfortunate if they fell out because it would mean death of the BBI."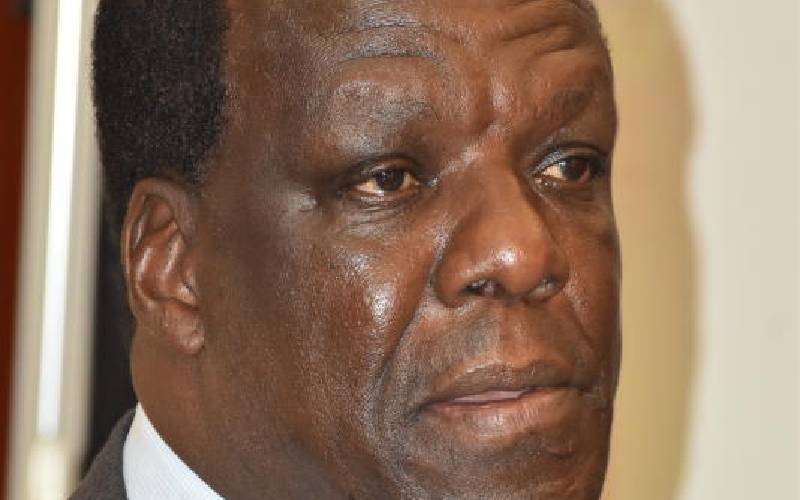 Oparanya hinted at a possible alliance between ODM and other political players in the run-up to the next elections, saying the party has several options.
"In politics, you must have plans A, B and C. If Plan A fails, you resort to Plan B. Working with Ruto is just part of Plan B. We feel there is something missing," he said.
Oparanya denied knowledge of a planned meeting between Uhuru and Raila to discuss the suspicions and disquiet between the two sides, saying that the leaders meet frequently.
"I am not aware of any meeting because he (Raila) has not told me. I don't understand why it is a big issue because these people meet frequently. Why would it be a big issue now, because I am aware they meet a lot."
Junet Mohammed, the National Assembly Minority Leader, downplayed reports of a pending break-up between the leaders, describing media reports as 'mere speculation'.
"Why should they go separate ways? Why is the media forcing a fall out? The Handshake is here to stay. We are not pulling out of the Handshake. If there are people who want to join Ruto, they are doing so as individuals and they do not represent ODM in whatever way," said Junet.
Francis Atwoli, the secretary general of Central Organisation of Trade Unions said that a fallout between Uhuru and Raila 'will sink both of them politically'.
Politics of survival
Atwoli said the leaders need each other for their survival and it would be naïve of them to imagine they could pull out of the Handshake before the planned referendum.
"Raila is a seasoned politician and for somebody to suggest that he can join Ruto, he would be digging his permanent political grave. Everybody is running away from Ruto and it would be illusory for anybody to make such a decision," said Atwoli.
He continued: "We don't expect them to separate. They have brought us BBI and they have to deliver a new Constitution. Going separate ways would be tantamount to political suicide. They are glued at the hip and if one tries to separate, they will all sink politically."
Political analyst Herman Manyora said that Uhuru cannot survive without Raila unless he brings Ruto back to his side. He added that some Tangatanga MPs may switch camps should Ruto agree to work with Raila.
"I don't think he (Uhuru) can survive without Raila. The other parties have no numbers in both Houses and cannot help him. But politics is very dynamic. Some of the Kikuyu MPs backing Ruto will go back to Uhuru in the event Ruto teams up with Raila," Manyora said.
"Again, in negotiating with Ruto, some of his (Raila) allies will take a back seat and may rebel against him. Politics is full of cry babies; you will have people sulking and complaining over every decision."
Aldai MP Cornelly Serem, a Ruto ally, said they would not use their numbers in Parliament for revenge against Uhuru and his allies despite the frustrations of the last three years.
Serem said as much as they have been sidelined in Jubilee, they are not bitter with Uhuru and will not try to undermine his government by teaming up with ODM MPs.
Garissa Township MP Aden Duale downplayed the planned meeting between Uhuru and Raila.
He said they were handling coalition matters 'with a lot of caution'.