Dispute over a promised land spoils Easter for Orange family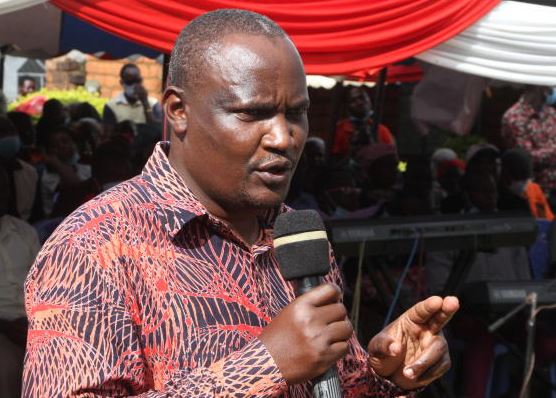 John Mbadi (pictured) would have wished to celebrate the resurrection of the Messiah among friends. He would have loved to be in the company of confidants with whom he could reflect on the death of Jesus Christ for the transgressions of humanity.
A sunset conversation with a friend on the shores of Lake Victoria would have been the perfect way to share lessons drawn from Christ's suffering.
But his friends had other ideas on Tuesday and thought that the only way to learn was if Mbadi experienced betrayal first hand. Tom Odege, the mhesh for Nyatike, and Migori Women Representative Pamela Ochieng' were the Pharisees.
The first step of what seemed like an elaborate plan was to paint him as a serial expansionist who was not satisfied with whatever land had been allocated to his constituency, drawing parallels to Christ's portrayal as King of the Jews.
Odege called the ODM chair a land grabber, accusing him of seeking to hive out an area called Otati, which he claimed to be in his constituency.
Desperate to clear his name, the Minority Leader rose to seek the Speaker's help and told off the Nyatike MP, his clan nephew, for accusing him of harbouring imperialistic tendencies.
Had he known the script, Mbadi would have stayed quiet as the Messiah did 2000 years ago when faced by his accusers.
"Otati is where there is a cattle market, and the cattle market is inside my constituency, and no one can take it away," said Mbadi, seemingly unaware that he had walked into a well-laid trap.
"That is where I buy mboga," he went on, warning Odege that he had stepped on a 'live wire' by claiming ownership of the territory.
Mbadi's response set in motion the next part of his frenemies plans — the entry of Judas. Junet Mohamed, Mbadi's close friend, was tasked with playing the role.
"I have visited him (Mbadi) at his home several times to pay homage… there are no shopping centres in his place... they are only in Nyatike," Junet began.
"Many times I have visited him, I have waited for lunch for four hours. When I ask him, he tells me food is coming from Karungu; it is on a bicycle," the Suna East mhesh went on before he kissed Mbadi on the cheek by enforcing the expansionist remark.
As if on cue, Pamela followed suit and claimed that Mbadi had looked at her 'suspiciously and dangerously'. But Mbadi had one or two people in his corner. His fellow mhesh to the north, Millie Odhiambo stepped in as Mary Magdalene, and stuck by his side.
She raised hell at those pointing an accusing finger at Mbadi. The boundary issues raised by Odege, she argued, embarrassed the ODM party and could be handled internally.
Uriri's Mark Nyamita, who spoke after Millie, was Peter. At the start of his speech, he fiercely defended his party chair and endorsed Millie's line of thought.
He also vouched for Mbadi's character. With fiery words, he slashed off 'Malchus's ear'. Nyamita's passion to back his master would, however, wane as he drew close to concluding his speech.
"I just want to tell Tom Odege that many people have lost their party nominations. Please don't lose yours by addressing the party chair wrongly on the floor of the House," said Nyamita, dropping what some would read as a not-so-subtle hint that the Minority Leader was intolerant.
Speaker Justin Muturi did what Pontius Pilate would have done and washed his hands off the debate by handing it over to the relevant committee.