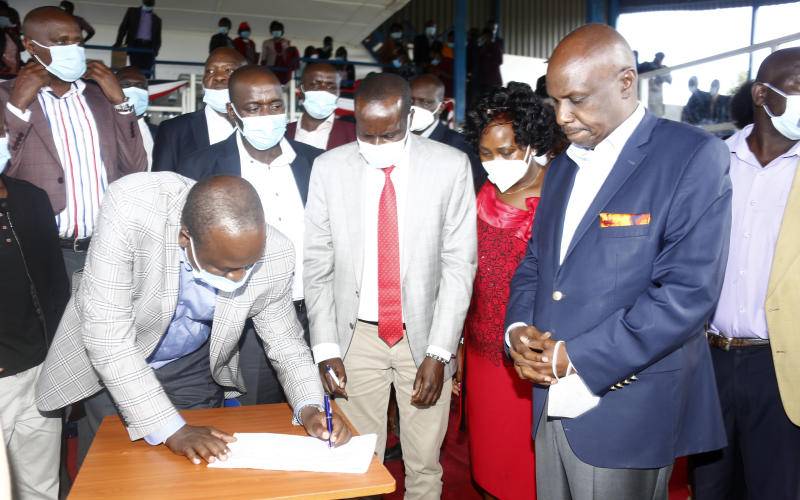 Baringo Senator Gideon Moi yesterday continued to drum up support for the Constitutional (Amendment) Bill 2020, with a third stop in his home county.
The Kanu national chairman told Baringo residents that the proposed constitutional changes will unite Kenyans and move the country forward.
The Bill is a product of the Building Bridges Initiative (BBI), a process started by the Handshake between President Uhuru Kenyatta and ODM leader Raila Odinga in March 2018.
While addressing residents in Kabarnet town yesterday, Gideon said he would never recommend anything bad to the people.
"I have been involved in the entire BBI process and I assure you that BBI is a good thing for us all," he said.
Gideon was companied by local leaders among them MPs Joshua Kandie (Baringo Central), William Kamket (Tiaty) and Baringo Woman Representative Gladwell Cheruiyot.
Others present were former Minister for East Africa and Regional Cooperation Musa Sirma, former Youths and Sports minister Prof Hellen Sambili, Kabarnet ward representatives Ernest Kibet, Loiyamarok Maria Losile and Kolowa Solomon Makal.
Education loans
The Baringo senator challenged the youths to embrace the Bill saying a lot of their needs had been factored in the document.
"The BBI has taken care of the needs of all, from women, the elderly and the youth.
"There is a four-year grace period for those who have education loans, a seven-year tax holiday for start-up businesses and it has offered an opportunity to women by giving them a chance to achieve the two-thirds gender rule," he said.
For the past one week, Gideon and Kanu officials have been drumming up support for the Bill and spearheading collection of signatures in support of a referendum.
He started his mission last week in Kilgoris town, Narok County, where he officially launched the signature collection drive and later moved to Migori County.
Gideon said all were ready for the referendum scheduled for early next year, noting the key agenda of the amendments as spearheaded by Kenyatta and Raila is to have a united country where all Kenyans will be empowered.
"BBI is all inclusive and brings all Kenyans together. It will uplift lives of the people and the society and I don't see why someone would not support it," he said.
During the meeting in Kabarnet, the leaders present challenged Gideon to declare his candidature for the 2022 presidential race saying he was ripe for the job.
Kamket said Baringo people fully support BBI and back the journey to amend the Constitution.
Kandie urged Rift Valley leaders to unite, adding that there are proposals in BBI that are good for the region.
Download the BBI Judgement by all seven Judges - Civil Appeal No. E291 of 2021