Day of confessions as BBI report launched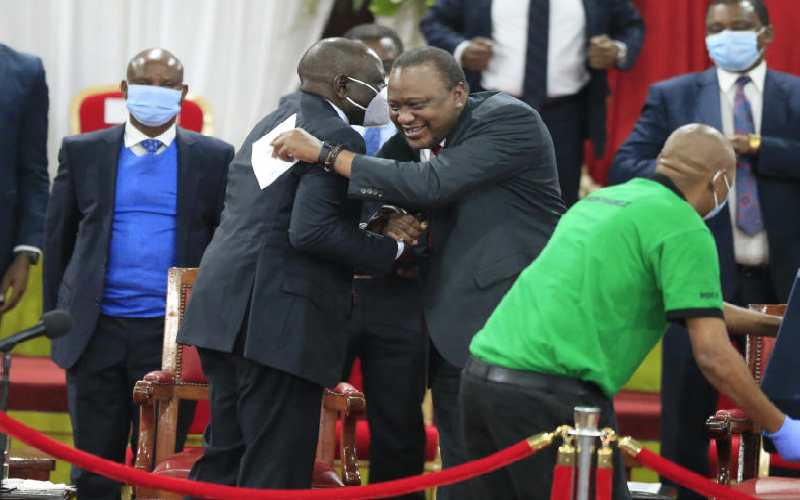 In a day of rare confessions, President Uhuru Kenyatta opened up on his role in Kenya's retrogressive politics while at the same time revealing that his deputy was a key architect of the handshake journey.
At Bomas of Kenya main auditorium yesterday, it was time for the Kenyan leadership to look inwards and confront the demons of the inglorious past that have informed the Building Bridges Initiative (BBI)
The launch of the BBI report provided the platform for the President to lift the lid, as the country continues to debate the document that supporters argue is the magic portion to the country's political ills such as corruption, poverty, negative ethnicity and divisive elections.
Critics, among them the Deputy President William Ruto, however, insist the document is a Trojan horse to deliver political positions to a few people in 2022.
Never demanded a share
While the DP has always given the impression that he is a stranger to the BBI process, the President said he was among the first people he (Uhuru) consulted before the BBI train took off, and that the DP even recommended some of the task-force members.
Ruto sat silently as the President opened the BBI lid and revealed that Raila never demanded a share in government during the March 9 handshake that triggered an implosion in the Jubilee Party.
"I want to thank my deputy because I kept him abreast of what was going on. He was part and parcel of the BBI process. It is the truth…he is here you can ask him. In fact, he helped me identify some of the wazees in the BBI team," said the President.
He added: "The purpose, I told him, and as we had agreed with Raila, was not to talk about positions. I told him BBI was an extension of what we did in 2013 so that we can have a situation where no Kenyan is left behind," said Uhuru at the event attended by thousands of people, including party leaders, governors, MPs and MCAs.
He said the DP was running backwards, and without a baton, in reference to early 2022 campaigns.
On Raila, the President confessed: "We were competitors in 2017, and after the elections, things got to a very difficult level. We spoke again and again and agreed that we are not here to share positions. As we stand here today, he is not in government. He has not made any demands for a share of government. He said let us come together and fix that which ails us. Raila, from the bottom of my heart, I thank you," the President said.
The report has far-reaching proposals that seek to cure the country's toxic issues such as tribalism, which Uhuru ironically said he was part of.
"There are things that we don't want to own up to, but the fact is that we are a tribal society. We pretend that we are national leaders, but when the time comes we switch to vernacular.
"I have also been part of that in elective politics. We are all part of this mess, but we pretend what great national leaders we are. If we are going to remove this kasumba, then we must address the issue of inclusivity so that every Kenyan feels they are part and parcel," said the President.
Raila asked Jubilee to deliver its promises to Kenyans.
"Jubilee has its four-point agenda. Let them deliver on that before we can begin taking about 2022… If you give birth to a child, and he turns insane, do you turn back and say 'this child is not mine," he posed.
The ODM leader maintained that BBI was not about individuals. "It is not about Raila for president or Uhuru for the prime minister. I have never declared I want to run for president," said the former PM.
When he rose to speak, the DP braved a hostile crowd as he tore into the report.
Despite claiming last week that he did not care who sits on the electoral commission, 'even if it is Oburu Odinga,' yesterday he let the cat out of the bag. "Let me ask, how fair will a league be where the referee is appointed by teams? How can we allow political players to be the ones appointing the referee? In this case, it is not even all the teams, but some of them," he said.
He also faulted the proposal to appoint a Judiciary ombudsman and poked holes into the recommendations to create more Executive positions, arguing that this will not ensure inclusivity.
Stop radicalising Kenyans
"If Amos Kimunya (National Assembly Majority Leader) becomes Prime Minister, and Samuel Poghisio (Senate Majority Leader) becomes the leader of the official opposition, what happens to NASA principals," he asked in reference to Raila's political partners in the last elections - Kalonzo Musyoka (Wiper), Musalia Mudavadi (ANC) and Moses Wetang'ula.
Kalonzo revealed why the DP's hustler narrative has made him so uncomfortable. "Every time I go home people ask me, Ruto has given us wheelbarrows. What have you given us?" he said, saying that was terrorism.
"We have read the document and it is time to move on. Let us stop radicalising this country. There are many types of terrorism. If you start a class war, what are you doing? Class war is dangerous," he said.
Mudavadi declared support for BBI but said some of its recommendations should be reviewed. "We strongly recommend that we tame our public wage. Increasing county allocations will require resources, so if we don't tame the public wage, it will eat into these resources," he said.
He said the Judiciary Ombudsman should be appointed by the Chief Justice.
Wetang'ula supported the document, but added: "There is room for improvement in everything in life."