Ruto stays clear of row on county revenue but demands fair solution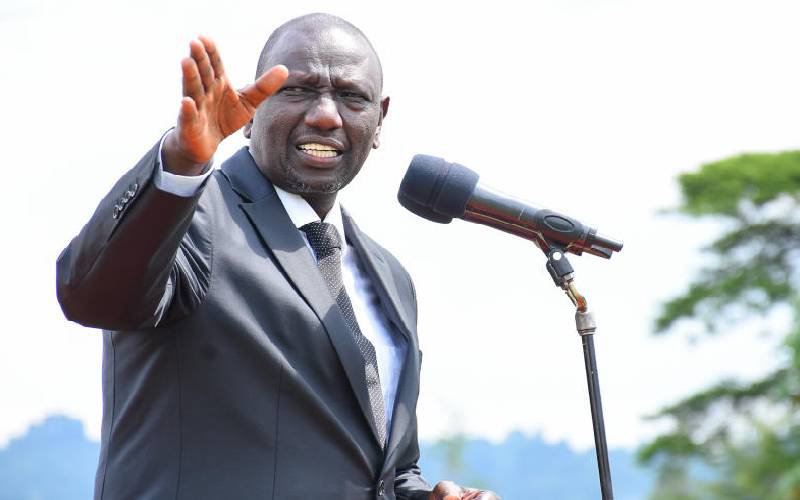 Deputy President William Ruto has washed his hands off the Senate revenue sharing stalemate, leaving President Uhuru Kenyatta and opposition leader Raila Odinga to resolve the matter.
Before yesterday, DR Ruto (pictured) had maintained a studious silence on the county revenue allocation that has dragged on for weeks now but did not help when he weighed in on the matter.
In a pointed tweet, Ruto left it to the combined might of Kenyatta and Raila in the Senate to pass a formula, but with the rider that the formula must accommodate all interests at play.
"The ongoing revenue formula debate is unnecessarily divisive. The Constitution envisages fair and equitable sharing of all our resources. The legislature MUST as per its MANDATE structure a WIN-WIN formula that is sensitive to proposals made without hurting any county," he tweeted.
The Senate has for three weeks been in a stalemate over the proposed third-generation formula by the Commission on Revenue Allocation (CRA) to share Sh316.5 billion among the 47 counties.
At the weekend, Nakuru Senator Susan Kihika, a Ruto confidant, gave all indications that they were leaving the handshake duo to their own devices.
Ms Kihika was kicked out of her majority whip position two months ago in a party purge that targeted allies of DP Ruto.
In cryptic tweet, Kihika gave an analogy of someone who kicks out his wife and kids, moves in with another woman and her kids, but needs his original family to accomplish a certain task.
"His 'new family' has refused to help. Should the old family hold their noses and help him, watch the show unfold or show him the middle...." she tweeted.
On Saturday, the political storm over the allocation went a notch higher after Senate Majority Whip Irung'u Kang'ata gave an ultimatum to those opposed to the committee recommendation that they will reciprocate by withdrawing their support for Building Bridges Initiative (BBI) birthed on March 9, 2018, a brainchild of Uhuru and Raila.
"We shall reconsider BBI if we lose the vote. If the government loses vote, BBI collapses. We thought BBI was all about 'one man, one shilling.' That's the philosophy underpinning the committee's proposal," said Mr Kang'ata as he distributed relief food to families in Kiamara village, Murang'a County.
Former Majority Leader Kipchumba Murkomen, a Ruto confidant, yesterday said Kang'ata was politely telling Raila allies that if they cannot support the formula as proposed by the government, then they could not trust them on any promise.
"The running theme in the BBI report is that if the formula as proposed fails, then it is a precursor to the failure of BBI," said Murkomen.
He said the point was that BBI was equivalent to the proposed formula. In a satirical statement, Murkomen wondered what happened to the so-called 'party position' that could have been used by Raila to whip the senators.
Jubilee has 25 senators while ODM 13, Kalonzo Musyoka's Wiper Party has three, Kanu two, ANC two and one each for Ford Kenya and PDR.
Of the Jubilee's elected senators, Ruto has 16 allied to him. Uhuru with 10 Jubilee senators on his side and a tacit support of the Wiper and Kanu's legislators making the number 14 while Raila with the support from Kakamega Senator Cleopas Malala elected on Musalia Mudavadi's party totals to 14 as well.
It will be interesting to note if Ruto will seek to take a position on the matter as the formula goes to vote today.
Political war
A senator allied to him but who sought anonymity however said Ruto does not want to be caught up in a political war between Uhuru and Raila allies.
"Uhuru and Raila are the ones on the steering wheel, let them solve the riddle," the senator said.
Political analyst and lecturer at Kenyatta University Prof Edward Kisiang'ani said the riot act has been read to ODM by Kang'ata.
"And since ODM is more desperate over BBI than Jubilee, there is only one way voting will go on Tuesday. ODM senators will report to Senate five hours before actual voting takes place to pass the County Revenue Bill," said Prof Kisiangani.
The impasse on the formula to replace the second generation one that has since expired has led to a delay in the passage of the County Allocation of Revenue Act, 2020, and held back cash disbursement schedule for counties.
Counties are yet to receive their June allocation, and are staring at a cash crisis. National Treasury CS Ukur Yatani insists without the County Allocation of Revenue Act, disbursements for July and subsequent months will be frozen.