Covid-19 lockdown sends BBI orphans to drawing board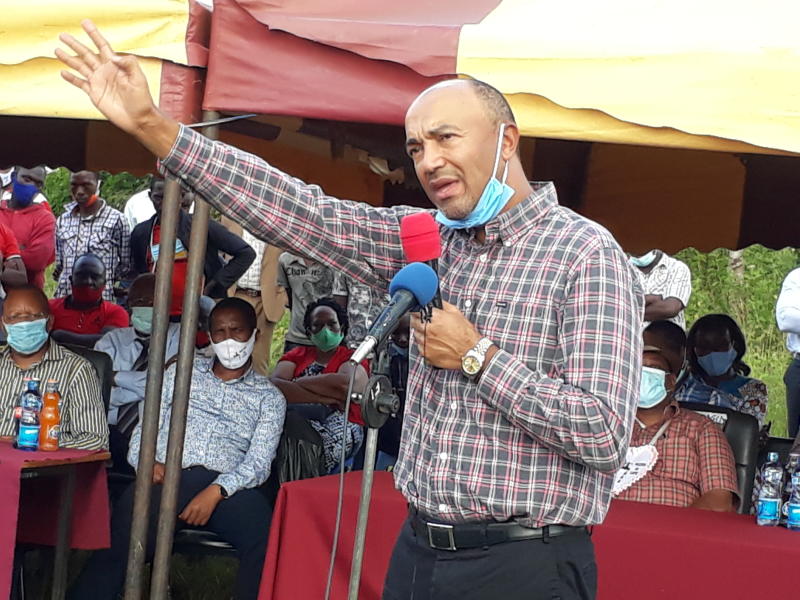 The Covid-19 pandemic has dealt a blow to a number of Mt Kenya politicians who had returned into the limelight, riding on the crest of Building Bridges Initiative (BBI) wave.
The pandemic has stolen the thunder from them, sweeping them back to obscurity as they are nowhere to be seen on the political Richter scale.
The victims are a rich mix of serving former office holders edged out of the scene by rivals in the last elections, as well as current office holders harbouring ambitions of higher political office.
Kirinyaga Governor Anne Waiguru is perhaps the best representation of those victims. As the BBI popularisation rallies rolled across the country between January and March, Waiguru had emerged as one of the key proponents of the process.
She was hobnobbing with veteran Mt Kenya politicians including coalition building veteran, Kiriatu Murungi as well as Central Kenya Economic Bloc (Cereb) chairman and Nyandarua Governor Francis Kimemia. She had leapfrogged elderly politicians and was regularly consulting with opposition leader Raila Odinga in statement making meetings.
Things appeared to have been working perfectly for the only female governor from Mt Kenya, who not only had the ear of the regional kingpin and BBI principal Uhuru Kenyatta, but also that of Raila, the other principal.
The stars appeared to be in sync with her as the BBI was proposing gender equity at the new national executive matrix.
Many whispered Waiguru appeared well marked to wear two hats – at least one of the two proposed Deputy Prime Ministers representing the gender balancing as well as the vote rich Mt Kenya region.
Turn of events
But then Covid happened, dismantling her immunity in the preceding lockdown and exposing her to a point that she has had to fight for her political career when her emboldened MCAs revolted and impeached her. Luckily, her BBI liaisons came in handy saving her skin at the Senate. She would later attribute her woes to powerful figures who are opposed to her role in the BBI.
With the BBI now suspended indefinitely due to Covid-19 pandemic, the Kirinyaga governor finds herself without a political platform to articulate national issues and is instead busy fighting her many village battles with MCAs.
She also has to contend with what she seems to think is interference by Interior PS Karanja Kibicho in Kirinyaga. On Thursday, Waiguru wrote an open letter accusing the sons of her county of "fanning political hostility".
One paragraph of her letter to Kibicho spoke volumes about the depth of the hostility she is facing.
"As for the BBI mandate, I am not aware that there is a "regional leadership". Any engagement in the process has been organic and the BBI movement needs no political jostling," she said.
Former Gatanga MP Peter Kenneth had also been gaining a foothold through the BBI and was among the cast of political players who would get wrapped up speaking opportunities at the rallies usually invited by Raila.
At a rally in Meru, Kenneth had even spoken after sitting governors and surprisingly told the crowd that after the BBI journey he would return to the Mt Kenya East so that "we can plan the future".
After that rally, he and Jubilee vice chairman David Murathe (who has also been robbed some thunder by the lockdown) even drove through Nyeri and were hosted by Kieni MP Kanini Kega (now the National Assembly's Budget and Appropriation Committee chairman) apparently for a postmortem on the meeting.
Kenneth was probably looking forward to more BBI rallies planned for Mt Kenya towns in Nyeri and Nakuru where other prominent appearances would have made a huge political statement.
With the lockdown, Kenneth now has to bear with holding consultative meetings with a few governors and parliamentary leaders and hope to flow with the current so things may work out best for him with an expected appointment to the Cabinet and a stakeout for the Mt Kenya kingpin.
Make or break
Political commentators widely differ on how the lockdown and suspension of the BBI has shaken careers. University student leader Anthony Manyara said it was clear the long duration was shaping some leaders and deconstructing others. He said he knew of at least two Mt Kenya leaders who have declared interest to run for the presidency during the period.
"As Charles Darwin said, it is not the strongest or the most intelligent of species that survive, but the most adaptable to change," said Manyara, who chairs the Kenya University Students Union (Kuso).
"I see a scenario where some will resurface soon after the BBI recommendations implementation is inaugurated, assuming this process will still need massive lobbying. Yet some will have been hard hit by effects of the lockdown that they may never rise."
But James Mithika thinks the lockdown has not substantially shaken the BBI Mt Kenya brigade.
"It is not right to assume that everything stopped when BBI rallies were suspended. The planning and brainstorming actually continues indoors and we can all see that it has birthed the new parliamentary leadership and a new division of revenue formula Motion," said Mithika.
The BBI had appeared to have thrown former Kiambu governor William Kabogo a lifeline. He was floating a lot of reform proposals and arriving at the rallies in his flamboyant style in convoys of six or seven open top SUVs rarely seen in Kenya and surrounded by a dozen plus musclemen.
At the Meru BBI rally, which was the last before the lockdown, Kabogo made such a signature entry, but notably failed to get a chance to speak.
Kabogo, went down to Ferdinand Waititu in the 2017 General Election amidst protests of a fixed poll, has since the lockdown literally gone underwater.
Then there are others like Dennis Waweru, the former Dagoreti South MP, who left his 'secure' seat to contest the Nairobi governor's seat only to return when it was too late. He had also taken full advantage of the BBI possibly to get a lift to resuscite his political career.
Since the BBI reggae was paused, the investment banker, who was once the chairman of the Mt Kenya Parliamentary Group, has had to endure working from the shadows in his state appointment as a non-executive chairman of the Kenya Investment Authority.
In early May, he made news when he distributed masks, sanitisers, and foodstuff to more than 4,000 residents of Riruta, Uthiru, Mutuini, Waithaka and Ngando wards in his former constituency.
Keeping safe
Kabando wa Kabando, whose two-term tenure as Mukurwe-ini MP was ended by a political novice, had also tried to take full advantage of BBI but is now quarantined to his private interactions and part time job as non executive chairman of the Local Authorities Provident Fund.
Kabando denied he was among those who had been robbed the thunder, saying though he was tactically supporting the BBI and attended planning meetings and presented a reform proposal memorandum at Ufungamano, he never attended any BBI rally.
There is also Dennis Waweru, who said it was natural with Covid-19 lockdown that political meetings would take a retreat.
Others are Lenny Kivuti, former Embu senator, former Tetu MP Ndung'u Gethenji and more who were given a lifeline by the fallout between President Kenyatta and his deputy William Ruto.