Mvurya now seeks party help to defeat ouster bid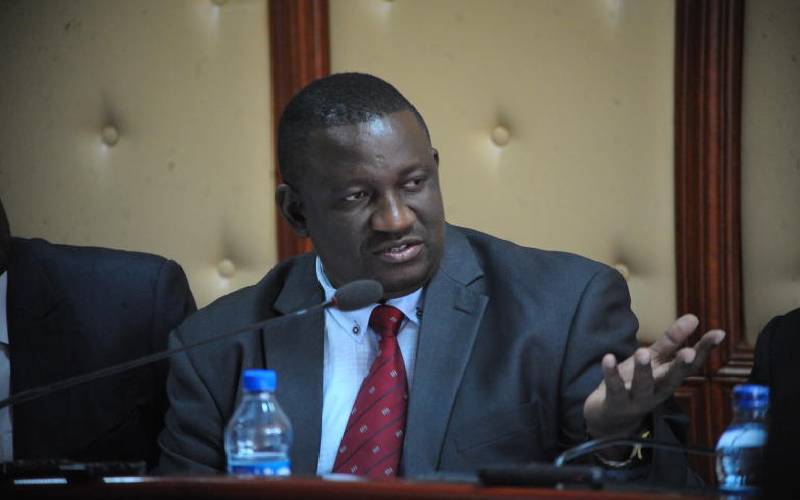 Jubilee national chairman Nelson Dzuya held a meeting with Governor Salim Mvurya yesterday even as local ward reps plot to present an impeachment motion against the county chief executive.
The MCAs want to impeach the governor after they rejected a Sh160 million supplementary budget to buy relief food.
Dzuya's visit came at a time the Jubilee Party is whipping members perceived to be allied to Deputy President William Ruto.
Dzuya and Mvurya said they delved into an array of issues, including the way forward for the party. Contacted, Dzuya said he visited Mvurya as his party governor.
"I paid a courtesy call on Mvurya (pictured) as my party governor. We discussed a range of issues concerning our party," he said.
Dzuya said he fully supported the ongoing disciplinary measures by Jubilee, adding they were necessary.
At the same time, Dzuya said Jubilee has not decided on whether to field a candidate in the forthcoming Msambweni by-election.
"The National Executive Committee will decide on the matter when it meets. Today, the by-election was not among the issues we discussed with the governor," said Dzuya.
Way forward
The governor said their discussion centred on issues touching on the direction the Jubilee Party was taking.
"Chairman Dzuya paid a courtesy call to my office. We deliberated on diverse issues including the direction of the party," Mvurya said.
Later, Mvurya called a meeting with his executive members even as MCAs threatened to kick him out of office.
The assembly has summoned the governor this week following the intensified rift with the MCAs after the controversial supplementary budget mutilation.
The MCAs recently rejected an allocation of Sh160 million for Covid-19 relief food and instead allowed Mvurya to spend a paltry Sh5 million on the vote.
County Speaker Sammy Ruwa later declared that hunger should not be treated as an emergency and that priority should be given to the health docket to fight Covid-19.
Mvurya accused the assembly of playing politics by slashing the Sh160 million budget to Sh5 million of funds meant to buy food for an estimated 500,000 vulnerable people.