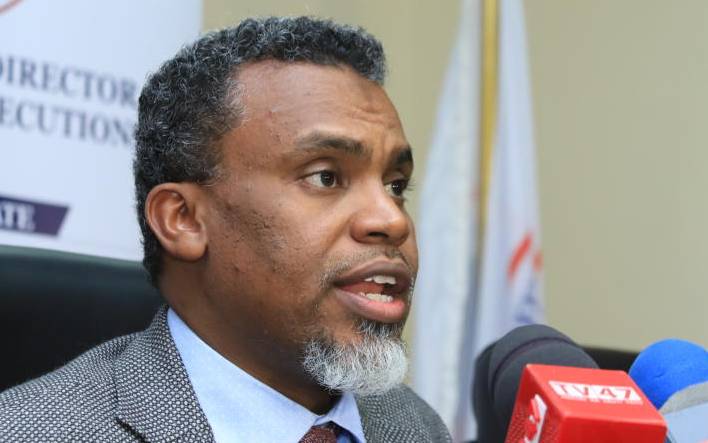 The Director of Public Prosecutions, Noordin Haji, has vowed to petition the court to revoke Nairobi Governor Mike Sonko's bail.
The DPP's move was triggered by Sonko's recent nomination of Anne Mwenda as his deputy at a time he has been barred from office because he faces multiple charges of graft.
"It is my opinion that the bail terms have been breached and because of that we will be going to court. We will be seeking to cancel the bail terms and to get further clarity on what it means not to access office," said Mr Haji yesterday.
The DPP (pictured) sought to clarify his remarks by saying he was not in contravention of the court's orders.
Read More
"There are two issues that people are confusing. The court said we should not discuss the case and I will not do the same. But that does not mean we cannot challenge the governor's action," Haji said during an interview on Spice FM.
But Sonko's legal team insisted he could still discharge his executive functions. They argued that the governor "is still substantively in office and can discharge his functions from wherever he is without accessing the physical office at City Hall".
DPP faulted
Lawyer Cecil Miller wrote to Haji and faulted his stand on the governor's decision to nominate a deputy.
Mr Miller argued that the Anti-Corruption Court had not barred Sonko from exercising the constitutional and statutory functions of his office.
"The bail terms did not remove the governor from office, but merely prevented him from accessing his physical office and from communicating or approaching the intended witnesses," Miller said.
He noted that Sonko's nomination of a deputy did not undermine the intended prosecution against him.
"The action (of appointing a deputy) does not interfere with witnesses in the matter and the bail terms do not amount to a removal from office of the governor of Nairobi."
Miller further argued that the bail terms imposed on Sonko did not countermand articles 181 and 182 of the Constitution.
The articles state that a governor may be removed from office if he or she violates the Constitution or any other law, if there are compelling reasons to believe a crime was committed under national or international laws, if he or she abused office or engaged in gross misconduct, or if he or she lacks the mental capacity to hold the office.
The law also says that the governor's office becomes vacant if the holder resigns, is convicted of an offence punishable by imprisonment of at least 12 months, or is removed in line with legal provisions.
"We state that the court in its bail ruling did not bar our client from exercising constitutional and statutory functions of his office. Our client is duty bound to perform all those functions which do not require his access to the office if the said functions can only be exercised by him," Miller's letter reads in part.
On Monday, Sonko wrote to Nairobi Speaker Beatrice Elachi and said his decision to nominate Ms Mwenda was in line with Article 180(5) of the Constitution and a Supreme Court Advisory of March 2018.
Soon after the announcement, media reports quoted Haji saying Sonko's decision was 'unacceptable, null and void'