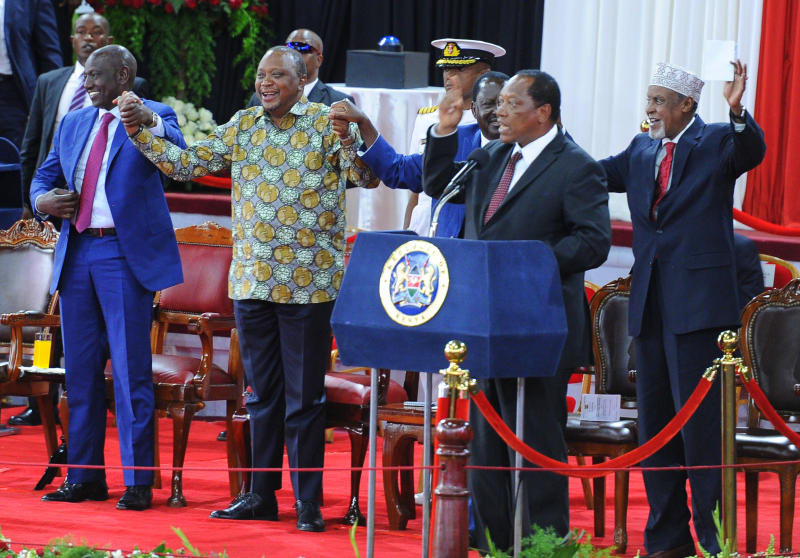 Two years after their re-election, the camaraderie that President Uhuru Kenyatta and his deputy William Ruto enjoyed has run out, forcing the hitherto inseparable friends into new alliances as they size each other up in the run-up to the 2022 General Election.
Differences between the two have split former party allies, compromised the Opposition and set the country on another path of political rhetoric that is now forcing Opposition leaders to choose between President Uhuru and DP Ruto.
Already, Opposition leader Raila Odinga supports the president, with former Vice President Kalonzo Musyoka thought to be gravitating towards the DP after his key ally and former Machakos Senator Johnstone Muthama told a vernacular radio station that a political deal between the two was in the making.
"Now that Uhuru is retiring, the next president will be either Ruto or Raila, and as a community, we should do careful calculation to ensure we do not get lost. Soon and very soon, I will call leaders to form a committee to face Ruto for negotiations," Mr Muthama said.
Drive a wedge
Read More
The former Vice President has denied possibilities of such an alliance, saying the narrative was 'malicious and pushed by people desperate to drive a wedge between him and the president.'
"Please note that these speculations are malicious. Remarks by individuals should not be attributed to me," Kalonzo said in a statement.
The two camps that have emerged within Jubilee, once touted by insiders as the party of national unity, is an indication of just how sour relations between the two top office holders have become.
At the prime of their relationship, President Kenyatta, while battling criminal charges at the International Criminal Court, symbolically handed over the country to Ruto, willing the nation to trust the man who played a leading role in getting him to State House.
Unfortunately, it has been downhill and complicated since then. Now, any association with the DP is looked at as insubordination to the president and his handlers.
"Lately any MP, CS, PS or leader who appears to be working with the DP is viciously fought and intimidated. Utterly disgusting and hypocritical in this BBI season," Nandi Senator Aaron Cheruiyot said on his Twitter handle.
As Kalonzo gravitates towards Ruto, Amani National Congress leader Musalia Mudavadi was on Friday in Garissa for two State functions, the commissioning of a solar power plant and the official opening of military barracks.
"I was invited by the president to accompany him to the events in Garissa, anyone would be reading too much beyond that," Mudavadi told Sunday Standard.
President Kenyatta and Ruto have come a long way since the days of matching shirts and choreographed photo shoots on the plush lawns and airy offices of State House. Now, it seems they barely tolerate each other.
At the launch of the BBI report, the DP looked like an odd third wheel in the Uhuru-Raila launch extravaganza. Throughout the event, the two men cracked jokes between themselves as the DP, crucial in Uhuru's re-election, looked on.
He seemed ill at ease, his body language and pensive mood a stark contrast to the smiles of Raila and President Uhuru. Senate Majority Leader Kipchumba Murkomen, a DP supporter summed up the feelings of his camp.
"Your Excellency, we must have an honest discussion here…we must say it as it is. If we are going to build an honest Kenya… Your Excellency, we must be able to put our views forth," Murkomen said at the event.
The newfound alliance between Raila and the president, that pundits say was to curtail the influence of Ruto as the country walks towards 2022, has had far-reaching effects.
"One of them has been the death of the Opposition," political commentator Javas Bigambo says.
A death that has forced Raila to look at alliances outside his traditional fall back plans. With Kalonzo's men offering an olive branch to the Ruto team, the Opposition leader hosted Kirinyaga Governor Anne Waiguru at his Capitol Hill Square office and said they had a discussion on national cohesion and inclusivity.
Political pundits claim the meetings meant more than the two told the nation.
The former foes-turned-friends Raila and Waiguru have had three such meetings in the last three months signaling a budding political dalliance. A month ago, the Kirinyaga Governor said that Mount Kenya region was ready for Raila, a statement that was seen as an endorsement of the former PM.
According to former Dagoretti South MP Dennis Waweru, President Kenyatta and Raila should ensure that their group locks Ruto's Tanga Tanga team out of the 2022 race.
"We now want Uhuru and Raila to lock them out of 2022 as we did in Kibra. Let the newfound unity continue to 2022 and let us also use it to clean Nairobi," Waweru said.
The possible bagging of Kalonzo by the DP will be a big boost for him after building a political bedrock in Mount Kenya that was once in the grip of President Kenyatta.
Ruto's Tanga Tanga team has had four meetings in Mount Kenya, Rift Valley, Western and North Eastern ostensibly to build a consensus on BBI. These meeting, however, have been interpreted as moves to solidify the gains the DP has made.
These friendships are adding to the distrust between the president and Ruto's men. Two weeks ago, Interior Cabinet Secretary Fred Matiang'i and his Principal Secretary Karanja Kibicho led legislators and governors to a function in Kirinyaga, proclaiming support for the president-led BBI report.
A day later, another faction, composed of close to 40 legislators met in Murang'a, castigating Dr Matiang'i and Mr Kibicho over what they termed as increased "bullying and intimidation."
Dr Matiang'i and Mr Kibicho have also been accused of being part of a bigger scheme to frustrate Ruto by using State machinery to curtail his open ambition of succeeding his boss. The president has continuously opposed succession politics insisting that "it is too early to talk about elections."
As the two continue to drift apart, service delivery to Kenyans is suffering with Kenyans bearing the brunt of the rivalry.
Minimum effort is put in the country's development agenda that in the course of the past year, has been derailed by runaway corruption, a lack of clear leadership and a high degree of self-sabotage by government officials pulling in different directions.
Altercation
These differences and the need for choosing sides have also trickled down to Cabinet Secretaries and have polarised a Legislature that has been taking sides with either the president or his deputy, and in the process abdicating its core duty of making laws.
The war on corruption, a proposed referendum and what has been perceived by Uhuru loyalists as an intrusion by the DP into the president's home turf to drum up support for 2022 have all contributed to the growing divide between the two men who previously appeared in public in matching shirts and ties.
The most recent indicator of this was an altercation between Trade Cabinet Secretary Peter Munya and Kikuyu MP Kimani Ichung'wah. They attacked each other on Twitter over the woes of dairy farmers, some of whom have been forced to pour their milk due to poor prices.
"These farmers will need school fees in January. They depend on their produce for the same. After the floods, there's likely to be a drought. This produce could save lives then," Mr Ichung'wah wrote, and tagged Mr Munya and Devolution Cabinet Secretary Eugene Wamalwa in the tweet.
Feeling disparaged, Munya shot back that the MP was seeking rent. "Let him (Ichung'wah) take his rent seeking missions to Kiunjuri (Agriculture CS Mwangi). Inspiration from Sugoi (DP Ruto's home) will not improve dairy industry," the CS responded, then deleted the tweet a few hours later.
Munya is allied to a faction of the government that pledges its allegiance to President Uhuru while Ichung'wah, CS Kiunjuri and Senator Kipchumba Murkomen support the DP.