No blood will be shed again because of politics, leaders vow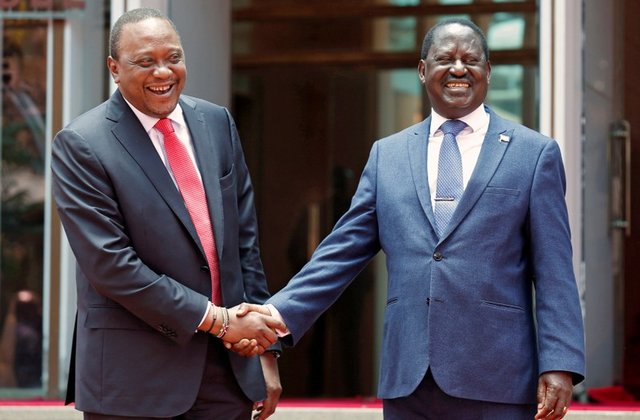 President Uhuru Kenyatta and Opposition leader Raila Odinga recommitted themselves to new beginnings where political violence will be consigned to the dustbin of Kenya's history.
Speaking after receiving honorary doctorate degrees from Jaramogi Oginga Odinga University of Science and Technology, Raila and the Uhuru reassured Kenyans that no blood will be shed or lives of innocent Kenyans lost because of politics.
In remorseful recollections of the successive general elections when Kenyans have fought over results of disputed presidential elections, the two leaders rallied Kenyans to shun the past and work together.
"All we need now is support so that we continue to spread the gospel of peace, unity and development devoid of rancor," Raila said.
He added: "Jaramogi family have long established friendship with the founding President Jomo Kenyatta's family and such families ties are actually too precious to throw away for transient reasons."
Condemned tribal politics
The Opposition leader condemned tribal politics which he blamed for disunity among Kenyans.
"Nations are judged by how they navigate politicalturbulence and resolve their issues amicably," Raila explained.
He disclosed that what led to handshake was sheer determination to learn from the past mistakes and to overcome them.
"It's a pity to cause permanent rifts, are so unnecessary. This is why we have resolved to rearrange our personal relationships for the common good of all Kenyans,'' Raila said.
And President Uhuru Kenyatta announced that they had resolved to take the country forward. "Nothing will stop us from pursuing peace and development for the common good of all Kenyans."
Later, the Uhuru and Opposition leader visited Ugunja township where they launched the Ugunja-Rwambwa road. They were welcomed by Ugunja MP Opiyo Wandayi.
The leaders observed that reconciliation efforts were bearing fruits and warned that no one will be allowed to stoke political fires that would disrupt the development agenda.
At the university, Uhuru and Raila challenged universities to increase investments in research, creativity and innovation.
Drive development
The two leaders said universities must nurture students to embrace creativity and fresh innovations for sustainable development.
President Kenyatta said universities will be key in driving development in the next century.
"The universities must therefore put more focus on scientific innovations and research," President Kenyatta said during the university's sixth graduation ceremony.
More than 1986 graduands were conferred doctorate, masters and undergraduate degrees. The President and Raila were conferred with honorary doctorate degrees.
The degrees were in recognition of their democratic struggles, relentless and extremely outstanding services to the Kenyan society and rest of Africa.
According to the university Vice Chancellor Stephen Agong' and Chancellor Vimal Shah, the Council of Deans had met and decided to award them having met all the requirements.