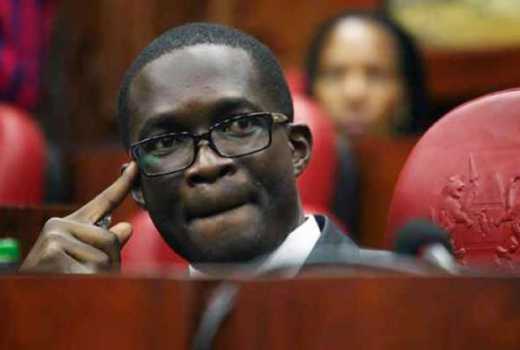 Embattled Independent Electoral and Boundaries Commission CEO Ezra Chiloba lost the first battle with his boss Wafula Chebukati after a Nairobi court declined to lift his three-month suspension. Employment and Labour Relations Court Judge Stephen Radido ruled that Mr Chiloba will not suffer any prejudice while on suspension given that he will still earn salary.
"There are questions regarding his relationship and the commissioners which appear to have deteriorated. It is the reason why the court must hear both sides before issuing any order. I therefore decline to issue any order lifting the three month-suspension," ruled Radido.
He added that there was no suggestion Chiloba has been denied his salary and remuneration, and the only thing he will miss is going to the office. Chiloba filed the urgent suit on Thursday to have his suspension lifted, arguing the Commission chair did not follow the right procedure to send him on compulsory leave. He has listed several grounds challenging the forced leave, including claims that the commissioners did not have enough quorum to pass a resolution to send him home.
"To date, I have not been informed of any allegation made against me in the report or elsewhere. Indeed, I was not afforded ample, or reasonable time to peruse and or comprehend the content of the said report before I was asked to leave," swore Chiloba.
He blamed Chebukati for his woes, stating it was the chair who unlawfully instigated the scheme to remove him from office. The memo suspending him only stated he was being sent on 'compulsory leave' pending audit of all major procurements relating to the 2017 General and fresh Presidential Elections'.
Read More
He further argued that neither the Commission nor Chebukati notified him in writing, or at all, that the meeting of April 6 would deliberate on matters that would result in adverse actions against him.
In any case, he says, the internal audit report, a copy of which he was not given and he had to rely on one passed to his deputy does not contain any adverse findings against him which would justify his being sent on compulsory leave. Justice Radido gave IEBC commissioners listed as respondents two weeks to respond and set the hearing for May 7.