Raila celebrates 73rd birthday at Kakamega people's assembly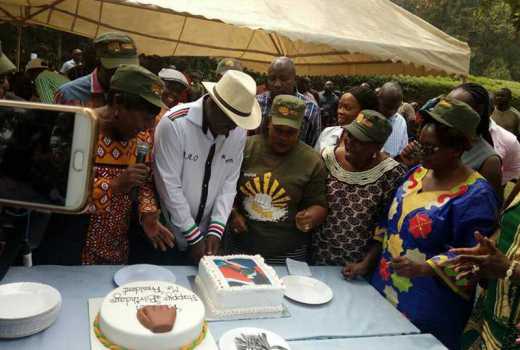 Kenyans took to Twitter using the hashtag #HappyBirthdayRaila to send happy birthday messages to opposition leader Raila Odinga as he turns 73 today.
Raila's birthday comes at a time when the opposition is planning to swear him in as the people's president.
NASA insists it does not recognize Uhuru Kenyatta as President of Kenya after the October 26 repeat election.
Opposition leaders and supporters in Western region surprised NASA leader Raila Odinga with cake in celebration of his 73rd birthday Sunday afternoon, moments before the start of People's Assembly forum in Kakamega
Raila arrived in Kakamega Sunday morning accompanied by Kalonzo Musyoka, Musalia Mudavadi and Moses Wetang'ula among other NASA leaders for the People's Assembly session.
The following are some of the tweets on Raila's birthday:
@KitoiO When darkness is so thick, there is hope that light will come in the morning. You @RailaOdinga baba is the dawn of a better and a united country. Never let go of your vision for our country Kenya. #HappyBirthdayRaila
@davidmu31 #HappyBirthdayRaila The Joshua we are looking up to. I wish you a strong and healthy days ahead. Have a blast BABAAAAAAAAAAAAAAAA!!!! I have your present and I will hand it over to you. Enjoy your D-day the peoples President.
@Solicitor_001 #HappyBirthdayRaila Jakom you are the best gift to Kenya, keep the fire burning @RailaOdinga
@patiesyombua You have been courageous even in adversity, not for you, your family but for all of us 40M Kenyans and we say thanks to God for giving us you. We honor and celebrate you. Live long and healthy to fulfill your desire and wishes for a better Kenya. #HappyBirthdayRaila
Raila Odinga was born at Bondo Church Missionary Society Hospital, in Maseno, Kisumu District, Nyanza Province on 7 January 1945 to Mary Ajuma Odinga and Jaramogi Oginga Odinga.
His father served as the first Vice President of Kenya under President Jomo Kenyatta. He went to Kisumu Union Primary School, Maranda Primary and Maranda High School where he dropped out in 1962. He spent the next two years at the Herder Institute, a part of the philological faculty at the University of Leipzig in East Germany.
He received a scholarship that in 1965 sent him to the Technical School, Magdeburg (now a part of Otto-von-Guericke University Magdeburg) in the GDR. He graduated in 1970 with an Msc (Masters of Science) in Mechanical Engineering.
He returned to Kenya in 1970. In 1971 he established the Standard Processing Equipment Construction & Erection Ltd (later renamed East African Spectre), a company manufacturing liquid petroleum gas cylinders. In 1974, he was appointed group standards manager of the Kenya Bureau of Standards and in 1978 he was promoted to its Deputy Director.
He was first elected as the Member of Parliament for Langata in 1992, serving as Minister of Energy from 2001 to 2002 and as Minister of Roads, Public Works, and Housing from 2003 to 2005.
Raila Odinga first ran as a presidential contender in the 1997 elections, coming third after President Daniel arap Moi of KANU and Mwai Kibaki of the Democratic Party. He contested for President again in the December 2007 elections on an Orange Democratic Movement (ODM) ticket.
He was the main opposition candidate in the 2007 presidential election, running against incumbent by then Mwai Kibaki. Following a violence-marred election and post-poll crisis, Odinga was appointed Prime Minister in April 2008 in a power-sharing deal with Mwai Kibaki, serving as Supervisor and Coordinator of a national unity coalition government.
Raila was a presidential candidate for the coalition for reforms and democracy (CORD) in the 2013 elections. IEBC declared Uhuru Kenyatta President after the 2013 elections.
He made another run for the presidency in August 2017 against Uhuru Kenyatta and lost after the chairman of the electoral body declared Uhuru Kenyatta as the winner with 54% of the votes cast to Raila's 43%.
This outcome was later annulled by the Supreme Court following findings that the election was marred by illegalities and irregularities.
A subsequent fresh election ordered by the Court was however won by Uhuru Kenyatta when Raila declined to participate citing inadequate reforms to enable a fair process in the repeat poll.