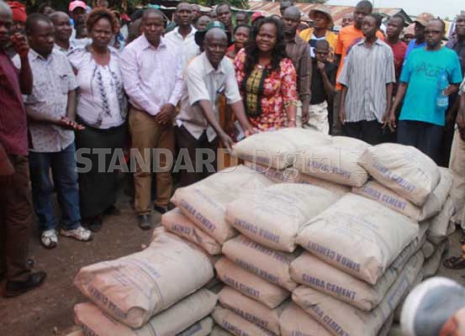 Homa Bay Woman Representative-elect Gladys Wanga now says the salaries and remuneration commission (SRC) unfairly targeted lawmakers in salary reduction, adding that MPs use their money to serve Kenyans in their respective constituencies. Wanga has defended her push for MPs' pay rise even after President Uhuru Kenyatta said it was unacceptable. Speaking in Homa Bay town on Friday when she distributed 50 bags of cement and 50 pieces of iron sheet to traders who lost their property in a fire incident, Wanga said the pay cut was unnecessary. She argued that the money saved through the salary pay cut will not add any value to lives of Kenyans.
SEE ALSO: Court dismisses corona lawsuit
"I recently gave my opinion about the salary cut but people are giving me a lot of pressure. I did not make the comment in bad taste," Wanga said. According to the legislator, evading the salary cut will enable them offer more financial aid to their electorate who are financially challenged. "A lot of money which remains at the national level elicits many scandals in the National Government. Giving us the desirable salaries will enable our electorate also to benefit from it," she added. She also renewed calls that the National Supper Alliance legislators-elect should not take oath of office slated for August 31. Wanga said NASA legislators should only be sworn into office after the verdict of the Supreme Court.
SEE ALSO: How hair scavenged from Nairobi dumpsite ends up in salon
"None of the NASA MPs-elect should attend the swearing in ceremony because we don't know the fate of our presidential candidate in the race," Wanga said.