Mudavadi accuses Jubilee of arm-twisting traders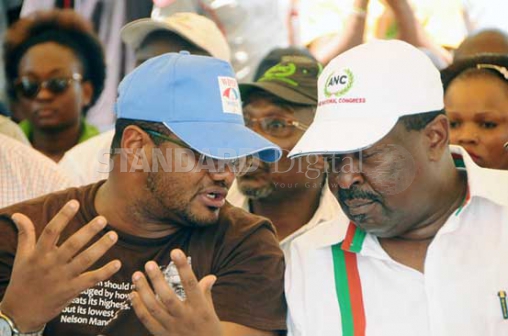 Amani National Congress (ANC) leader Musalia Mudavadi has accused the Jubilee administration of arm-twisting traders to back its re-election in the August 8 polls.
Mudavadi said President Uhuru Kenyatta's administration was using the Kenya Revenue Authority (KRA) to allegedly intimidate traders to support it.
The NASA co-principal however did not name the said traders or the period in which KRA tried to force them to finance or support Jubilee.
"The government is using KRA to arm-twist businesses to forcefully support Jubilee campaigns or else get slapped with tax.
Uncooperative businesses who fail to succumb to this grand extortion scheme are slapped with impossible tax bills," said Mudavadi.
The former vice president also accused the government of taxing Kenyans heavily and making life unbearable for them, and added that Jubilee is busy "killing the hen that lays golden eggs by raiding employers."
He challenged Independent Electoral and Boundaries Commission (IEBC) to come clean over involvement of the National Youth Service (NYS) in the voter registration exercise. Mudavadi, who was speaking yesterday at Mkindani in Mombasa while addressing a rally to popularise NASA in the area said that recent reports that 200 voter registration kits were in the hands of NYS dampens the Opposition's trust in the electoral body. "This is a clear sign that there is a scheme hatched by our competitors to penetrate the electoral system. I want to remind them that this was one of the reasons why the Opposition has been complaining against IEBC," he said.
Mudavadi, who was accompanied by senators Hassan Sarai and George Khaniri and Sabatia MP Alfred Agoi asked Mombasa voters to remain united and in order to vote out Jubilee from power in August.
"We must ensure we remove the Opposition from power so that we get the opportunity to bring sanity in the leadership of this country," said Mudavadi.
To the youth he said: "Young people are the biggest share holders in this country. They should ensure they come out in big numbers to vote out Jubilee from power."
And Mombasa Senator Hassan Omar said the next Opposition rally will be in Kiambu because Jubilee is also free to seek votes from Opposition areas. "I used to tell CORD leadership that unless it worked with Mudavadi, winning the election against Jubilee would be elusive. However, since Mudavadi has joined the Opposition we are sure of winning," he said.