Stop it! Uhuru Kenyatta warns wrangling Nairobi gubernatorial aspirants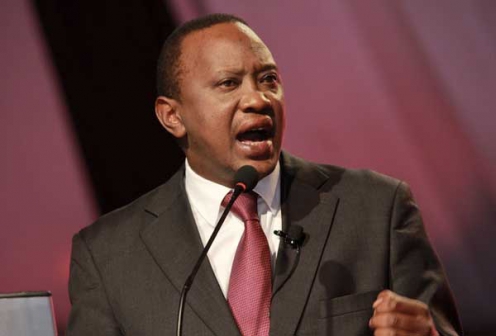 President Uhuru Kenyatta has warned Jubilee leaders who have formed camps in the Nairobi Governor's seat contest to stop their wrangles otherwise they risk losing the seat come August elections.
The President lashed at the two groups — one led by Nairobi Senator Mike Sonko and comprising three other aspirants Margaret Wanjiru, Dennis Waweru and Johnson Sakaja and the other one led by former Gatanga MP Peter Kenneth and Nairobi Women Rep Rachel Shebesh.
"They should look at what happened in 2013. Or have they forgotten? We lost the seat because the candidates could not agree on who would carry the party ticket. They ended up dividing the vote, giving an advantage to our opponents," Uhuru said.
The Head of State was speaking on Kameme FM, a vernacular radio station where he rallied Central Kenya residents to register as voters.
The President, who has indicated his administration's desire to wrestle the governorship of Nairobi from the grips of CORD, warned that the plan could be thwarted if the leaders continued with their wrangles.
"These leaders need to find a way of working together. I have repeatedly told them that," Uhuru said.
Sonko and his team have mounted a vicious campaign against Kenneth, branding him an outsider. But the President has strong fears that the contest could end up as did in 2013 when Kabete MP Ferdinand Waititu, who was then eyeing the gubernatorial position, went head to head with investor Jimnah Mbaru for the then TNA ticket.
"We lost this seat in a similar fashion. And that is why I am insisting that despite the competition, they must come together and support one person for us to win this time," Uhuru said.
Liverpool beaten 3-2 by Swansea City at Anfield
Gylfi Sigurdsson's decisive goal boosted Swansea's hopes of Premier League survival as they inflicted Liverpool's first home defeat for almost a year with a 3-2 triumph at Anfield on Saturday.