Mark Too helped Raila, Moi secure Kanu and NDP merger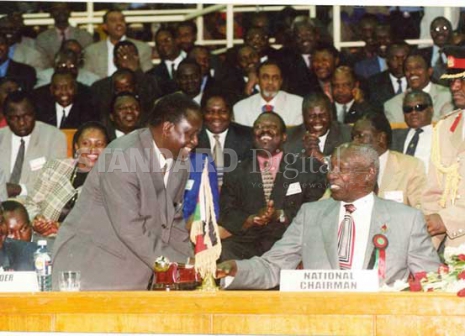 One day after the 1997 elections, retired President Daniel arap Moi invited Raila Odinga to his Kabarak home for talks.
The meeting came after Raila decided not to contest Kanu's victory, according to his biography, 'An Enigma in Kenyan Politics', authored by Nigerian Babafemi Badejo.
Moi's invitation to Raila, then leader of the National Development Party, came through Reuben Chesire, a successful farmer and a relative of the former president. Raila arrived at Moi's home in the company of former assistant minister Joab Omino.
Mr Chesire also attended the meeting where Raila explained to Moi why he had decided not contest the election results. They also discussed other national issues.
Moi was impressed by the decision. However, when the guests were about to leave, Moi asked Chesire to step aside so he could speak privately with Raila.
It was during this side meeting that Mark Too came into the picture. Moi suggested to Raila that he should in future deal with Mark Too, who died in Eldoret last week aged 64, and not Chesire.
According to the book, Raila found the suggestion strange and did not understand why Moi was shoving Chesire aside.
However, he knew Too fairly well. Generally known as 'Bwana Dawa' or 'Mr Fix it', Too had once visited Raila's father Jaramogi Oginga Odinga at East Africa Spectre Ltd.
Raila had also visited Too in 1994, after the former nominated MP was involved in an accident.
Later, Too became Kanu's point man in the party's relationship with Raila's NDP that would later give birth to a controversial merger.
MASS ACTION
The Kabarak meeting came as opposition chiefs, who included Raila, went slow on planned mass action to protest the election results. They dropped their plan to mobilise their supporters to disrupt Moi's swearing-in ceremony at Uhuru Park in Nairobi.
Initially, the opposition leaders, who included Mwai Kibaki and Charity Ngilu, had planned to meet their supporters at GPO in the city centre at 7am before marching to Uhuru Park for the 11am ceremony.
While opposition supporters gathered at the venue, Raila went to Norfolk Hotel where opposition leaders were scheduled to meet. He met Too having breakfast. The two exchanged pleasantries despite being on opposing sides politically.
After breakfast, Too asked Raila what he was up too. An agitated Raila responded that he was waiting for other opposition leaders, who were yet to show up.
Eventually, none of the other leaders turned up for the meeting. Instead, they sent their representatives. Raila was very angry and felt betrayed by the very people who had called him a coward the previous day. He was further angered when he saw opposition supporters stranded at GPO.
That was when Raila began warming up to Kanu. He wrote to Moi seeking co-operation, a development that saw Too, who earned the name 'Bwana Dawa' because of his ability to accomplish tasks locally or internationally, become a close friend.
"He normally worked quietly as an ambassador on missions accredited and accomplished diplomats would be cautious to undertake," the biography says of Too.
Kanu nominated Too to Parliament and later made him an assistant minister in the Office of the President in the aftermath of the 1997 elections.
Kanu had a slim majority in Parliament, with 107 seats against a combined opposition's 103. And with some rebel MPs, including Kipruto arap Kirwa, Jimmy Angwenyi, John Sambu, Wycliffe Osundwa and Cyrus Jirongo, Kanu had a hard time passing Government bills.
Mark Too, Badejo writes, realised a combined opposition plus the rebel Kanu MPs would make life very difficult for the Government, and he was bothered.
Rather than negotiate with the Kanu rebels, he is said to have proposed to Moi that it would be better to build working relationships with some opposition parties.
He invited Ford Kenya's Michael Kijana Wamalwa to a meeting with President Moi. Joe Donde, who later became Ford Kenya vice chairman, accompanied Mr Wamalwa to one of the meetings with Moi.
"Wamalwa and Donde were convinced that an alliance with Kanu was the only way for a cash-strapped party which had lost many members," the biography says.
However, Ford Kenya's merger with Kanu failed as Wamalwa was constantly insulted by party members who opposed the political union.
FAMILY MEMBERS
On the contrary, NDP members supported Raila in his bid to work with Kanu. However, it was not easy for him because some people, including members of his own family, were opposed to it.
Raila's daughter Rosemary and her two brothers even called a press conference during which they differed with their father's move to work with Moi. But Raila stuck to his guns.
And as Too once noted, when Kanu brought motions that did not please NDP, Raila would ask his members to vote with their conscience.
Some Kanu members saw the merger as a way of bringing all major communities into the ruling party, a move that would reduce ethnicity in Kenya.
The relationship between NDP and Kanu was further strengthened after an attempt by James Orengo to remove Moi through a vote of no confidence.
Almost all the of the opposition as well as Kanu rebels backed Orengo's motion, which was, however, defeated as two opposition members voted with Kanu.
Too noted that Moi was happy with NDP's support that saw the motion that would have embarrassed him eventually defeated.
In return, NDP was rewarded with a number of ministerial positions that saw Raila take over the Energy docket.
Later, Too lost his position as an assistant minister, which signalled Moi's change of strategy. Too later claimed he was removed because he had become expendable after securing the Kanu-NDP merger.
"He felt that some powers within Kanu knew that President Moi was not serious about the merger and wanted to use Raila and dump him," the biography says.
The book says some individuals were afraid that Too would reveal Kanu secrets to Raila as they had become very close friends.
Too's suspicions were strengthened when Raila asked to meet Moi without him. He (Too) was later asked to bring Uhuru Kenyatta to a meeting with Moi. It never crossed his mind that his fate had been sealed.
Too and Uhuru later accompanied Moi to Kisumu without 'Mr Fix It' knowing that Uhuru would eventually take over his position as a nominated MP.
He was to blame William Ruto, Joshua Kulei (Moi's aide), Hosea Kiplagat and Gideon Moi for his misfortunes, saying they are the ones who fronted Uhuru.
Losing his position in Parliament automatically meant he also ceased to be an assistant minister.
Too is said to have been forced to tender his resignation to the Speaker in a move calculated to pave the way for Uhuru.