Makonde happy to get citizenship as Jubilee eyes their votes in 2017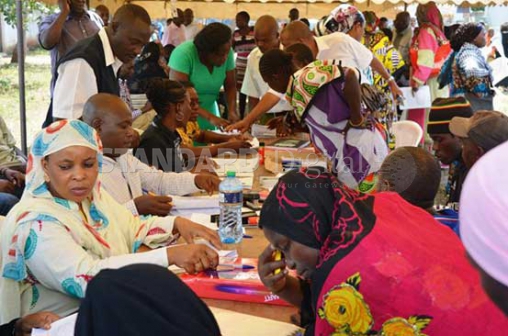 After decades of uncertainty, three communities at the Coast considered stateless have finally been recognised as Kenyan citizens.
However, the Jubilee government is dangling the Kenyan citizenship to lure the Makonde, Pemba and Warundi to vote for it in next year's General Election.
Following last week's recognition of the Makonde as Kenyan citizens by President Uhuru Kenyatta, Jubilee leaders have said the stateless communities should return the favour by supporting the Government in the polls.
"We would like the issuance of IDs done concurrently with the registration of voters so that they can vote for Jubilee," said Interior Cabinet Secretary Joseph Nkaissery.
He said President Kenyatta has issued a deadline of December and that by November 10, all stateless people in Kwale, Kilifi and Taita Taveta counties will have received their IDs.
The Makonde came to Kenya during their mother country Mozambique's independence struggle against the Portuguese between the 1940s and 1950s. The Pemba and Warundi tribes trace their ancestry to Pemba Island in Tanzania and Burundi, respectively.
Patriotic and loyal
Nkaissery said the 40,000 Makonde will be required to be patriotic and loyal to the current government so that they can enjoy all rights like other Kenyans.
Kwale Governor Salim Mvurya said it was time for the stateless to vote for him.
"I urge them not to forget him (the President) and me in the next elections," said Mvurya.
Kwale Woman Representative Zainab Chidzuga also urged President Kenyatta to order for registration of Pemba, Warundi and any other stateless persons, including those affiliated to Kenya on grounds of marriage, saying they have found themselves in Kenya in similar circumstances.
"We understand that the stateless people from Pemba were dumped in Kwale after being freed as slaves, but they are yet to be recognised as Kenyans. They deserve to be registered like the Makonde," Chidzuga said.
But Orange Democratic Movement (ODM) Secretary General Agnes Zani said Jubilee leaders' efforts to lure the stateless communities through the issuance of IDs will not work.
"Jubilee will try to woo the Makonde and other Kenyans using all tricks, including bribery. CORD will roll out civic education to sensitise them (the stateless) on what is at stake in the next elections," said Zani, who is also a nominated senator from Kwale.
She said it was the right of the stateless communities to get the citizenship having stayed in the country for over 60 years, adding that it is not a favour from Jubilee that they have to reciprocate.
Kilifi Senator Stewart Madzayo applauded the government's decision to accord the Makonde and other stateless people the country's citizenship, but said it will tilt next year's election results in favour of the government.
"It is the same erroneous narrative advanced by Jubilee that the issuance of title deeds will lure the Mijikenda community to Jubilee. The Makonde or any other stateless community faces the same economic hardships as all of us and will make independent choices," said Madzayo.
Questions, however, abound on the legality and constitutionality of the registration process.
Mombasa lawyer Yusuf Abubakar says many of these stateless people may be classified as refugees or victims of war.
"When they settled in Kwale, they became sources of cheap labour because of their plight and did not return to their countries thereafter," says Abubakar.
He argues that before independence, Kenya did not have clear laws to register the so-called stateless people.
"They were neither registered as refugees, asylum seekers nor resident workers," say Abubakar, who adds that hundreds or thousands of other people born in Kenya with roots in Zanzibar, mainland Tanzania, Uganda and Rwanda fall in the same legal limbo as the Makonde.
"There is no legal record to show how they came."
Constitutional lawyer Charles Kanjama says the Constitution stipulates that stateless persons under the age of eight found in Kenya and do not know their origins become Kenyans.
Legal options
According to Abubakar, these people have legal options available to them, but under international law Kenya cannot expel them.
He says they can apply for political asylum, resident visas or other refugee status, which he says are pathways to applying for citizenship.
Indeed, Kenya declared these people stateless in 2014, but appeared to have changed last year when officials ordered a census of the Makonde, raising hopes that they were on the path to acquiring Kenyan citizenship.
The process stalled when the Mozambican consulate in Mombasa began to register them to vote in last year's presidential elections. The Makonde were torn into two, with some taking the offer and actually voting.
In what they described as a road to "reclaim our dignity", the Makonde, Pemba and Warundi queued at Good Shepherd Catholic Church at Mvindeni, Kwale, to collect birth certificates and alien forms.
Since Tuesday, they patiently queued, as others distinctively selected Digo names as their new identities.
Thomas Nguli, the Makonde community spokesman, told The Standard on Sunday that those born in Kenya are being given birth certificates to enable them process their national IDs.
But the few who came to Kenya in 1947, currently aged above 80, are filling alien forms, which they submit to the registrar of persons to be recognised as citizens.
Sauti Dimeta, 80, is among those who were issued with alien forms.
Dimeta said he came into the country in October 1951 and, like all the Makonde community members, had been culturally assimilated into the Digo sub-tribe.
He said the first and last time he voted was during the 1963 elections between KANU and KADU. In this poll, they used the Colony and Protectorate of Kenya identification cards to vote.
Nguli said those who have received birth certificates have already started to apply for ID cards.
Coast region chief registrar Aggrey Masai said up to 1,200 stateless people in Kwale are expected to be enlisted before the officers move to Kilifi County for a similar exercise.
He said that currently they were verifying profiled names of the Makonde community members in an exercise that will take 15 days.
"It has been fast-tracked and by 15 days we will be through because as you know this is a presidential project," said Masai. By Friday, unofficial figures indicated that over 800 stateless people had been registered.