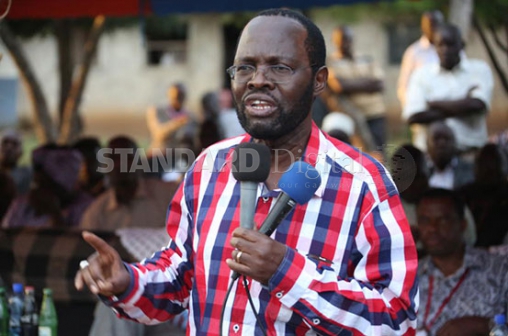 KENYA: Kisumu Senator Anyang' Nyong'o wants the National Government to ensure Governors produce clear assets and liability registers ahead of 2017 elections to monitor misappropriation cases.
Nyong'o said there is a likelihood that most governors have been misappropriating funds hence action should be taken against them based on the findings.
He said there is a need for governors to provide proper county assets and liabilities registers before they leave power.
"Before, we were working with the Transition Authority to ensure there were proper registers of assets and liabilities in the county. This work was partially complete," he said.
Without proper asset register done before governors leave office, Nyong'o said governors from big counties like Kisumu, Mombasa, Nairobi, Kakamega, Uasin Gishu and Nakuru can leave having sold county offices and land parcels. He said a lot of assets could have been misappropriated.
Read More
"They must have certified asset registers of what they found and what they are leaving. People coming in may not find asset registers. Therefore, no one should think that they are almost leaving and can therefore squander county money," he said during an interview at a local radio station.
On the issue of liability, he said many Governors have debts due to services rendered to them.
"Governors are owing a lot of money. They have received services but have not paid," he said, adding that the integrity of most governors has been questioned on several occasions from different quarters.
Nyong'o also said that the Governors need to be audited.
He said there is tendency of people diverting funds to fictitious projects and tenders as a way of raising campaign money, hence action should be taken to avoid such misappropriations.
"There is a tendency for people to begin spending without proper control when approaching elections. We have seen this happen even in the National Government. We should not see a replica of this in counties," Nyong'o said.
He added: "While working in the Medical Services Ministry, I experienced a scenario where there was Sh2.8 billion bill, yet only 40 per cent was genuine. People were given fictitious goods to supply yet the money went to campaign kitties."