Catherine Namuye links board and Ministry to Sh180m Youth Fund fraud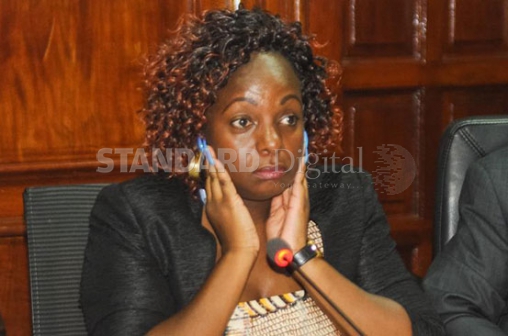 NAIROBI: Suspended Youth Enterprise Development Fund (YEDF) CEO, Catherine Namuye, has implicated her seniors for the loss of Sh180 million.
As the acting CEO, Namuye authorised the payments for a fictitious tender but now claims she acted under duress from the board and top officials at the Ministry of Devolution and Planning.
Ms Anne Waiguru, who served as Devolution Cabinet Secretary at the time, and former Principal Secretary Peter Mangiti, have since been summoned by a parliamentary watchdog after it emerged all correspondence by the board chairman was copied to the them.
For the first time since the investigations by the National Assembly Public Investment Committee begun, members heard that the dubious Information System Development Upgrade project, through which the funds were fraudulently paid out, was the board's agenda.
"The CEO has revealed that she was under pressure from the board and external forces (ministry) to proceed with the fake project that has cost taxpayers millions meant to empower the youth," said a member of the committee in confidence as Namuye had requested to testify behind closed doors.
Namuye disowned minutes she presented saying they had been forwarded to her by the board chairman Bruce Odhiambo.
She sought the committee's assistance to get the original minutes' book saying that she doubted the authenticity of the minutes submitted to her by Odhiambo.
"These minutes are not initialised. It is standard practice that all minutes are initialised so that as the accounting officer, I own them," she said.
ROT DEEPER
Committee chairman Adan Keynan (Eldas) acknowledged that the information provided by Namuye in camera was useful and confirmed payment of Sh180 million to Quorandum Limited. He said the rot could be much deeper.
"We have called the former CS, PS, entire board of the agency and Head of Public Service Joseph Kinyua, officials of so many companies, Live Gigi, Gigi Tech, Gigi Survey, Duchess Buck Development Company and Ngigi and Mbugua Company Advocates, mentioned in the course of our probe to shed more light on this matter."
At one point, Namuye was reportedly overcome by emotions and asked for a time out.
The National Treasury is also on the spot over increase of the Fund's budget for Enterprise Resource Planning Systems from Sh60 million to Sh192 million. The project was done through a restricted tender.
MPs pressed Namuye to confirm whether she was an acting or substantive CEO. She said she was confirmed to the position for four months by the board and later to an acting capacity, but without any documentation to back the same.
Earlier, members of the committee had expressed their frustrations with the conduct of Namuye whom they accused of evading questions.
Overwhelmed by the MPs' demands for her to come clean on her role after it emerged the agency flouted the procurement law in contracting the services of Quorandum Limited, Namuye requested to be heard in camera.