Kanu will not be dissolved, but will work with parties that share its vision, says Senator Gideon Moi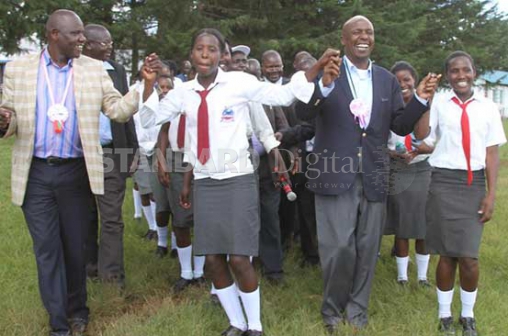 NAKURU: Kanu will not be dissolved like other political parties but will instead work with other parties as it prepares for the General Election, the party has stated.
The party's chairman, Mr Gideon Moi, said Kanu was clear about its political direction ahead of the 2017 polls.
Speaking at Chepkong'ony Secondary School in Nandi County where he presided over a fundraiser, Gideon, who is also the Baringo Senator, said Kanu had many friends outside the Jubilee Coalition which it could collaborate with.
"We have resolved with all national executive council members not to dissolve our party as we look forward to the big contest. We will instead join hands with like-minded parties and individuals who support our vision," said Gideon.
"We wish well those who are ready to dissolve their parties to form a larger political outfit. As for us, we will not be walking in that direction," Gideon noted.
The Baringo senator stated that no one should try and force others to dissolve their political party against their wishes, and merge with other groups. "Those who think leadership is about pushing others to follow their ways are very wrong. That is leadership of the past," he said.
Mr Jonathan Bii, a Kanu official in reference to a popular riddle, said it was unwise to leave a bird in hand to pursue another in the bush. "You cannot burn your house to go and live with a neighbour. We are determined to steadily move on and are open to working with political factions that share our ideology," said Bii.
The statement by Kanu leaders comes in the wake of announcements by some Jubilee affiliate parties which have said they would merge ahead of the 2017 General Elections. The ruling coalition's members, mainly from the United Republican Party (URP), have been piling pressure on Kanu to wind up and join the Jubilee coalition.