We should use technology to improve quality of learning
OPINION
By Will Meng | Jan 24th 2022 | 4 min read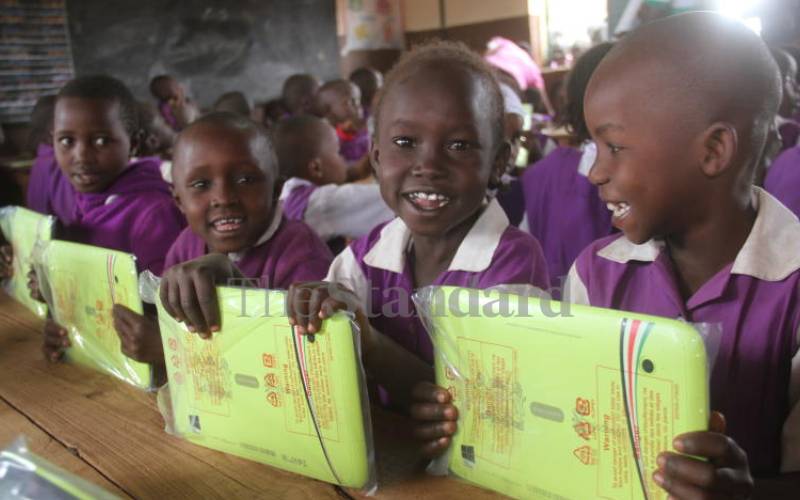 On Monday, January 24, 2022, the world celebrated the International Day of Education. Education is the bedrock of Kenya's development, with human capital critical to economic and social development.
Indeed, skill is one of the pillars of the government's Digital Economy Blueprint launched by President Uhuru Kenyatta in 2019. During the pandemic, education has been both significantly disrupted, and significantly transformed. We must reflect on and adapt education for the future to grow the digital economy and achieve Vision 2030.
According to a study by the World Bank, it is estimated that interruptions to school participation and learning are projected to result in losses valued at $15 trillion. This is in terms of affected children's future earnings and in long lasting impacts on well-being and life prospects, particularly for the most disadvantaged learners. The effects of Covid-19 on education could be felt for decades to come.
The vast majority of us are looking forward to putting the events that started in early 2020 as a result of the pandemic behind us. From wreaking havoc upon learning across the globe, then consequently leading to school disruptions and closures; not only did the pandemic increase inequalities in education and learning across the country but also laid bare the existing challenges within the sector, especially with regard to readiness and preparedness.
The theme for this year's celebration is "Changing Course, Transforming Education". Technology has played a significant role in transforming education as we know it, with growth in online learning. According to a study conducted by Unesco, at the beginning of the pandemic, it was estimated that globally, 826 million students were without household computers, 706 million lacked internet at home and another 56 million lacked access to 3G/4G network coverage.
Without adequate ICT devices, internet connectivity, education resources, or teacher training, virtual learning cannot be a reality. This provides a great risk for more students being left behind and, therefore, increasing the existing inequalities.
The pandemic has accelerated technology adoption within the education sector through online learning. Governments and private sector played a key role in ensuring continuity in learning.
In Kenya, network operators provide 4G networks that cover more than 96 per cent of the population and are rapidly expanding last-mile fibre to homes. This was particularly timely given the transition to working and studying remotely and Huawei has not only provided equipment for many of the mobile and fibre networks countrywide, but ensured their maintenance throughout lockdowns, ensuring reliable connectivity to all during the pandemic.
The Ministry of Education provided remote teaching support using the internet, radio and television whilst encouraging academic institutions to adapt teaching materials to create a more accessible online learning environment.
Many network operators provided free or subsidised access to the government's Kenya Education Cloud and private sector education websites. The Ajira programme through the Ministry of ICT has provided access to learning resources to youth online allowing tens of thousands of youth to upskill, gain certifications and gainful online employment.
Education technology (EdTech) has thus enabled remote leaning and education, coming to the rescue for educators locally and across the globe. With the proliferation and penetration of mobile technology in developing markets, EdTech has the potential to give millions of students an opportunity to learn now and in the future.
Huawei has continued to play a key role in providing learning resources through our multiple digital skills programmes. At the peak of the pandemic, the company launched the Learn-ON programme to provide online learning resources to thousands of students and lecturers, including launching the UniTech Talk online lecture series.
Huawei ICT Academy's partnerships with institutions of higher learning provided training on advanced technologies whilst Huawei's Seeds for the Future programme went virtual expanding the number of undergraduates who received training on new technologies, leadership and industry trends from experts across the globe. To reach those who need more basic digital skills, the Huawei Digitruck programme provided digital skills training to over 1,231 beneficiaries across 14 counties during the pandemic in remote areas.
As we look to the future, it is critical that we continue to ensure online learning becomes the norm, enabling students and youth to learn anything online, anytime, anywhere. To do this we must also address barriers that became painfully clear during the pandemic such as enhancing access to devices, electricity and digital skills.
It is also critical to improve the use of technology in schools. Building on the roll-out of digital devices to schools through the Digital Literacy Programme, Huawei is working with the Ministry of ICT and Unesco to connect schools to high-speed internet.
We have just completed the pilot with 13 primary and secondary schools across nine counties connected to the National Optic Fiber Infrastructure, a network built by the government that reaches most sub-counties. This has seen the students and teachers access online content and improve education quality. The government plans to connect many more schools.
As a country, we have made significant strides in ensuring learning never stopped during the pandemic and we have seen the possibilities for what learning in future could look like.
And as we celebrate the International Day of Education, we must all commit to making it a priority to use technology to improve the equity, access and quality of learning for all, so that the country and every Kenyan can reach their full potential to enable the development of digital economy.
Africa's mobile money boom
Kenya, one of the global leaders in the adoption of mobile money, hit a record-breaking high between January and November 2021.