Vet all aspirants making big promises on campaign trail
OPINION
By Koki Muli | Jan 22nd 2022 | 3 min read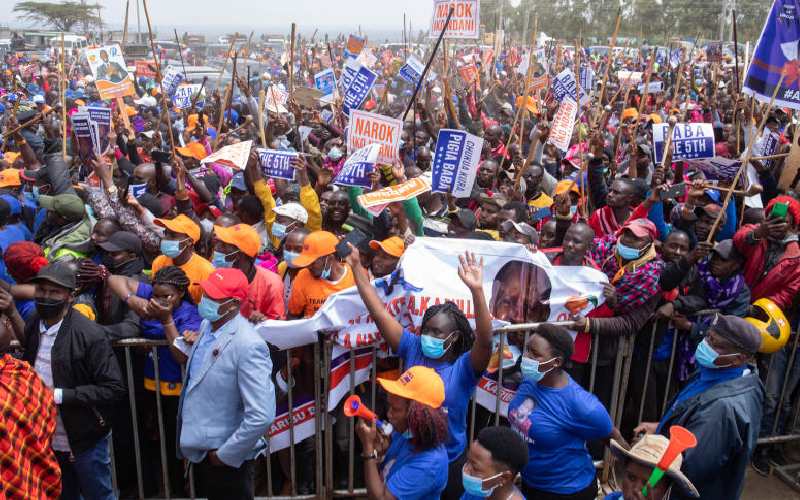 I watched a video clip in which the late President Mwalimu Julius Nyerere is asking presidential candidates why they are running for State House, with some even willing to bribe or corrupt voters to get there.
He wonders whether they know what a burden it is to see the suffering citizens knowing that they expect the president to improve their lives; and concludes that clean people do not rush to State House like that and if they do, you need to be very afraid.
Watching our political campaigns today, one doesn't get that sense of humility, feeling the suffering of your citizens and carrying the "burden" of their needs and aspirations demonstrated by our presidential candidates.
One gets a sense of urgency to get to State House by any means… there is much-unverified information and grandiose promises being flung all over by aspirants but citizens seem to revel in these promises of a better tomorrow and much largesse.
But then why do voters and supporters accept these promises they know their candidates won't fulfil? How realistic are these promises?
Why don't we want to vet and analyse our candidates? Why do we defend them when we know they are lying even when they are making dangerous and inciting utterances?
At the beginning of the political campaigns season, aspirants demonstrated some level of restraint even some respect for each other and for their supporters. Now, most of them cannot communicate their agenda or vision for Kenya without insulting or cajoling their opponents.
They are no longer pretending to critically analyse each other's agendas and their shortfalls, now they engage in personal attacks.
It is becoming hard, even sad to watch leaders in political rallies. We expect them to demonstrate some integrity but their utterances instead demonstrate that we cannot trust them.
Can one say honesty that what we hear and see daily inspire confidence? Are these leaders reliable and likely to follow through with what they say they will do? Some promises require billions of shillings to implement; and we know our economy has suffered greatly from effects of the Covid-19 pandemic and tax-payers are literally overwhelmed.
Do these aspirants have ability to see the bigger picture – have a genuine vision for Kenya and communicate that vision effectively? Has any of them admitted that they will need help to achieve their vision? Has any one of them given us a formula for wealth creation?
All of them seem focused on spending. But where will the resources come from? More taxation for us? Why are we not calling their bluff and focusing on serious ways of vetting them and demanding the truth?
We need to begin a serious dialogue with our aspirants and put them to task each time they promise us heaven; we need to demand answers by asking them how they will achieve what they are promising.
A good leader is mission-driven and genuinely interested and invested in our welfare and interests; one who inspires and drives loyalty and trust, and brings clarity; a creative problem-solver and a peace-maker.
A great leader inspires hope, helps others build resilience and brings out the best in people by inspiring them to want to be better human beings and to shape the world around them in a positive way. A great leader is reliable and has a sense of responsibility and dependability based on values.
When you go out to a political rally, please ask yourself if the person making those promises is responsible, cares for you and can be dependent on.
If they can, turn around and go register to vote for them; whatever the case go register to vote because you might just be the solution to many if you present yourself as an alternative candidate to the one lying to you by making promises you know can't be delivered. Whatever you do, arm yourself with a voter's card.
Lows we should not return to
Kenya has gone through a lot and for that it must have much to show for it, some of the behaviours that have cost us in the past keep being repeated.