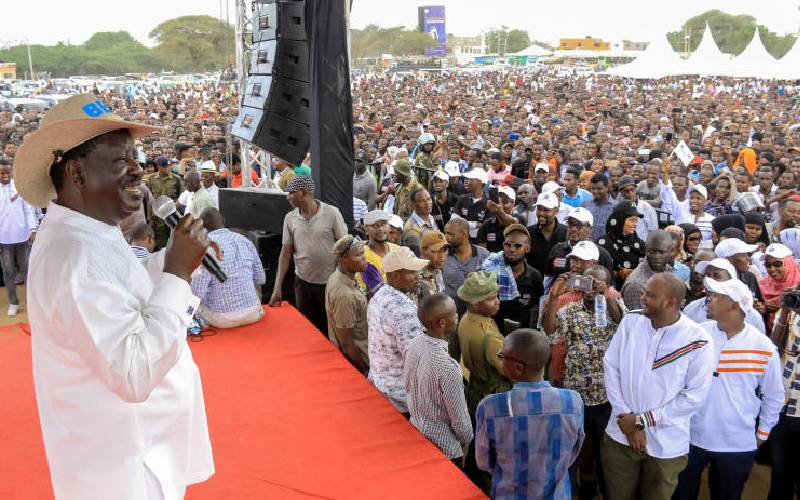 Kenya is a highly ethnicised country and ethnicity leads in negotiations and plays the most important role in shaping political opinions. Essentially, our political alliances are ethnic. However, despite making a significant portion of Kenya's demographic, the people of Northern Kenya play an insignificant role in deciding who forms government. The northern region has generally been underserved and neglected in the national infrastructural investments.
The irredentist movement that wanted to secede the Northern frontier counties from Kenya did not help because the region's loyalty to Kenya has been doubted. The government's economic blueprint, Sessional Paper no. 10 of 1965, became a curse to northern Kenya. To date, the development indicators for northern Kenya counties fall behind other regions. The region has the highest poverty index.
For every 100 children who die at birth, 80 are in northern Kenya. Access to water is low. Insecurity is rampant, including the menace from violent extremists. In the region, even under the current constitutional dispensation, public investments are still modest. Devolution might have trickled some resources, but more investments are required to bring the region at par with the rest of Kenya.
Unfortunately, the political class, as always, is disunited and unable to bring the communities under one umbrella to negotiate for more resources and equitable access. In the recent past, even the little gains from devolution were under threat because senators from other parts of the country attempted to reduce the allocation of resources. Fortunately, this effort failed.
The Building Bridges Initiative has clauses that will significantly disadvantage the pastoralist communitie. To overcome these challenges requires the development of a strategy that shall make the northerners speak with one voice. So far, several initiatives have been proposed. However, there are still no efforts to objectively analyse our challenges and propose concrete plans to negotiate with the leading presidential candidates on behalf of the people.
Negotiations with any incoming government must be radical. Northern Kenya should demand a big stake in the national resources, including plans for a regional government similar to the majimbo governments. This will allow the region to plan and safeguard it from interference by the Nairobi-based government.
At the moment, there are clear exclusionist policies that disadvantage this vast region. As we approach the elections, the leaders seeking various posts at the national and county levels must come up with issue-based demands.
Most important, of course, is to come up with a single spokesperson who can articulate the issues of the people and lead any negotiations. The Mount Kenya Foundation has shown a good example in demanding to hear what the candidates have in store for them and then guide their people.
The same is needed in all the regions but more so in the northern parts of Kenya. Failure to take advantage of the situation will lead to further neglect by the government.
Mr Guleid is CEO, Frontier Counties Development Council. [email protected]