How Kenyans, IEBC should mark White Cane Safety Day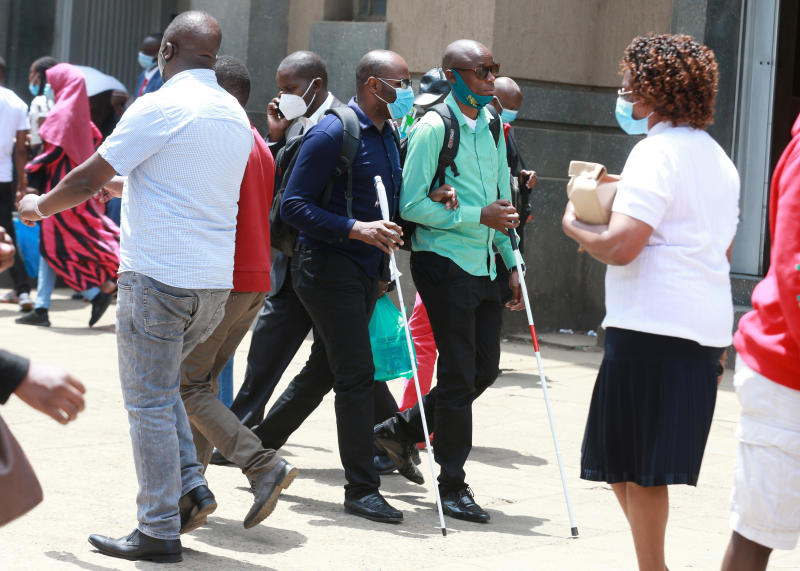 Tip. Tap. Tip. Tap. That is the sweet sound of mental freedom. It is the sound of independent, visually impaired persons across the globe confidently navigating with their white canes to work, neighbourhoods or wherever their plans take them.
Today is White Cane Safety Day. It was first celebrated in 1964 in the US by then President Lyndon Johnson. In 2011, US President Barack Obama graced the occasion by naming it Blind Americans Equality Day.
The day is currently observed worldwide, and it appreciates the exodus of visually impaired persons from dependency to active participation in society. The day also marks the achievements of visually impaired persons, and appreciates the unique skills of people who use white canes. It is also a reminder to motorists to yield the right of way to visually impaired persons.
A white cane is an important mobility tool for visually impaired persons. It is a symbol of freedom, independence and confidence.
Visually impaired persons use their senses of hearing and touch to reconcile with the environment around them. The cane eliminates most difficulties in their daily endeavours. There are three different types of white canes. The standard mobility cane is for navigation, the support cane is for visually impaired persons who have mobility challenges, and the ID cane, relatively small and foldable, is for the partially sighted to alert others of their visual impairment.
As we approach the General Election, which is the best way to celebrate White Cane Safety Day?
The Independent Electoral and Boundaries Commission should make sure the voices of the physically challenged are amplified, and their human rights are implemented majorly through political participation. But being a tool of empowerment and agency, voting should also be seen under the prism of marking dignity, with the disenfranchised not only feel empowered but honoured.
The right to vote is obviously the most important right of participation for it forms the basis for securing all other rights. Voting does not make us equal but we are equal because we are all allowed to vote. Dignity is aroused in hearing the idea that my vote counts just as yours counts.
It is a terrible injustice to insulate anyone from the privilege of his voice being heard in the disposal of affairs in which one shares interests with others. A person is degraded, whether they are aware of it or not, when others, without their consent, bequeath themselves with unlimited power to control their destiny.
Such marginalisation deprives the visually impaired of the opportunity to participate in policy formulation and making decisions that affect them. This exacerbates the feeling of discouragement, isolation and powerlessness.
I therefore urge the IEBC to include a disability provision in the voter registration form to make it easier for electoral officials to know the kind of support required.
Let IEBC use disability identity cards while registering PWDs as voters. In some cases, visually impaired persons have reported use of insensitive language during the ongoing mass voter registration process. All political parties must also offer a level ground to all aspiring politicians, including PWDs.
The writer is a leader of people with disabilities